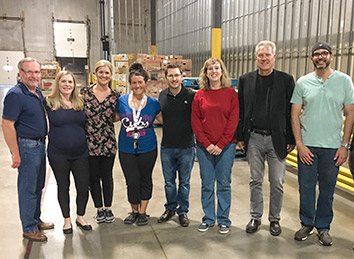 Kathy Farinas and Amy Davis share a common interest in their respective roles as leaders of the Indiana Trial Lawyers Association's Women Lawyers and Young Lawyers caucuses — service to the community.
Both women said providing opportunities for attorneys in their sections to volunteer with organizations such as Gleaners Food Bank, the Julian Center, Dress for Success and other nonprofits is central to the groups' missions.
"We're getting more involved in community outreach projects, and that's something I want this group to be more representative of," said Farinas, a partner at the Indianapolis firm George & Farinas LLP. She and Davis, an attorney at Keller & Keller LLP, agreed that the groups are seeing good results in partnering on several community service efforts.
Davis said the Young Lawyers Caucus also wants to expand those efforts outside Indianapolis. "We want young lawyers to take our plans going forward and implement them in their areas of the state," she said.
Terre Haute attorney Kyle Ring of the Williams Law Firm is a member of the Young Lawyers Caucus. He said he's seen more lawyers from around the state getting involved in ITLA volunteer efforts and social functions in and around Indianapolis. He thinks young trial lawyers elsewhere would welcome opportunities to do the same in their communities.
"In the last couple of years, I've really enjoyed the additional social events and volunteer opportunities," Ring said. "I do want to see more chances for everyone around the state to participate in social events and volunteer events. … Not only is it a great chance to give a couple of hours to help Hoosier families, it's a nice benefit for us. You feel good having spent your time that way."
Farinas and Davis said their respective caucuses also plan to take on a challenge that certainly could have volunteer opportunities statewide. The groups jointly plan to train volunteer members to serve as court appointed special advocates and guardians ad litem.
Gleaners Food Bank is among the nonprofits that ITLA and its Women Lawyers and Young Lawyers caucuses assist. Volunteers above, from left, are Tim Devereux, Amy Davis, Megan Caudill, Ashley Canan, Dustin Fregiato, Cathy Black, Mark Ladendorf and Alex Limontes. (Photo courtesy of Amy Davis)
"CASA and CHINS programs are overwhelmed," Farinas said. "There are more kids to care for and manage than we have people."
Said Davis, "I feel like lawyers are helpers generally, but I don't think the community really perceives us that way. … It's good when we can get out and let the community know, we're not just there when you get in trouble or get hurt. We're there all the time."
Seeking fresh faces
Farinas has been involved in ITLA for more than a decade, and she said in those years she's seen more women become involved and active in the organization. "I think even 10 years ago, in looking around the room now, yes, there are definitely more females," she said. "We want to get more women to join the Women's Caucus and more people to join the ITLA.
"It's a place where female trial lawyers can exchange ideas, and to work in what in the past has been a male-dominated profession. We're much more accepted and respected based on our abilities rather than the fact that we're female," Farinas said. "We're good trial lawyers who also happen to be female."
There are 104 members of the Women's Caucus, roughly 10 percent of the approximately 1,000 members of the organization, according to ITLA executive director Jason Bell. However, Farinas said the 215 members of the Young Lawyers Caucus are more representative of the larger population.
Davis said the Young Lawyers Caucus provides unmatched networking opportunities and professional support for members of the plaintiffs' bar, including regular opportunities to practice trial skills.
Bell said the value of the ITLA is in its members, and Davis agreed.
"I'm always surprised at how much people are willing to help in an industry where you're kind of competing against each other," she said. "It's such a welcoming environment."
Davis said, for instance, ITLA's Listservs can help young lawyers gain insights from those who've practiced before particular judges or opposing counsel. It's not unusual to receive five or six responses when she asks about a particular subject.
Ring
"I don't think there's been a single time I asked a question where I didn't get some sort of response that day," she said.
Ring said he's seen younger lawyers becoming more active in the organization, whether it's participating on Listservs, speaking at seminars or in other ways.
"Probably the main thing I get out of being involved in the trial lawyers association is the chance to talk and interact with so many different attorneys who do the same thing we do and have the shared interest," he said.
Lawyer-to-lawyer
Earlier in her career when she was trying to gain courtroom experience, Davis said she asked ITLA colleagues if they had any upcoming trials she could observe, and that gave her a feel for the courtroom. She admitted that in law school, she'd been a bit afraid of the courtroom. Back then, she never anticipated becoming a litigator and wanted to be more involved in the political and lobbying areas of law. Working in a trial law firm one summer changed that.
"I started doing this work and realizing these people I was working with really were hurt and needed someone to tell their story, and it clicked that this is what I wanted to do," she said. "For me, it's very rewarding to be part of a profession where you get to help people every day."
She said ITLA has been indispensable. From simple forms to complex litigation matters, "Ninety percent of what I know is because I have reached out to attorneys that are part of this association."
Farinas said she hopes to emulate the American Association for Justice (formerly the Association of Trial Lawyers of America) in boosting representation of women in the organization. Women now make up 20 percent of that organization, and she believes the ITLA can follow suit.
Bell said such efforts can only help the organization. "The strength of the association is based on the strength of our members," he said. "Everything they do helps protect the 7th Amendment and Hoosiers' access to courts."•
Please enable JavaScript to view this content.