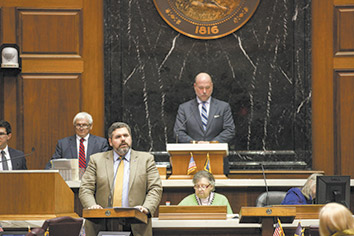 As the opioid and heroin epidemic grows in Indiana, the Legislature is continuing to stay with the philosophy established by the reform of the state's criminal code where treatment and rehabilitation for drug users are favored over incarceration.
The Indiana General Assembly approved 10 bills during the 2017 session that specifically targeted the addiction crisis. Responses included in the measures were bolstering inpatient and residential treatment programs, starting pilot treatment programs for certain populations, and limiting the amount of opioid medication that can be provided to a first-time patient.
Merritt
Sen. Jim Merritt, R-Indianapolis, pointed to a handful of factors driving the shift from the traditional tactic of increasing penalties on drug users to a modern evidence-based approach of addressing the causes of crime by treating drug use and mental illness.
Key to the shift was the 2013 criminal code reform bill which focused on reducing recidivism by keeping low- and mid-level offenders in local jails and providing them with services to help them overcome their addictions, learn job skills and reintegrate into their communities.
Another element is the swath of victims this crisis is creating. The epidemic is hitting a broad cross-section of society and entangling many families.
"We're just seeing way too many families who are just overwhelmed," Merritt said.
According to the Indiana State Department of Health, opioid-related deaths in the state rose an average of around 4 percent each year between 2011 and 2015 while non-fatal emergency department visits because of opioid overdoses skyrocketed 60 percent. Preliminary data for 2016 shows an even more dramatic increase with deaths totaling 365 and ER visits ballooning to 8,297.
Moore
"We're in this for the long haul," said Kevin Moore, director of the Division of Mental Health and Addiction at the Family and Social Services Administration.
With the increase in addicts comes the need for more beds and treatment providers. Two bills specifically address the shortage of places for addicted individuals.
Senate Enrolled Act 156 mandates DMHA and other agencies develop a plan to increase the number of beds and inventory the available beds and state-owned buildings that can be used for treatment facilities. Under SEA 402, the DMHA will adopt the standards set by the National Alliance for Recovery Residences to ensure recovery residences are providing quality care and complying with requirements.
In addition to having more treatment, the programs must cover a range of approaches because one size does not fit all. Moore explained the options must span the continuum of care from in-patient and residential care, out-patient services, medical-assisted treatment along with 12-step groups and faith-based and education-based programs.
Concerns with treatment
In Tippecanoe County, Bill Lindblom, investigating office administrator with the public defender's office, compared the current crisis to a large fire that cannot be put out.
"We are living in a time where the epidemic is challenging every resource we have," he said. "There will be casualties because we don't have the resources to meet the level of devastation that opioids are creating."
Additional help may be coming through SEA 499. The bill establishes a three-year opioid treatment pilot program in Marion, Tippecanoe and Wayne counties that targets addicts who have not been charged with a crime and allows for involuntary commitment to a program. At the conclusion of the pilot, the counties are required to submit a report to the Legislature.
Lindblom said the bill will require counties to take a hard look at what treatment should include. For many users, he said, the ability to get high from heroin diminishes very quickly but they continue to inject in order to prevent the debilitating and painful effects of withdrawal. The counties will first have to determine whether talk therapy and heroin replacement can help, then design a program that treats addiction in individuals, many of whom also struggle with mental illness.
Rep. Ed Clere, R-New Albany, authored the state's first needle exchange bill in 2015 after the opioid-induced HIV outbreak in Scott County and remains steadfast in viewing drug use as an illness that requires treatment. He cautions, however, that programs to help addicts must have oversight to ensure they are using evidence-based practices, meeting state standards and collecting data.
He also acknowledged as treatment options grow, the Statehouse will have to funnel more money into the effort. "I want us to spend money on prevention and treatment rather than spend money reactively addressing the consequences of failing to invest in rehabilitation and treatment," he said. An example of the reactive spending is the $200 million the Legislature appropriated to the Indiana Department of Child Services to help handle the rise in cases caused by the epidemic.
In Wayne County, Pat Ragains, an attorney in the public defender's office, is skeptical that treatment alone is the answer.
He can look at the files on his desk and see the problem in his community. Of the 180 cases he is handling, Ragains estimated 125 to 150 are related to opioid or heroin. The need for heroin is fueling more crimes and although the county has a diversion program, he does not see it as being "overly successful." The primary problem is that many people getting into the program cannot overcome the power of the drug.
Individuals in a treatment program, Ragains said, will not be able to end their addiction unless they are committed to doing the difficult work of recovery. He believes problem-solving courts, like drug court and veterans court, are better options since the defendants who do not make the effort could face jail.
"You can't just say we're going to give these people the help they need with their addictions…and not otherwise hold them accountable," Ragains said.
Tough on crime
At least two bills did address the criminal aspect of the epidemic by increasing the penalties for opioid-related felonies.
HEA 1540 included language that assigned higher felony levels to pharmacy robberies where the assailant threatens to use force, is armed with a deadly or causes serious bodily injury. Also, HEA 1406 contains provisions that provide sentencing enhancements for dealing heroin.
"I don't know if that has an impact or not, but I think we have to continue to send a message to everyone," Merritt said of upping the punishment.
Indiana Attorney General Curtis Hill has advocated for a law-and-order approach. As the legislative session began, he spoke out against HEA 1438 which enables counties and municipalities to approve and establish a needle exchange program. Also in June, he organized a presentation at the Dearborn County Jail with inmates and ex-offenders who credited incarceration with getting them to combat their addictions.
Hill was unavailable to comment by IL deadline.
Clere worries the attorney general's position could foster tension and conflict in the Statehouse and possibly detract or even derail treatment and recovery efforts.
"I'm not suggesting because someone has a substance abuse disorder, and that may have been a factor in the commission of the crime, that they should receive a get-out-of-jail-free card," Clere said. "We should be looking for every opportunity to keep people out of jail and out of prison and provide treatment with the hope of preventing further offenses."
The needle exchange bill did land on the governor's desk, but it garnered the most nay votes of the opioid-related bills.
However, the push for stiffer consequences may be tempered by one of the elements that drove the criminal code reform — money. The Legislature believed without doing something to lower the population in the Department of Correction, the state would have to come up with several hundred million or possibly even a billion dollars to build a new prison to house the growing number of inmates.
Had the old criminal code been in place when the opioid took hold, Ragains said the state prisons would have been filled by now.•
Please enable JavaScript to view this content.