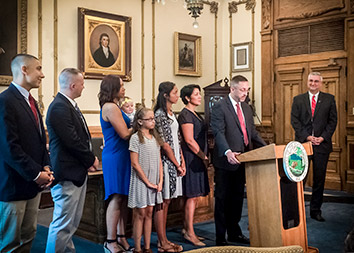 Soon-to-be Indiana Supreme Court Justice Christopher Michael Goff isn't a jurist who rules from the bench with little perspective on the lives of those who come before him, his colleagues say. Instead, he's a judge who is active in his community, working alongside his neighbors to make Wabash County a better place to live.
His dedication to public service both on and off the bench is among Goff's top qualifications Indiana Gov. Eric Holcomb cited when announcing the Wabash Superior judge as his choice to succeed retired Justice Robert Rucker. Holcomb made his announcement at the Indiana Statehouse on June 12, and Goff will officially join the court July 24.
Goff's commitment to community involvement dates back to the early days of his legal career, before he was appointed to the bench in 2005. According to his application to become the next justice, Goff graduated from Indiana University Maurer School of Law in 1996, and by 1999 was honored with the Huntington County Leadership Academy's Distinguished Alumni Award for his efforts toward establishing the Huntington County Court Appointed Special Advocate Program.
Goff is active in various programs within his church, has frequently served as a classroom instructor for Junior Achievement, and serves on the board of directors for the Wabash County YMCA, according to his application.
From the perspective of Joe Northrop of The Northrop Law Office in Huntington, a commitment to "everyday" people has always been a defining characteristic of his former partner's legal career. Northrop and his now-deceased partner, Bill Mills, first hired Goff in 1997, then promoted him to partner just 18 months after passing the bar.
Goff remained with the firm of Mills Northrop & Goff LLP until his appointment to the superior court bench. Northrop said Goff's work as a county seat practitioner was marked by a conscientious approach to dealing with his clients. Specifically, Goff was tasked with the contract for pauper work, which required him to view his clients through the lens of fallible humanity.
"If you're a pauper attorney doing pauper work, you work with people who are guilty, and it's easy to think, 'Oh, here's another one,'" Northrop said. "They all have a reason they're in trouble, but they're not terrible people. They just made a bad mistake."
Diversity issues were a concern in the process of selecting a successor for Rucker, who served his tenure as the only African-American justice on the high court. Though Goff, who is white, cannot bring a physical element of racial diversity to the court, his wife and children are racially diverse, thus enabling the soon-to-be justice to view issues through the eyes of Indiana's racial and ethnic minorities.
"It was essential to me that the person selected for this most important position at the very top of our judiciary to have the ability to relate to everyday Hoosiers," Holcomb said at the June 12 announcement. "And what's most impressive and appreciated, for those who know of Chris Goff's life story, he has extensive experience interacting with a wide variety of people under many different circumstances, which is why he is so well-rounded."
Likewise, Goff's work toward improving the Indiana judiciary is also extensive, his colleagues say. For example, Jane Seigel, executive director of the Indiana Office of Court Services, said she has seen Goff actively at work with the Indiana Judicial Conference, which he has been involved in as a member of the board of directors since 2010 and chair of the conference's Protection Order Committee since 2011.
In his application, Goff wrote his time on the Protection Order Committee included work toward overhauling the state's protection order statutes and the development of the Protection Order Registry. Seigel said Goff was highly effective at the task of keeping up with relevant developments in state law and making recommendations to his fellow judges, as well as presenting to other trial court judges on the topic of protective orders.
Continuing legal education is also a priority for Goff, who recently participated in the Indiana Graduate Program for Judges, a 30-person, law school-style program "for judges who desire a more in-depth and intensive learning experience," he said in his application. Judges must apply to be considered for the program, and Goff thrived in the experience of expanding his legal knowledge and developing a camaraderie with his fellow jurists, Seigel said.
"He's one of our active judges, and you have to appreciate that," she said.
His work on the bench is impressive, as Goff has only been reversed on appeal once in his career, according to his application, and the partial reversal directed him to change only the wording of his order, not the outcome of his decision.
That kind of career success is attributable to Goff's "sharp legal mind," Holcomb said. Similarly, Northrop said his former partner has a "good judicial mind" that couples with his natural intelligence.
During the June 12 announcement of his appointment to the bench, Goff described himself as a constitutional originalist and textualist who is committed to the concept of judicial restraint. Further, he said his judicial philosophy has always been to build consensus, because judicial decisions are better received by the public if all decision-makers support the final verdict.
"He tries to follow the law, and, in my opinion, doesn't try to create law," Northrop said. "He doesn't do what the Legislature is supposed to do."
Goff is also known among his colleagues as a jurist who excels in the basic elements of his job. He is prepared for the cases he hears, often knowing as much about a case as the attorneys, and his orders are written clearly, said Thomas Hakes, judge of the Huntington Circuit Court and a former colleague of Goff's from his days in Huntington County.
Further, holding a judgeship in a small community like Wabash has given Goff an advantage that trial court judges in more urban areas might not have — the ability to remember what it's like to practice law as a lawyer. As a judge, it can be easy to lose sight of the struggles attorneys face in their day-to-day practices, Hakes said.
"I think he's in a unique position because of practicing and being on the bench in a smaller area," Hakes said. "He's more aware of what attorneys do and what judges do, and so I think he brings that kind of unique look at it."
Asked why he chose to apply for a position that would require him to leave rural Wabash County in favor of work in the state's capital city, Goff said earlier this month he wanted to serve the people in Indiana in the best way he can.
"I think that if you make a decision to do public service, it's important to do public service at the highest level that you can do it," Goff said. "I was humbled to be considered in this process, and it's been the thrill of my great professional career and my life serving in the Indiana judiciary."•
Please enable JavaScript to view this content.