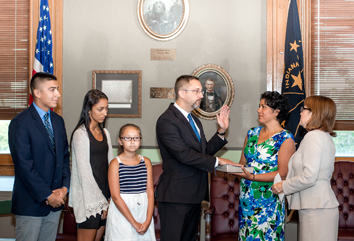 The bench of the Indiana Supreme Court is once again full after former Wabash Superior Judge Christopher Michael Goff joined the high court on Monday.
Chief Justice Loretta Rush, joined by Justices Steve David, Mark Massa and Geoffrey Slaughter, officially swore Goff in as the 110th Justice of the Indiana Supreme Court during a private ceremony on Monday. Goff was joined at the swearing-in ceremony by his wife, Raquel, and three of his children.
Indiana Gov. Eric Holcomb announced in June that Goff was his choice to replace Justice Robert D. Rucker, who retired in May. Goff was selected from among a pool of 20 applicants after completing two rounds of interviews with Rush and the Indiana Supreme Court Judicial Nominating Commission, which began in March and concluded in April.
Goff was then selected as one of three finalists, alongside Boone Superior Judge Matthew Kincaid and Clark Circuit Judge Vicki Carmichael. Holcomb said he selected Goff from among the three finalists because of his "sharp legal mind" and ability to understand the perspective of litigants from a variety of backgrounds. Notably, Goff's immediate family is racially diverse, a fact Holcomb said will be an asset to the all-white bench of justices.
Goff, who was evidently emotional during Holcomb's June announcement, said his goal on the court will not be to replace Rucker, but rather to make his own contributions on the bench.
"I think that if you make a decision to do public service, it's important to do public service at the highest level that you can do it," Goff said in June. "I was humbled to be considered in this process, and it's been the thrill of my great professional career and my life serving in the Indiana judiciary."
The court's June order said Senior Judge Karen A. Springer was appointed Wabash Superior judge pro tempore, effective July 10, until further order of a court or until a successor to Goff is appointed.
Goff is now officially a member of the court who is reviewing cases and making administrative decisions. Holcomb will administer a ceremonial oath at Goff's robing ceremony to be held on Friday, Sept. 1. Goff is expected to join the court for oral arguments on Sept. 7
Please enable JavaScript to view this content.