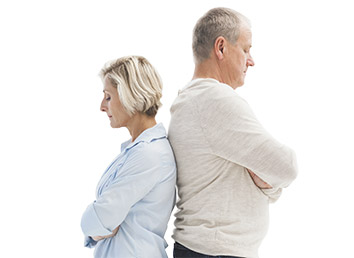 It's a social phenomenon that is catching people by surprise — a sharp increase in the number of "gray divorces," or divorces among couples who are 50 or older.
Among the baby boom generation, the divorce rate has doubled since the 1990s. In 2015, up to 10 out of every 1,000 people over the age of 50 divorced, according to a report from the Pew Research Center. Though these rates are still lower than those of younger generations, it is the increase in the number of divorces, not the actual divorce rate, that is generating interest among family law attorneys and experts. From a social perspective, Indiana divorce attorneys say the reasons older couples seek divorces may be similar to reasons earlier in life: a lack of common interests, a loss of deep connection or an experience of "growing apart." Yet in a modern world that views marriage differently than it did 50 years ago, some baby boomers are beginning to realize they want to explore their own interests and are choosing to strike out on their own to check items off of their bucket lists.
"Life is short, and once you sort of are aging and start to see a limited number of years left on your life, you start to put your own happiness first and do the things that you would want to do," said Margaret Ryznar, an associate professor of law at the Indiana University Robert H. McKinney School of Law whose research includes family law. She said among couples over 60, the divorce rate is roughly 15 percent.
Like the emotional aspects, the legal nuances of gray divorce can be different than what younger couples might encounter when dealing with a split. Chief among those nuances are financial considerations, which can present unique challenges for spouses who are at or nearing retirement.
Reed
When couples choose to divorce in their 30s or 40s, they still have time to recover financially, said Jim Reed, a partner with Bingham Greenebaum Doll LLP who handles wealth management and family law cases. That's because adults at that age have several years, if not decades, left in their careers. And even if one spouse did not have a career during the marriage, a decision to divorce in their 30s or 40s still gives that spouse time to acquire the training necessary to build a career for life on their own, he said.
But when divorce occurs when a couple is in their 50s or later, careers may either be coming to a close or are completed, and spouses are often living on fixed incomes provided through Social Security or retirement benefits. Up until the decision to divorce, the presumption in these marriages was that such benefits would be shared between the couple, said Drew Bloch, a certified family law specialist with Cross Pennamped Woolsey & Glazier P.C. in Carmel. The challenge then becomes determining how each spouse will have to adjust their finances and lifestyle to continue living on a set income that is less than they anticipated it would be, Bloch said.
Bloch
When he handles gray divorces, Bloch's first task is to sit down with the family to determine what their plan was had they chosen to stay married — how did they plan to receive income, how would their money be spent, how was it distributed in their estate, etc. Then, looking at financial considerations such as retirement, Social Security benefits and health insurance costs, as well as lifestyle considerations, Bloch said he can begin to advise his client on the best options for their financial future.
Often, these conversations involve difficult recommendations, such as selling a large family home that is no longer needed for a single adult, Reed said. Such a suggestion is frequently difficult for mothers who don't want to let go of the home where they raised their children, he said.
Adult children also may be resistant to the notion of selling a family home, or may even try to influence their parents' legal decisions as they move through divorce proceedings, the attorneys said. The presence of adult children is another unique aspect of gray divorce, as those children may feel entitled to having a say in the divorce process, Reed said.
Further, older clients pursuing a divorce can be susceptible to manipulation by adult children or relatives who may be seeking to gain from the end of the marriage, such as through a change in estate documents. When those issues arise, competency becomes a key question, Bloch said, as it is crucial to determine whether a client has the mental capacity to make important decisions without undue influence from ill-intentioned relatives.
While estate planning is an area of law separate from family law matters, it becomes particularly important in gray divorces, as people must make the necessary adjustments if they no longer want their ex to be listed in their wills or other similar documents, Ryznar said.
Though a couple may have carefully planned for their futures when they were married, they return to the drawing board when it comes to estate planning after a divorce, said Paul Kraft, co-founder and senior principal of Frank & Kraft P.C., an estate planning firm in Indianapolis. After a marriage ends, ex-spouses must ensure their assets are divided pursuant to what the court ordered and must also update medical care and trust documents with the appropriate powers of attorney and beneficiaries, he said.
Kraft, like Bloch, said he takes care to ensure his clients' decisions reflect what they want for their future and are not influenced by their children's wishes. Remarrying also presents complications in estate planning, as spouses who have children from previous marriages must each determine how their joint assets will be divided among the children in the family, including the children who are not biologically theirs.
Kraft
With all of the unique nuances that accompany a gray divorce, Reed said he does not think Indiana's divorce laws are in sync with the new phenomenon.
He expressed concern about the financial implications of gray divorce, as the system tends to favor working spouses over non-working spouses. Though divorce proceedings are begun with a presumption of a 50-50 split of assets, the reality is often closer to 60-40, leaving the non-working spouse with the burden of finding financial resources that will enable them to build a life on their own.
"That doesn't even slightly compensate for the inability to share in the future income of your spouse," Reed said. "It's a no-win for the one side and a complete win for the other side."
Ryznar, however, thinks Indiana's system could work to the benefit of gray divorce parties. That's because the state's divorce framework favors traditional, long-lasting marriages in which both spouses contributed significantly to the family's assets, she said.
Most gray divorces involve marriages that have lasted for several decades, which makes it difficult to disentangle the spouses from each other, Ryznar said. Thus, couples who divorce after many years together may have a better chance of receiving a close-to-even split of assets, legally putting each spouse on an equal playing field for the future.•
Please enable JavaScript to view this content.