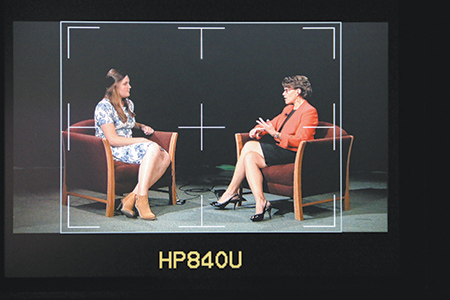 History is much more interesting when there's a story to tell.
Court statistics, case summaries, judicial election results, lists of past bar association presidents and the changing names of law firms all outline the history of the legal profession in any community. But the anecdotes and observations from the attorneys who practiced in previous times provide the color.
The Allen County Bar Association is dipping into that palette through its Lasting Lawyer Legacy Project. Since January, attorneys who have decades of experience are invited into a television studio and asked by another attorney to reminisce about their early days of practicing law in Fort Wayne and the surrounding communities. The conversations are filmed and then posted online.
Visually, the interviews are pretty much two lawyers in chairs, talking. Aurally, the segments are at times mundane, fascinating, tender and funny.
Retired attorney Jeanne S. Miller talking about starting her career as a solo practitioner in the early 1950s is one example. She had opened an office in New Haven because the town had no other attorneys. To get clients, she introduced herself up and down Main Street, offering to do mortgage exemptions for a dollar.
"That was great," Miller explained, "because a farmer didn't have to go into Fort Wayne to sign this affidavit and I made 50 cents on each one."
Gina Zimmerman, ACBA executive director, said the goal of the legacy initiative is two-fold. The bar association wants to capture the stories of the lawyers who had long careers, having them talk about what practicing law in Fort Wayne was like 50 or 60 years ago. Also, the organization wants to bridge the divide between millennial and seasoned attorneys, giving the younger, newer lawyers a chance to ask questions and learn from their more experienced peers.
As she started thinking about the project, Zimmerman was directed to the Allen County Public Library where she met Curt Witcher, senior manager for special collections. Witcher, who has been championing efforts to collect more oral histories, loved the idea. He offered the television studios at the library to do the filming and pulled in his colleague Erik Mollberg, assistant manager of Access Fort Wayne, which compiles local programs through the library.
"We're at the beginning of what we hope to be a forever journey of getting people to talk about their lives," Witcher said.
Norman Compton, manager of Access Fort Wayne, films the interview of attorney Steve Adair (seated, right) by Charles Backs.
Not in history books
Each month, the legacy project selects a handful of lawyers to be interviewed and pairs them with attorneys who will be asking the questions. Sarah Wladecki, associate at Barrett McNagny LLP, described the times she has interviewed as a privilege. She was familiar with the lawyers but in talking with them she learned how they had shaped the law and, occasionally, blazed some trails.
"All have a passion for the law," Wladecki said. "It's very inspiring to see that."
One of the attorneys she sat down with was Tom Yoder, partner at Barrett McNagny. He told her about his Rules of Life, which he began writing down when he was 12 and now number 620. Picking one, he offered some advice to the next generation of lawyers.
"If you're a kid and you're practicing law, you've got to make your own way," he said. "It's certainly changing a lot, but you do have to remember a Yoder Rule of Life which is, 'The only thing that never changes is everything always changes.'"
Gina Zimmerman, Allen County Bar Association executive director, helps prepare attorney Shane Mulholland for his interview.
Zimmerman's premise for the project is that everyone has a story. Pointing to her own family tree, she noted she gets frustrated that while she can find birth and death dates, she had no idea who her ancestors were as individuals. What did they like to do? What were their interests? What did their daily routine include?
The federal court's website gives the biography of Judge William Lee of the U.S. District Court for the Northern District of Indiana, but it says nothing about his regular appearances on stage in Fort Wayne community theater.
Lee started by getting the lead role in Gilbert and Sullivan's "Mikado" and from there kept auditioning and getting cast in plays and musicals. His interviewer, Steven Shine of Shine & Hardin LLP, asked if he ever sang in his courtroom. Lee replied he had not, but during an anniversary celebration of his 20 years on the bench, retired Chief Justice Randall Shepard sang a snippet of "When I, Good Friends, was Called to the Bar," from Gilbert and Sullivan's "Trial by Jury."
Mac Parker, who began practicing in Fort Wayne in 1954 and retired in 2013, remembered the days when he went to the courthouse daily. Walking along Calhoun and Berry streets, he said, he got a lot of work done by often running into other lawyers with whom he needed to talk.
He was interviewed by attorney Roger Hultquist who was in the studio when Parker arrived for his session, but the attorney chosen to ask the questions was not. Hultquist had no idea what he was going to ask, but he had known Parker for years, so the conversation flowed between the colleagues as they traded stories.
Among the tidbits of information, Parker talked about the condition of the Allen County Courthouse when he began practicing. Now the building is a crown jewel with murals, marble and stained glass but previously it was, Parker said, "sort of run down with a lot of grime."
Hultquist called the legacy project a "good idea." The interviews give an idea of how the practice of law has changed and how attorneys have had to adapt.
Talking about socks
To keep the interviews fresh and informal, Witcher goes against best practices and tells the interviewing attorney to leave the stack of notes and list of questions at the office. He wants a conversation — two attorneys chatting over coffee, trading tales, rather than a stiff deposition-style question-and-answer exchange.
Certainly, the attorneys are not completely unprepared. They have all been to law school, they know how to practice law and they are aware of the other lawyer's reputation if not already having formed a long friendship. That familiarity, Witcher said, leads to better questions being asked and richer memories being recalled.
Off-the-cuff style interviews can get derailed if the attorney doing the asking begins monopolizing the conversation or strays from the topic of lawyering. But the risk is worth the reward of getting the delicious details, the fun insights, that otherwise might have been lost.
Such as the exchange between Philip Terrill, partner at Leonard Hammond Thoma & Terrill P.C., and his son Jeffrey Terrill, attorney at Arnold Terrill Anzini P.C. Their conversation turned toward fashion when the elder Terrill mentioned he dresses in a coat and tie to look and feel like a lawyer. This sparked the younger Terrill to point out his father's latest accessory habit of wearing colorful, patterned socks, which led to this exchange about coordinating footwear with the bright ties Philip Terrill usually sports:
Jeffrey: Have you ever put a coat and tie on, put a pair of socks on and then realized it's not a good match and had to change your socks?
Philip: I have. And I've changed the tie.
Jeffrey: You still get to court on time even though you're making these wardrobe changes?
Philip: Pretty close.
Recently, the legacy project got a sad reminder of the importance of collecting memories. Mollberg, who was committed to giving everyone the chance to have their voice heard, was killed in a motorcycle crash.
Zimmerman noted he died before he could tell his tales. And that added more urgency to her mission to record the attorneys' legacy. "I didn't want those stories to be lost," she said.•
Please enable JavaScript to view this content.