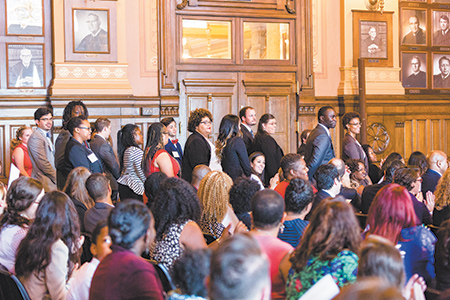 When students take a tour of the Indiana Supreme Court courtroom, Chief Justice Loretta Rush often stops in and asks them to describe what they see. Taking in the grandeur of the room, Rush said the students' eyes often come to rest on the pictures on the walls, which they describe as photos of "mad men."
The response is a reference to the somber (and apparently angry-looking) portraits of past and present justices on the courtroom walls, but Rush said the students' observations also note an important part of Indiana's history. With a handful of exceptions, the seats on the high court's bench have been filled by white men. But rather than lament the lack of diversity on the high court since its creation, Rush instead chose
to celebrate the progress the state has made toward creating a more diverse legal profession, which is happening in part through the Indiana Conference for Legal Education Opportunity. This year marks the program's 20th anniversary.
At a ceremony to celebrate the milestone last month, Rush told a crowd of past and present ICLEO participants, mentors and supporters that since its inception in 1997, the ICLEO program has helped more than 500 students prepare for a legal career. The program, which is targeted toward minority, low-income or educationally disadvantaged college graduates, offers the opportunity to participate in an intensive study experience during the summer, connect with potential future employers and obtain scholarship money fo further their legal careers.
"It's a wonderful story of accomplishment," said former Chief Justice Randall Shepard, who first suggested the idea of the ICLEO program in his 1997 State of the Judiciary address.
Former Chief Justice Randall Shepard talks with attendees at the ICLEO 20th anniversary celebration. Shepard was recognized for his role in creating and implementing the program. (Photo courtesy of Indiana Supreme Court)
College graduates must apply and be accepted into the ICLEO Summer Institute, which was held this year at the Indiana University Robert H. McKinney School of Law. The institute is designed to expose participants, who work with professors and former ICLEO fellows, to the rigors of law school and to get a picture of the demands of being a 1L.
Kendra Key, a 2L at Notre Dame Law School, can easily recall the intensity of her Summer Institute experience in 2016, when she took up temporary residence at the Indiana University Maurer School of Law. She was tasked with completing the same types of reading and assignments she would face when she enrolled at Notre Dame the following fall. Though the Summer Institute was a pressure-packed experience, Key said it gave her an advantage during her 1L year because she, unlike other first-year students, entered law school prepared for what was to come.
"We didn't know it at that time, but it gave us exactly what to expect the first semester," Key said.
After completing the program, ICLEO participants can then become certified ICLEO fellows and take advantage of the scholarship and networking opportunities. Since the program's beginnings in 1997 through Key's 2016 Summer Institute, 547 ICLEO participants have become certified fellows, and 394 have gone on to graduate from law school. Indiana Supreme Court data shows 269 of those graduates are admitted to the practice of law, while some like Key are still in school and others are preparing for the bar.
Shepard, who received multiple standing ovations at the anniversary celebration for his role in ICLEO's creation, told the crowd that there are two main ways ICLEO fellows can give back to the state for providing the opportunity to participate in the program. First, the fellows-turned-lawyers can go into the field and excel at their craft, proving that ICLEO makes a positive impact on the quality of the legal profession.
But secondly and more importantly, past ICLEO participants must be willing to share their time and efforts with current students, a suggestion he said most ICLEO attorneys already embrace.
Indiana Court of Appeals Judge Rudolph Pyle, who participated in the inaugural Summer Institute in 1997 and went on to become the first appellate judge to come through the ICLEO program, said he chooses to give back by hiring a student who went through ICLEO as an intern every summer. Such professional opportunities were the key to his ascension to the bench, Pyle said, as his interest in becoming a judge traces back to his own ICLEO-sponsored internship as a Court of Appeals law clerk.
Indiana Court of Appeals Judge Rudolph Pyle (above) said his ICLEO internship inspired his desire to become a judge. (Photo courtesy of Indiana Supreme Court)
Through the connections he made in that internship, Pyle said he met mentors who guided him in his legal career and helped him on the road to a judgeship, first as a Madison Circuit judge, then as an appellate judge.
"I don't take it for granted, and I think everybody gets to share in that," he said. "I don't think you ever aspire to arrive at these positions on your own. You do so with the help of other people, and I've had a number of mentors help me along the way."
Similarly, Key is the only person in her family so far to go to law school, so without ICLEO, making career connections would have been a difficult task. But through the program, Key spent her first summer after law school interning with the Indiana Supreme Court's programming and projects division, where she said she was exposed to a variety of aspects of the judiciary she otherwise might not have known about.
Some law students begin their legal careers with certain advantages, such as prior professional connections or experiences, Key said. But for the demographics targeted through ICLEO, she said the opportunities presented through the program could provide the break they need to launch a successful legal career.
"I know I can speak for myself when I say it gave me an opportunity and a network where I wouldn't have had it," Key said. "Some people might have those, but for those who don't, this is a benefit."
The ICLEO 20th anniversary coincides with an important transition in the makeup of the Indiana Supreme Court. After the retirement of long-time justice Robert Rucker — who served for nearly 17 years as the only black justice on the bench — Justice Christopher Goff was sworn in as the state's 110th justice July 24, marking the first time since 1999 that the court is comprised entirely of white jurists.
Though the high court's makeup might not reflect the ethnic diversity of the state, Pyle was optimistic that through the ICLEO program, the state will continue to move closer toward its goal of building a judiciary and legal profession that looks like all Hoosiers.
"The bar as a whole is more diverse than it would have been without ICLEO," the appellate judge said. "It's a foundation for diversity and to make it look like more Hoosiers. As time goes on, it'll catch up, and that's one of the byproducts of Chief Justice Shepard's efforts."
Right now, there are roughly 1,100 non-white attorneys on the Indiana Roll of Attorneys, Rush said, a fact she praised as evidence of the state's progress toward a more diverse judiciary. Yet even as progress is being made, the chief justice said she is committed to furthering ICLEO's mission as long as it remains necessary.
"We're going to grow the program until we don't need it anymore," Rush said. "Until it's obsolete."•
Please enable JavaScript to view this content.