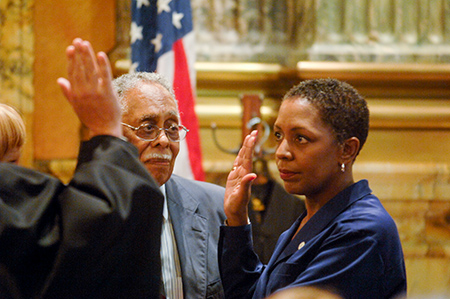 Just about every month, U.S. Magistrate Judge Denise LaRue would have lunch with her former law partner John Haskin. The pair would get a table at the Workingman's Friend restaurant, order double cheeseburgers, fries — occasionally onion rings — and Cokes, then share news of their families and current activities.
LaRue and Haskin had worked together for more than 20 years at the firm that became Haskin & LaRue LLP. Each had sons about the same age and they formed a strong friendship over the joy and frustration of raising boys.
As their youngsters grew into adults and LaRue settled into her judgeship with the U.S. District Court for the Southern District of Indiana, the pair still had plenty to talk about over cheeseburgers. Speaking of his friend and colleague, Haskin, now with Haskin & Associates, said, "She just had so much more to give. That's what people are going to miss. She had so much more to give."
LaRue, 59, died Aug. 2 after a battle with cancer. She passed away at home in Indianapolis, surrounded by her parents, Robert and Jewell LaRue; her son, Robert Ragland; and her sister, Collette LaRue DuValle. She was the first African-American appointed as a magistrate judge in the Southern District of Indiana.
The legal community is remembering LaRue as a calm presence in the courtroom, intelligent, even-keeled, genuine and always prepared. Her deep knowledge of the law never clouded her ability to always think of the parties, working to understand the dispute from their viewpoint and helping them find the solution that was best for them.
LaRue is the first active judge on the Southern District bench to die since Judge Cale J. Holder in August 1983.
A private person, LaRue did not disclose her illness publicly. She told Southern District Chief Judge Jane Magnus-Stinson in February but continued working. Load-ing a backpack with medications, she would climb into the car and be driven to the Birch Bayh Federal Building and U.S. Courthouse in Indianapolis by either her sister or her brother-in-law, Reginald.
Magnus-Stinson remembered getting a call from LaRue in May. At that time, the magistrate judge was enduring serious treatment, yet she was focused on her work and calling to talk about a settlement in a case. "That was Denise," Magnus-Stinson said.
DuValle said her sister loved her court family and loved her job. Growing up, DuValle remembered her younger sibling as being driven and conquering whatever she set her mind to. A terrific reader, LaRue retained much from the books she finished so the law seemed like a natural career for her.
She graduated cum laude from Indiana University Robert H. McKinney School of Law in 1989 and joined the Indiana Civil Rights Commission as a staff attorney. She entered private practice, where she met and began working with Haskin. There she litigated employment-related matters involving discrimination.
In 2011, she was appointed magistrate judge. "We were just full of joy and love," DuValle said of her sister joining the federal bench. "That was a huge opportunity for Denise. We were so thrilled."
During her investiture ceremony in September 2011, LaRue's son held the Bible.
Ellen Boshkoff, partner at Faegre Baker Daniels LLP, had been opposing counsel on cases with LaRue when she was in private practice. LaRue would be representing the employee, Boshkoff defending the employer. While any prolonged, difficult litigation can divulge into personal spats between the attorneys, Boshkoff said LaRue was always professional, straightforward and addressed the issues.
On the bench, she exhibited the same traits. Boshkoff, John Maley, a partner at Barnes & Thornburg LLP, and John Trimble, senior partner at Lewis Wagner LLP, all practiced before LaRue and remember her as being fair, respectful and treating both sides equally. She also was very skilled at connecting with the litigants and having great compassion for their circumstances.
"I think one of her strengths was that she was a pretty good listener. She put people at ease so they felt there was someone really listening to them and understanding what they were saying," Boshkoff said.
LaRue earned the reputation that she could find a solution. No matter how entrenched the parties were, she would spend the settlement conferences asking the individuals questions that made them more introspective about their positions. She was patient and would guide the plaintiff and defendant to a resolution that fit their needs and desires.
Magnus-Stinson said LaRue did her job in a graceful and faithful manner. "Even before she knew she was ill, she worked to make sure everything she did made a difference," Magnus-Stinson said. "I think she was consistent in thinking about how she could contribute."
Within the legal community, LaRue was a member of several groups including the Federal Magistrate Judges Association and the 7th Circuit Bar Association, as well as was a master with the Indianapolis American Inn of Court and a life member of the Marion County Bar Association.
She gave special attention to law students and young lawyers. LaRue was a member of the IU McKinney Board of Visitors and every year would speak about professionalism to the entering class of students at the law school. Dean Andrew Klein said her demeanor, wisdom and devotion to the practice of law made an impression and through that new generation of lawyers, her legacy will be carried forward.
"She was really a role model for every member of the legal profession," Klein said.
Outside of the legal profession, LaRue was loved and admired. She recently had been named an elder at Witherspoon Presbyterian Church, and she had served on the board of the Indiana Minority Health Coalition. Carl Ellison, CEO of the organization, credited LaRue with helping to improve the agency's bylaws. She organized the review process and shared her legal expertise to guide and inform the board.
"We hated to lose her," Ellison said of LaRue resigning from the coalition when she became a federal judge, "but we were delighted she was placed in a position where she could have a greater impact on the citizens of the state and the nation."
Two of her Delta Sigma Theta sorority sisters, TaKeena Thompson, partner at Cohen & Malad LLP, and Tavonna Harris Askew, chief of staff and general counsel for the Health and Hospital Corp. of Marion County, remembered LaRue was always smiling and always willing to offer her help. She was kind-hearted and excited to hear about their successes.
Thompson counted LaRue as a mentor and would often visit her in chambers for a brief chat. LaRue advised the young attorney on how to handle the demands of practicing law and maintain a balanced life.
"I loved her voice," Thompson said. "She had an amazing voice. I can still hear it."
To Askew, LaRue often spoke through letters. Whenever Askew received an award or a recognition, she knew she would soon be getting a note written on federal court stationary. LaRue never missed sending her congratulations and including the encouragement to keep doing good things for the community.
As word of LaRue's death spread last week, Askew's phone began ringing with calls from shocked and deeply saddened young lawyers. "This one feels like we have not only lost a colleague and friend," Askew said, "but we also lost a part of our family."•
Please enable JavaScript to view this content.