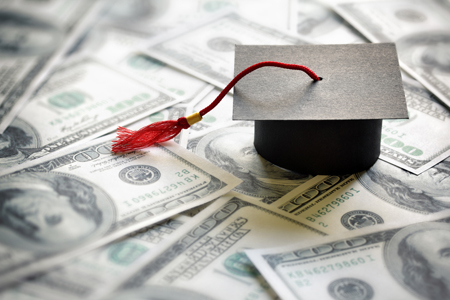 Gilbert
Ronald Gilbert III has wanted to be a lawyer since he was 10 years old, but after reading an article about law school graduates who were struggling under student loan debt, he got scared.
Rather than giving up his dream, the Indiana University Robert H. McKinney School of Law student began paying even more attention to his finances. Gilbert chose to attend the Indianapolis law school because he would be charged the lower in-state tuition rate and he could attend classes at night while working during the day. At home, he keeps a running balance sheet on his living expenses and what his monthly student loan payment will be after graduation.
He received a scholarship from the law school as well as money from the Indiana Conference for Legal Education Opportunity program. Also, despite the fears raised by the news article, he took out a student loan which he estimates will be five figures by the time he graduates in December 2018.
"It's something I decided was worth it," Gilbert said, "especially since after attending my first year, I figured out the law was something I was passionate about and something I wanted to do."
As the Class of 2020 begins its legal studies and the Class of 2018 prepares for the bar exam and life as a lawyer, many will probably be like Gilbert — thinking about their financial security, debt and loan obligations. More than 85 percent of law students borrow, running up a tab that can flow to astronomical amounts. The Class of 2015 graduated with federal loan obligations topping $3.75 billion.
Much press has been devoted to the problem of high loan debt and fewer jobs within the legal profession. The American Bar Association sought to address the issue by convening the Task Force on the Financing of Legal Education in 2014, which made recommendations about ways to curtail law student loan obligations, and by reconsidering its accreditation standards to pressure law schools into enrolling only those students who have the best chance of passing the bar and finding a J.D.-required job.
Scott Norberg, professor at Florida International University College of Law and former deputy managing director of the ABA Section of Legal Education and Admissions to the Bar, is calling for a new employment outcome standard. In a paper published in July 2017, he proposes law schools demonstrate at least 60 percent of graduates in two or more of the previous five classes have a full-time, long-term job within 10 months after graduation where either bar passage is required or having a J.D. is an advantage.
He noted the rise in student debt is coming as entry-level salaries are stagnating or deflating. According to NALP, the median salary for lawyers across public and private sectors was $64,800 in 2015, nearly $15,000 less than the $79,554 median salary in 2009. Moreover, debt has increased among students enrolled in law schools that have weak employment outcomes.
"The high cost of legal education heightens the need for an employment outcome standard," Norberg wrote. "The negative repercussions of a low graduate legal employment rate are magnified where graduates have borrowed substantial sums to obtain the law degree, regardless of whether they are able to repay their student loans according to the terms."
More cautious
Gilbert is looking at his future employment which, he hopes, will be as a civil litigator or intellectual property attorney at a law firm. As part of his planning, he's calculating how much he will need to make after law school to not only make his monthly loan payments but also to live comfortably and secure his financial health.
Student loans have added to Gilbert's financial concerns but they have enabled him to obtain a law degree. In fact, he doubts he would have been able to finance his legal education without assistance from financial aid.
Leopold
At Indiana University Maurer School of Law, Paul Leopold III sees the benefit of student loans. The director of financial aid has counseled Bloomington law students and alumni since 2009 and believes the loans help remove some of the barriers created by socioeconomic status and allows more individuals to get a J.D.
"I think it's important to provide access to legal education and I think (the student loans) are meeting that need," Leopold said.
The ABA and legal educators have tried to find ways to reverse the rise in student debt, but what Leopold has noticed may indicate part of the answer may come from the grassroots.
"I think students seem to be cognizant of the student loan issues and more debt-adverse," he said. "I think they're giving more thought to how much they're going to borrow."
Kyle McEntee, executive director of Law School Transparency, also believes more students are shying away from debt. While a law degree can bring long-term dividends, many students do not want a monthly loan payment eating into the quality of their lives during their 20s and 30s. Instead, more are making different choices, such as pursuing a graduate degree or joining a startup, instead of applying to law school.
Scholarships flow
The solution, McEntee said, is for law schools to lower their prices. Scholarships only rearrange the money, he said, so that some students pay more to subsidize other students who pay less.
IU Maurer topped the scholarship list among Indiana law schools according to the ABA Standard 509 reports for 2016. The Bloomington institution gave 96.7 percent of its students a scholarship with the median amount being $23,600.
Notre Dame Law School was next with 80.6 percent of its students receiving scholarships and the median totaling $21,000. Valparaiso gave 61.2 percent of its students a scholarship with the median being $19,725. IU McKinney had 64.7 percent of its students receiving scholarships, the median being $13,073.
Goodman
Ian Goodman did not get a scholarship nor, he said, did he deserve one.
The associate at Cantrell Strenski & Mehringer LLP took out loans to pay for his legal education and did not do much to curb his spending on dinners with friends, nights out and other incidentals. He had wanted to be a lawyer since he was 10 but, he admitted, he got lazy, not working as hard as he could in school. Toward the end of his undergraduate studies in 2009, he remembered his dream and, noting the economy had stalled, decided to enroll in IU McKinney.
Goodman did not really think about the debt he was incurring until his law school girlfriend scheduled an appointment with a financial counselor during their third year. "It was terrible," he said, remembering that day.
She had been disciplined in her studies and in her borrowing so, Goodman said, she owed about $15,000 while his debt reached about $125,000. Then came the question about whether they would have a future together if he was not able to improve his finances.
Since then, they have married and Goodman has been aggressive about repaying with the expectation he will fulfill his obligation in the coming months. He said he loves being a lawyer but he knows other classmates who are not happy in the law, and he wonders if part of that dissatisfaction is linked to their own student loan debt. Many seem to envision their loans will shadow them for the rest of their lives.
"I take full responsibility for the decisions I made," Goodman said, "but I would encourage educational institutions to be in their students' faces to get them to be more serious about debt."•
Please enable JavaScript to view this content.