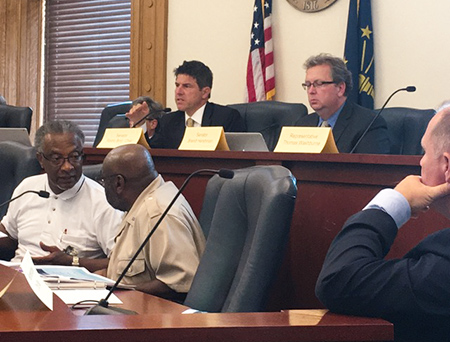 With a little more than four months until the start of the 2018 Indiana General Assembly, lawmakers are back to work to consider two high-profile issues being closely watched by law enforcement and prosecutors throughout the state: civil forfeiture and constitutional carry — the proposition that people should be able to carry handguns without a license.
The issue of civil forfeiture, which was considered by the Interim Study Committee on Courts and the Judiciary on Aug. 16, was sent to the summer study committee via House Enrolled Act 1123 after multiple civil forfeiture reform bills failed to advance through the Legislature this past session. And now that Chief Judge Jane Magnus-Stinson in the U.S. District Court for the Southern District of Indiana has determined part of the state's civil forfeiture statute is unconstitutional, reform has become a more pressing issue.
Pursuant to Article 8, Section 2 of the Indiana Constitution, all civil forfeiture proceeds must be deposited in the common school fund. But pursuant to Indiana Code 34-24-1- through -9, law enforcement and prosecutors' offices can keep part of the total they receive through a seizure as reimbursement for the expenses associated with the forfeiture procedure.
Marion County Prosecutor Terry Curry and Delaware County Prosecutor Jeff Arnold, addressing the committee on behalf of the Indiana Prosecuting Attorneys Council, spoke in support of the state's current civil forfeiture laws. They pointed out that the Institute for Justice had ranked the Hoosier state's civil forfeiture procedures as the second best in the country. That November 2015 report, however, notes that Indiana's law looks good only on paper.
In fact, the Institute for Justice filed a lawsuit in Marion County early last year on behalf of three Indiana couples challenging the state's law, asking the courts to prevent prosecutors and law enforcement from keeping money seized in civil forfeiture, or at least, to only be allowed to recoup their actual costs related to the civil forfeiture action. The plaintiffs maintain the money should be turned over to the common school fund as required by the state constitution. A bench trial has been set for Jan. 9, 2018.
Arnold also told the committee that civil forfeiture proceeds enabled him to purchase laptops for his deputy prosecutors, a purchase he said would not have otherwise been possible.
Despite their support for the current civil forfeiture framework, the prosecutors proposed a series of changes to that framework. Among those changes would be to decrease the amount of time a civil forfeiture action must be filed after a property owner makes a demand for their property from 90 days to 21 days.
Additionally, the prosecutors advocated for a certain percentage of forfeiture proceeds to be set aside for prosecutors and law enforcement. The proposal would call for one-third of the proceeds to be diverted to the prosecutor, then 85 percent of the remaining amount diverted to law enforcement and the remaining 15 percent deposited into the common school fund.
Addressing concerns about forfeitures when there is no criminal conviction or when the forfeited property belongs to a non-suspect, such as a person who unknowingly lends his vehicle to a friend who is selling drugs, Curry said "innocent owners" have an absolute defense against forfeiture. Additionally, he advocated for a proposal that would eliminate towing, storage and maintenance fees if a property is returned without a civil forfeiture action or if the forfeiture is denied.
Representatives from the attorney general's office said Indiana's current civil forfeiture framework has been upheld as constitutional, so a complete overhaul would not be necessary. But in an Aug. 18 opinion in the case of Leroy Washington v. Marion County Prosecutor, et al., 1:16-cv-02980, Magnus-Stinson determined that that I.C. 34-24-1-1(a)(1), as read in conjunction with the statutory provisions of that chapter, violates due process protections in the Fifth and 14th amendments.
Leroy Washington had argued the statute in question is unconstitutional because "it allows the government to deprive individuals of their vehicles for potentially lengthy periods of time without any ability to contest the deprivation." Specifically, Washington argued on behalf of a class, which was certified in the Aug. 18 opinion, that the practice of allowing the government to withhold someone's vehicle for 180 days after a seizure, or 90 days after an individual makes a demand for their property, is unconstitutional because there is no opportunity for a post-seizure, pre-forfeiture hearing.
Magnus-Stinson agreed under the balancing test laid out in Mathews v. Eldridge, 424 U.S. 319, 96 (1976) and issued a permanent injunction prohibiting the enforcement of I.C. 34-24-1-1(a)(1), as read in conjunction with statutory provisions of the same chapter. The injunction applies to the Marion County Prosecutor's Office, Indianapolis Mayor Joe Hogsett, and Brian Roach as chief of the Indianapolis Metropolitan Police Department.
Indianapolis criminal defense attorney Todd Ess referenced the Washington case, although not by name, during his remarks at the Aug. 16 meeting, telling the committee that if the chief judge chose to certify the class and allow the case to move forward, as she did two days later, the General Assembly would have to take notice of the issues surrounding civil forfeiture reform.
Constitutional carry coming?
Aside from civil forfeiture reform, the Joint Committee on the Judiciary and Public Policy will consider the issue of constitutional carry, which is among the most controversial topics being considered by lawmakers this summer. Rep. Jim Lucas, R-Seymour, who has presented multiple constitutional carry bills in recent years, said he sees the decision to send the issue to summer study committee as a good sign for future constitutional carry legislation.
Lucas' constitutional carry legislation has generated sharp backlash from interest groups each time it has been proposed. For example, Everytown for Gun Safety and Moms Demand Action for Gun Sense in America released a joint statement Aug. 11 condemning constitutional carry. Calling handgun carry licenses a "common-sense requirement," the organizations expressed concern about possible violence that could result from such "dangerous legislation."
But Lucas and Guy Relford, an Indianapolis Second Amendment attorney who planned to testify before the committee Aug. 22, said such concerns are based on misinformation. Individuals who are currently prohibited from carrying a handgun would still be prohibited if constitutional carry becomes law, they said. Background checks and screenings would still be required to purchase a gun, but constitutional carry would remove the requirement for additional screenings to obtain a license to carry.
"The only thing we're trying to do is to make sure innocent people don't have to get fingerprinted and pay a substantial fee to the state to get a little pink license that says, 'You're a good person, you're legal to have a gun,'" Lucas said.
Concerns have also been raised about a loss of law enforcement revenue if licenses — and, thus, their fees — are eliminated. Relford said he understands such concerns and does not advocate for legislation that would negatively impact law enforcement finances. To that end, Sen. Rod Bray, R-Martinsville, who chairs both study committees, said lawmakers will hear testimony on the "nuts and bolts" of constitutional carry, such as the possible budgetary impacts of doing away with the licensing fee.
In addition to civil forfeiture and constitutional carry, the study committees also will consider issues around adult protective services, requests for new courts and judicial officers, and providing indigent defense services to people charged with misdemeanors and parents in children in need of services cases. Each committee has additional meetings scheduled in September and October to hear testimony on these topics.•
Please enable JavaScript to view this content.