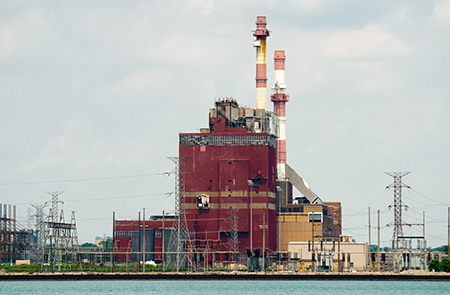 Coal is still king when it comes to power production in the Midwest, but despite a presidential cheerleader for the industry, changes in motion for years coupled with market forces are dimming the outlook for an ancient fossil fuel in sharp decline.
While coal remains the leading fuel for generating electricity in the Midwest, that status is largely due to past dominance. The Department of Energy's Staff Report on Electricity Markets and Reliability released Aug. 16 notes that in just seven years, coal slid from producing 64 percent of the region's electricity to 47 percent in 2016.
President Donald Trump pledged during the campaign to "put coal miners back to work" and strip Obama-era environmental regulations that resulted in the decommissioning of coal plants nationwide. The report seeks to put those promises into practice. It calls on the Department of Energy to put into action Trump's pro-coal executive orders while also relaxing regulations on coal-fired power plants.
"DOE and related federal agencies should accelerate and reduce costs for the licensing, relicensing, and permitting of grid infrastructure such as nuclear, hydro, coal, advanced generation technologies, and transmission," the report recommends. "DOE should review regulatory burdens for siting and permitting" coal and other power plants.
Mizell
The DOE report also sounded a warning about the reduction of coal-generated electricity. It concluded, "The rapid changes occurring in the generation resource mix and technologies are altering the operational characteristics of the grid and will challenge system planners and operators to maintain reliability."
Despite calls for more coal, lawyers who practice in the energy sector are widely skeptical of a comeback. Environmental considerations and concerns about climate change have been drivers in coal's rapid decline in recent years, but likely not the main factor.
"Really, those were all quite secondary to the very low price and very high supply of natural gas," said Mike Mizell, senior strategic adviser in the energy sector at Ice Miller LLP. As coal's dominance in energy production slipped, cheap natural gas filled the void, nearly doubling from 14 to 27 percent of the power source in the Midwest from 2009-2016.
Kelln
Formerly an executive and general counsel at AES Corp., parent company of Indianapolis Power and Light, Mizell noted IPL still relies on coal but no longer has coal-fired plants in the city. Nevertheless, he expects coal to continue to be vital to the energy generation mix for utilities in this region. "The concern is, a complete absence of coal leaves only natural gas as the baseload" to supply the grid. That could be a problem in the event gas prices rise — a distinct possibility given the history of fluctuating fuel prices, he said.
Like IPL, many utilities in recent years idled coal-fired plants that couldn't meet more stringent environmental regulations or converted them to use another fuel, most often natural gas. The DOE report notes the last new coal plant licensed to generate electricity in the U.S. came online in 2014. Those plants are more expensive to build and operate than plants burning natural gas, the report says, and regulations are tougher.
Max Kelln, a partner at Faegre Baker & Daniels LLP, said the firm hosted a panel discussion on energy in Washington this May attended by a bipartisan group of congressional staff members. Environmental Protection Agency Administrator Scott Pruitt spoke there and made a pitch for more coal generation just ahead of the Trump administration's withdrawal from the Paris Agreement on climate change.
Brasseale
"From what I heard from those staff people, those type of coal incentives and rolling back the regulatory process did not seem to be in the cards," Kelln said, though he said there did seem to be appetite for a broad, bipartisan energy policy. He was surprised by the DOE report's suggesting that the decline of coal generation may challenge grid reliability. He said grid operators at the Washington meeting "all seemed to be pretty skeptical that reduction in coal capacity was a threat in any way to the grid."
Kent A. "Kab" Brasseale II is a partner who represents mineral, oil and gas clients at Kahn Dees Donovan & Kahn LLP in Evansville. The coal industry in southwestern Indiana and the Illinois basin has struggled in recent years, but Brasseale said he sees small signs of improvement.
"I haven't seen a marked increase," he said. "There's been a little more activity," on potential mineral leases and coal company mergers. He's seeing outside money coming into coal companies that he said appears to be positioning for future coal production.
Romig
"Is it a dinosaur we're never going to need again? I can't believe that's ever going to happen," Brasseale said. But at the same time, as long as natural gas remains cheap, "It's less expensive to produce energy and comply with environmental regulations using natural gas," he said.
Amy Romig, a partner at Plews Shadley Racher & Braun LLP, said market supply, fuel cost and demand for energy will govern coal's prospects in Indiana. But she's optimistic about so-called clean coal technologies such as Duke Energy's coal gasification plant in Edwardsport.
"The optics aren't great, burning coal," Romig said. "Coal just had a bad name. … As old coal plants are shutting down, people are looking for new, cleaner things."
Gardner
Romig said Indiana, like many regions, are not amenable to renewables as a baseload source of electricity production. In the Midwest region, renewables such as wind, solar and hydroelectric power account for less than 10 percent of all electricity generation on the grid.
Along with the lower cost of natural gas, another factor hindering a coal comeback is the long-range planning that dictates energy production. "The time it would take to get a new plant up and running is a very long time-horizon," said Will Gardner, an associate in the energy practice at Taft Stettinius & Hollister LLP. The process is often longer than any single presidential administration.
Gardner noted that rolling back the "aggressive" deadlines for some Obama-era emissions regulations as the Trump EPA is doing might help coal, but it might not. "People have been taking these regulations into consideration" in planning which plants to keep, which to close, and in the construction plans for new energy facilities.
Mizell noted that the state of Indiana is fighting the Obama EPA's Clean Power Plan that aimed to reduce carbon emissions from power plants by 32 percent from 2005 levels by the year 2030, and he characterized that rule as being "on life support." Nevertheless, he said filings to the Indiana Utility Regulatory Commission from the four largest utilities in Indiana show they're all on target to meet that regulatory goal.
Kelln said because Congress and the administration do not work together to formulate a national energy policy, decisions on where electricity comes from and which sources are incentivized are up to states, and the whims of policies largely driven by executive orders.
"Between the Obama administration and the Trump administration, energy policy has been driven by administrative action," Kelln said. "You see a real whiplash. … Energy policy is turned on its head."•
Please enable JavaScript to view this content.