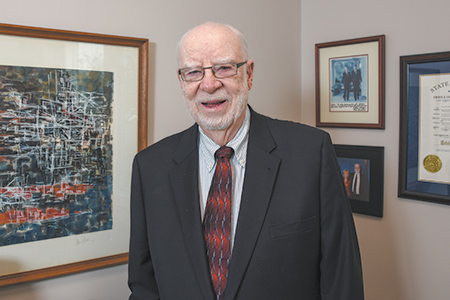 At 85 years old, John Proffitt has retired from practicing law but he still has an office that he regularly visits at Altman Poindexter & Wyatt LLC in Carmel.
Flooded with natural light, the space has comfortable chairs, a large desk and walls adorned with accolades and photographs collected from a legal career that spanned more than 50 years. These things highlight his dedication to his practice while a small blue plastic Chicago Cubs baseball hat that sits on corner of the desk and a framed Calvin & Hobbes cartoon on the wall reflect his propensity to enjoy life.
The most striking aspect of the office is the location — right off the reception area. It was purposefully given to Proffitt, who likes people, loves to converse and naturally fills the role of greeter to the clients arriving to meet with their attorneys.
Proffitt, in retirement, can indulge in what the billable hour took away. Calling it "one of the worst things the law ever did," he said having to count minutes has hindered lawyers from fostering a friendly relationship by shooting the breeze and finding out about families, hobbies and the latest happenings.
His office location allows him to do what he advises all lawyers to remember: "Your clients are the most important part of your practice."
Proffitt's colleagues have found him to be an important part of the legal profession, exemplifying not only the highest standards and ethics but also being active outside the practice of law to help the larger community. They have honored him with the 2017 Indiana Bar Foundation Legendary Lawyer Award.
Peter Obremskey, of counsel at Parr Richey Frandsen Patterson Kruse LLP in Lebanon, often introduced law clerks and young associates to Proffitt, wanting to give them a good example to follow. Proffitt, Obremskey said, was more interested in people than making money. He was always a gentleman, sincere and never uttered a bad word about anybody even if they were stepping on his toes.
"If every lawyer was like John Proffitt," Obremskey said, "then the legal profession would be a very pleasant place to work."
Proffitt began his legal career at Stinson Morrison Hecker LLP in Kansas City, Missouri, before returning home to Indiana where he joined the late Frank W. Campbell in Noblesville. At the start, he handled just about any legal matter that walked in the door but gravitated to civil litigation and then family law. He helped found the former law firm of Campbell Kyle Proffitt LLP and built a reputation of being smart, well-prepared and always civil.
As Obremskey explained, Proffitt is likable, and for opposing counsel, that was a problem because juries liked him as well.
Proffitt joked that being a Legendary Lawyer means he has lived longer than most attorneys. But then he humbly accepts the recognition.
"I think anybody is warmed by the fact that they see some indication that they've done a good job," he said. "I think anybody's got to be grateful for that and feel good about it."
'Doing something worthwhile'
Proffitt found the law early.
As a young boy growing up in Lebanon, Proffitt was given a Perry Mason thriller by the local librarian and becoming enthralled, immediately decided he was going to be a lawyer. However, the dream could have evaporated at any moment. He was scraping by with his mother and his older sister — his father having left when Proffitt was just 5 — when his mother died when he was 15.
His mother might have been thinking about his desire to be just like Perry Mason when she arranged for his care once she passed. A family friend from the local Baptist church took over Proffitt's care and sent him to the Kentucky Military Institute in Louisville. At his graduation, another family friend told Proffitt of a promise made to his mother to provide a college education, so the friend enrolled Proffitt at Wabash College.
"I love to tell the story of my life because it's really about other people," Proffitt said. "It's not really about me."
After a stint in the U.S. Army, he got a scholarship to the University of Chicago Law School. His work in Missouri, helping prepare briefs, interviewing witnesses and occasionally waiting for the senior partner to wake up after nodding off, was not Perry Mason stuff, but Proffitt liked being a lawyer.
"It's just feeling that you're doing something worthwhile," Proffitt said. "I think the system of laws and our adherence to that system of laws sets the United States apart from almost every other country."
As an attorney, he made sure the system worked. Deborah Farmer Smith, a former partner at Campbell Kyle Proffitt, said Proffitt prepared thoroughly by knowing the facts and evidence needed to reach a favorable outcome. Inside the courtroom, he kept his counsel table neat, never throwing papers and notebooks into messy heaps, and always knew the witnesses he was going to call and in what order he was going to call them.
Outside the courtroom, he was respectful to everyone. He did not scream at associates, he cooperated with opposing counsel, and Smith said, treated women the same as men, giving her equal opportunities and chances to succeed.
Smith, now at Cohen Garelick & Glazier, noted Proffitt's example showed young lawyers the legal profession "is every bit as much about how you behave as what you know."
Treating others well
Proffitt no longer spends time with Perry Mason but, like his mother, he is an avid reader. He now prefers history books and will often read select passages to his wife, Judy, senior Hamilton Circuit judge. Proffitt first spied her in a Noblesville courtroom, got the court reporter to make the introductions and the two have since enjoyed family, books, travel and practicing law.
"Best thing that ever happened to me," he said of marrying his wife 44 years ago. "Better than practicing law."
Not surprisingly, among Proffitt's many civic activities is his leadership on the Carmel Clay Public Library Board of Trustees.
James Hehner of Hehner & Associates LLC served on the library's foundation board and worked with Proffitt but had met him long before. Hehner was a law clerk, still in law school, when Obremskey introduced Proffitt. Since then, Hehner has continued to be impressed by how kind and polite Proffitt has been, especially as their careers progressed, sometimes placing them on the same side and other times as opposing counsel.
Watching Proffitt at the library gave another example to follow. Hehner, so inspired by Proffitt's dedication to his civic engagement, devoted more time and energy to the library.
Nancy Newport, assistant director of the Carmel Clay Public Library, remembered receiving an invitation to an open house when Proffitt's former firm moved into new offices on 116th Street. She was intimidated, having rarely gone to an attorney's office, but when she walked in the door, Proffitt opened his arms to welcome her and, as she looked around, she saw people from throughout the community.
To Newport, that underscored Proffitt's generosity and cordial treatment of all he met.
Back in his greeter-located office, Proffitt just shrugged. "I like people," he said.•
Please enable JavaScript to view this content.