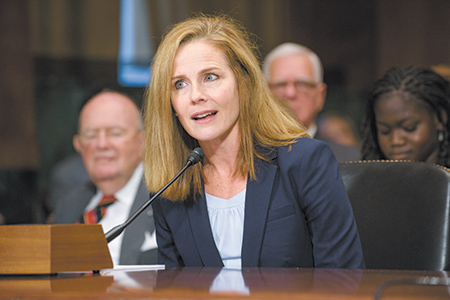 The 7th Circuit Court of Appeals is undergoing a change it has not experienced for a while — saying goodbye to a renowned judge and preparing to welcome a likely new jurist.
Judge Richard Posner, who was appointed to the appellate court in 1981, unexpectedly announced his immediate retirement Sept. 1. Less than a week later, Amy Coney Barrett, the nominee for an existing Indiana vacancy on the 7th Circuit, sat for her confirmation hearing before the U.S. Senate Committee on the Judiciary.
The last judge to retire before Posner and the last judge to be hired onto the Chicago-based court were, interestingly, both Hoosiers. John Tinder retired from the bench in 2015 and David Hamilton was confirmed in 2009.
Tobias
Now Barrett, professor at Notre Dame Law School, appears headed toward filling Tinder's vacancy on the 7th Circuit. Despite the "pretty withering fire" Barrett endured during her Senate hearing, Carl Tobias, professor at University of Richmond School of Law, expects her to get a thumbs-up from the committee on a party-line vote.
She will likely then be confirmed by the full U.S. Senate. However, Tobias noted, a close vote in the upper chamber could stain her confirmation because it could show she was unable to persuade anyone on the other side of the aisle that she is qualified and will be a good judge.
Competing for attention with Barrett's hearing was Posner's retirement. The announcement was sudden, quick and created large shockwaves.
Georgakopoulos
"I think he's absolutely brilliant," Nicholas Georgakopoulos, professor at Indiana University Robert H. McKinney School of Law, said of Posner. "I think he is one of the very, very few jurists that really doesn't hold back. He calls a spade a spade and is willing to recognize when the court is really creating law where there is a void."
Examining academic writing
Posner's decision to step down opens another vacancy on the 7th Circuit which already has two empty seats and will get another if Judge Ann Claire Williams retires in December as she plans.
Barrett would probably need a couple of years to adjust to working on the court, Tobias said. She will have to get used to writing opinions for a tough docket and learn to preside over oral arguments as well as work with her judicial colleagues. Still, he said, she brings a special expertise about the federal courts and has a sense of how the appellate courts work.
A graduate of Notre Dame Law School, Barrett clerked for the late U.S. Supreme Court Justice Antonin Scalia and was nominated to the circuit court by President Donald Trump in May. She is the second person to be nominated for Tinder's seat. Former Indiana Supreme Court Justice and Ice Miller LLP partner Myra Selby was nominated in January 2016 by President Barack Obama but never received a Senate hearing.
Tobias said not confirming Selby was a "striking loss" for the appellate court.
During her Senate hearing Sept. 6, Barrett was repeatedly questioned by Democrats and Republicans about an article she co-authored as a law student in 1998, "Catholic Judges in Capital Cases." The scholarship has been described as advocating for judges to put their religious beliefs above the legal precedent.
Barrett repeatedly reiterated the thrust of the article looked at a very narrow circumstance and concluded that recusal was merited when religious ideals conflicted with the law.
Having spent much of her career in academia, the committee members had to examine her writing to get an idea of how she would rule on the bench. Tobias said the pounding Barrett took over the 19-year-old article was "not completely fair." As he noted, some pieces written for academic journals are meant to be provocative and foster debate rather than have real-world application.
The Judiciary Committee has not scheduled a vote on Barrett's nomination.
Leaving over pro se
Georgakopoulos was a student at Harvard Law School when he first met Posner and since then the two have developed a friendship. Often, the IU McKinney professor sent his articles to the judge for review and received very detailed comments in return.
As an example of Posner's forthrightness, Georgakopoulos pointed to his concurring opinion in Hively v. Ivy Tech, 15-1720, the 2017 decision which found Title VII of the 1964 Civil Rights Act does protect against discrimination based on sexual orientation.
Posner did not hide behind the language, Georgakopoulos said. Instead, the judge acknowledged the 7th Circuit was imposing a meaning of "sex discrimination" that Capitol Hill would not have accepted when it passed the landmark Civil Rights Act. Posner said the appellate court's actions were something all courts "do fairly frequently" and they were using what the "last half century has taught."
Since leaving the 7th Circuit, Posner has talked candidly about his abrupt departure to the Chicago Daily Law Bulletin, the New York Times and the blog, Above the Law.
He has claimed he stepped down over a growing discord with his fellow judges over the treatment of pro se litigants. The decision in Rowe v. Gibson, 798 F.3d 622 (7th Cir. 2015), hinted at the friction, with Posner and Hamilton engaged in a pointed debate over the role of the judge when one of the parties is unrepresented.
Posner, writing the majority opinion in the case that was appealed from the U.S. District Court for the Southern District of Indiana, did extraneous research on the internet on Jeffrey Rowe's medical condition of gastroesophageal reflux disease. Hamilton dissented, asserting that the decision to do a Google search was unprecedented and contrary to long-established law. Posner responded by attaching an appendix to his opinion, refuting the dissent page by page.
Charles Geyh, professor at Indiana University Maurer School of Law, called the exchange "absolutely stunning" and said the dueling opinions did a "tremendous service" in debating how much help a judge should give a pro se litigant.
Geyh said he favors Hamilton's view that problems arise when judges do their own research to help support a weak case. However, he noted, Posner did ask an important question about whether judges have a duty to assure access to justice, especially among pro se plaintiffs who have limited resources.
This opinion and his 3,300-plus other opinions have made Posner one of the most influential judges to have sat on a circuit court, the IU Maurer professor said.
"I have a soft spot in my heart for him. I think he will go down as one of the truly great judges in American history," Geyh continued, comparing Posner to the late judges Learned Hand of the U.S. District Court for the Southern District of New York and Henry Friendly of the 2nd Circuit Court of Appeals. "I think he will be a towering figure in American law."•
Please enable JavaScript to view this content.