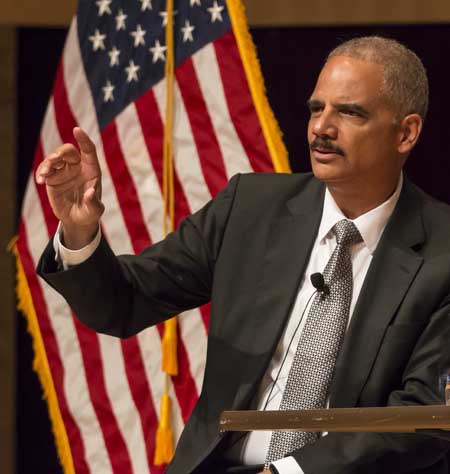 Former U.S. Attorney General Eric Holder remembers well the worst day of his time in office. It was just a few days after the deadly shooting at Sandy Hook Elementary School in Newtown, Connecticut, and he had to make a trip to the classroom where nearly two dozen young children were gunned down.
There was a stark contrast visible in the classroom that day, Holder said. On the walls was artwork the students had created, complete with child-like drawings and letters facing the wrong way. But those drawings were juxtaposed against holes in the carpet, marking the places where bullets had gone through.
"They (police officers) were in tears, I was in tears, my chief of staff who was with me was in tears," he said.
Holder recalled the emotions of that day, as well as other significant events from his six years in office, at Anderson University Tuesday. Anderson University President John Pistole, former deputy director of the FBI and former head of the Transportation Security Administration, invited the former attorney general to share his experiences as part of an event celebrating Constitution Day. The university's National Security Studies Fellows, a program that connects students with professionals who have experience in the realm of national security, hosted Holder's visit.
Holder first met with national security students at a luncheon hosted by the school, then addressed the entire university and members of the public at an open forum where he invited audience members to ask questions. Though Holder told the audience during those discussions that he was satisfied with the work he had accomplished as attorney general, there was one area of policy where he thinks he failed: gun reform.
In the aftermath of the Sandy Hook shootings, Holder said he and other government officials met with gun lobbyists and came to an agreement on what he considered a sensible gun reform plan that would have put stronger safeguards in place while respecting the Second Amendment. But to Holder's surprise, there was not enough public support to back that kind of reform, which created a stalemate on the issue in Congress, he said.
"I think that's my biggest failure," he said.
The former attorney general and current partner in the Washington, D.C., firm Covington & Burlington LLP also discussed the role race relations, especially as it related to gun violence, played during his time in office. Though criminal justice reform had always been on his list of issues to tackle while attorney general, the police shooting of Michael Brown, a black man, in Ferguson, Missouri, forced the Department of Justice to accelerate its efforts in that regard, Holder said. And as the first black person to hold the attorney general's seat, Holder said he was able to bring a unique perspective to the racial tensions that his predecessors did not have.
As those tensions continue to mount today, Holder noted the right of protestors to publicly express their concerns and anger regarding race relations and gun violence across the country. But pointing to the recent wave of protests that have broken out across St. Louis — where white former police officer Jason Stockley was recently acquitted of murder charges in the shooting death of black motorist Anthony Lamar Smith —Holder condemned protestors' decision to don masks and turn to violence, including property damage, to get their message across.
While issues surrounding race relations and criminal justice reform continue nationwide, Holder said he has turned his attention to addressing gerrymandering in the years since he left office. Noting that roughly 400 seats in the U.S. House of Representatives are considered non-competitive due to the nature of their districts, Holder criticized politicians on both sides of the aisle for actions that he views as blatant attempts to pick their voters, rather voters picking their national representatives.
To address his concerns in that regard, the former AG now chairs the National Democratic Redistricting Committee. That organization, which is a partisan group, aims to develop a redistricting strategy for the Democratic Party ahead of the 2020 census and the redrawing of Congressional and state legislative lines in 2021.
Holder also addressed other high-profile issues currently facing the nation and the Trump administration, such as the decision to rescind the Deferred Action for Childhood Arrivals program. Current Attorney General Jeff Sessions announced that the administration had decided to rescind DACA because it was an unconstitutional initiative, but Holder rejected that notion. Instead, he said the implementation of DACA was based on the premise of prosecutorial discretion and represented an effective use of immigration officials' resources.
Holder also took issue with the public tensions that have been visible between Sessions and President Donald Trump, noting that even though President Barack Obama once told him he disagreed with Holder's positions on some issues, the former president refused to share the nature of those disagreements while Holder was still in office. Holder said the public disagreements between Sessions and Trump — particularly disputes regarding Sessions' decision to recuse himself from the investigation into Russian collusion during the 2016 election — point toward a troubling relationship between the White House and cabinet members.
"Cabinet officers do things that frequently anger the person who they serve, but if you're the president, you've got to understand that people within your cabinet, and especially people at Defense and State, Treasury and especially Justice, are going to do things that you might not always agree with, but that are ultimately part of their responsibilities, their duties," Holder told reporters. "I think the negative things that were directed at Attorney General Sessions by the president in that regard were way out of line."
Anderson junior Zachary Van Duyn, who plans to go to law school after graduation and pursue a career in corporate law, told reporters he was given the opportunity to discuss civil asset forfeiture with Holder during his visit to the school. Based on that conversation, Van Duyn said he realized the importance of the work that lawyers do and became more confident in his choice to go into the legal field in the future.
"I felt more compelled after talking to him to pursue a career he so highly spoke of, and after hearing what he did as attorney general and in his private practice," Van Duyn said. "It was such a privilege to hear from him."
Please enable JavaScript to view this content.