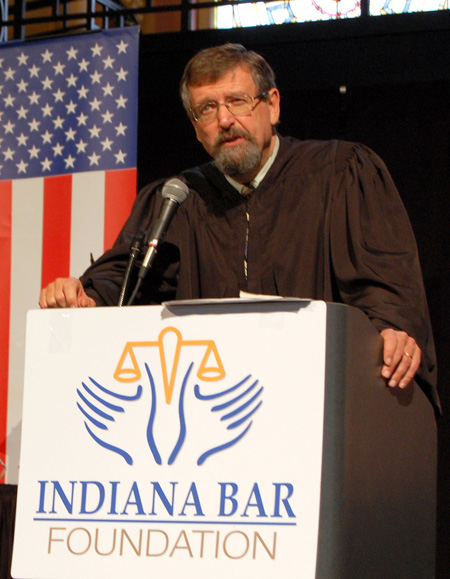 Federal judge Larry McKinney is being remembered as a brilliant, hardworking jurist who was personable, vibrant and had a terrific sense of humor.
McKinney, senior judge on the U.S. District Court for the Southern District of Indiana, died suddenly overnight. The court issued a statement, requesting respect for the McKinney family's privacy during this difficult time and for keeping the judge's wife, children and grandchildren in thoughts and prayers.
"He was one of a kind," Southern District Magistrate Judge Tim A. Baker said of McKinney. "People just loved him and are going to miss him terribly. … There are a lot of people who are sad today."
McKinney was appointed to the district court in 1987 and assumed senior status in 2009. Prior to joining the federal bench, he served as Johnson Circuit Judge for nearly nine years.
He first served as a deputy attorney general for the Indiana Attorney General's office before going into private practice in 1971. He was a member and partner in the law firm of Rogers & McKinney; from 1974 until his election as a state trial judge, he was a member and partner at Sargent & McKinney.
He was a 1969 graduate of Indiana University Maurer School of Law where he was a highly respected and beloved alumnus. Dean Austen Parrish met McKinney on several occasions and remembered the judge as always being full of life and cracking jokes.
The law school honored McKinney by having him deliver the 1997 commencement address.  
Indiana Federal Community Defenders chief federal defender Monica Foster also remembered McKinney's humor. She said he was a stern judge who expected the attorneys to know the rules and their cases. But, despite the terrible circumstances that brought the defendants to his courtroom, he still found joy in life.
Whenever the defendants and the jury were out of the courtroom, McKinney would create a collegial atmosphere, engaging with the attorneys, being funny and showing off his "hysterical imitations" Foster said.   
His work with the Re-Entry and Community Help (REACH) program, Foster noted, demonstrated he could find the humanity in people. Many of the ex-offenders in the program were individuals McKinney had sentenced to very long sentences but in REACH, he was rooting for them and providing the resources of the court to help them succeed outside of prison.
"In my opinion, his work on the REACH program was his greatest achievement," Foster said. "He brought to the project such joy and hope."
Baker was a reporter for the Daily Journal in Franklin when he first met McKinney, who was then a judge on Johnson Circuit Court. Watching McKinney in the courtroom inspired Baker to go to pursue a career in the law.
After graduation from Valparaiso Law School, Baker served as a clerk for McKinney from 1989 to 1991. He described clerking for McKinney as a "fantastic experience" where he learned not only about the law but also about how a respected judge could become a good friend and supportive colleague.   
"I think most lawyers would tell you he was a lawyer's judge," Baker said. "He had high expectations for you but he let you try your case." Baker also noted McKinney strove to make the right decisions and keep the cases moving.
In addition, Baker said he was awed by McKinney's professionalism and humor that he naturally brought to the bench and public appearances. "He always had a story, and he always had a twinkle in his eye," Baker said. "He had the quickest wit."
John Maley, partner at Barnes & Thornburg LLP, also clerked for McKinney from 1988 to 1990. He called it an "extraordinary experience" and remembered McKinney as someone who loved being a judge.
Echoing Baker, Maley said, "He was a 'lawyer's judge' who understood the challenges counsel face in prosecuting and defending cases, and sincerely enjoyed being with and working with lawyers. He held lawyers to high standards, expected and demonstrated civility, worked as hard as any judge anywhere, and had the gift of an uncanny sense of humor that made every day with him fun."
Robert Seidler, president of the Indianapolis Chapter of the Federal Bar Association and a partner at the Indianapolis office of Ogletree Deakins Nash Smoak & Stewart P.C., always enjoyed practicing in front of McKinney.
"He had this uncanny ability to ask pointed questions that really cut to the core of the issues before him," Seidler said, "but he did it with this warm and sometimes self-deprecating sense of humor that really set everybody at ease. He is definitely going to be missed."
Outside of the courtroom, McKinney was a good friend of the Indiana Bar Foundation, supporting both the organization's civic education programs as well as its work to provide civil legal aid to low-income Hoosiers.
"(Judge McKinney) was a genuine champion for the underprivileged and a vigilant defender of the rights of those we seek to serve at the Indiana Bar Foundation," said attorney Ken Allen, president of the bar foundation. "His death is a devastating loss for the foundation and the people of Indiana."
Charles Dunlap, executive director of the Indiana Bar Foundation, described McKinney as a "passionate supporter" of the organization's We the People and mock trial programs that teach Indiana students from elementary through high school about the Constitution and rule of law.
The 2016 We the People state finals in Indianapolis in December underscored McKinney's commitment. McKinney was battling a cold and laryngitis but nothing could keep him away from the state event. He not only volunteered as a judge for the competition but he also attended the bar foundation's recognition dinner on Sunday evening, reserving his voice to deliver the keynote address, and then presided over a naturalization ceremony Monday.
In fact, it was McKinney's idea to hold a naturalization ceremony during the We the People event. The high school students who had been learning about the Constitution gathered in the grand hall and watched as the immigrants and their families became U.S. citizens.
"It was one of the most feel-good things I have ever been a part of," Dunlap said. "He is just going to be so missed for so many reasons."  
Please enable JavaScript to view this content.