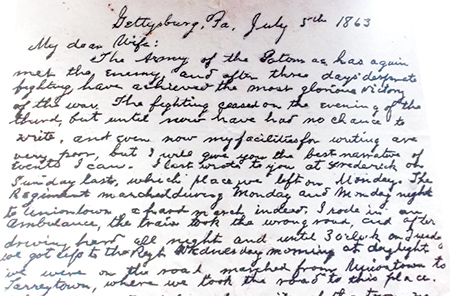 Just days after of the Battle of Gettysburg, a young lawyer from Spencer, Indiana, took a few sheets of paper, dipped his pen in an inkwell and began composing a letter to his wife.
The attorney, then a captain in the Union Army, wrote about the North's "most glorious victory," but his handwriting was not as clean and sure as his other letters, possibly indicating the emotional toll of the battle. In four pages, he detailed his regiment's maneuvers and struggles in the famous Civil War clash that lasted three days in 1863 and left 51,000 soldiers from both sides either dead, injured, captured or missing.
"I have not been over the battle field, to a great extent, but everywhere may be seen all the horrible remains of a bloody day," he wrote.
The letter and the life of its writer, David Enoch Beem, are part of a new exhibit that opened Sept. 23 at the Indiana Historical Society in Indianapolis. Presented in a "You are there" format, the display includes an oversized replica of Beem's letter, a brief history of the Gettysburg battle, and the flag of Company H, 14th Indiana Volunteer Regiment, stitched by the women of Spencer. Actors recreate what life was like back home when the handwritten dispatch from Gettysburg, Pennsylvania, arrived.
At the end of the exhibit is a display of letters written home from Hoosiers who fought in every conflict from the Mexican War (1846 to 1848) to Desert Storm (1990-1991). Angela Wolfgram, IHS exhibits researcher, described the missives from soldiers at war as an "enduring art form."
Attorney David Enoch Beem from Spencer, Indiana, pictured above, interrupted his private prac tice to join a Union regiment in the Civil War. 
(IL Photos/Marilyn Odendahl)
It is also one that is being lost with the ability to call, email, text and Skype from military posts around the world.
The letter from Gettysburg is part of an extensive collection of Beem's writings housed in the Indiana Historical Society's archives. Handwritten student papers from his studies at Indiana University and speeches he gave after the Civil War to veterans' groups such as the Grand Army of the Republic are preserved along with numerous letters he wrote during his time in the Union Army primarily to the love of his life, Mahala.
Beem enlisted in 1861 and was honorably discharged in 1864. As he traversed the battlefields at Cheat Mountain, Antietam, Fredericksburg and Chancellorsville, he kept a steady stream of letters flowing home. He described the fights themselves as well as how mundane life in uniform could get.
In October 1863, he was cooped up in his tent by a hard
rain with nothing to do or read. His letter home said there was no more "dreary and cheerless place than a camp on a rainy day." A month later, he wrote of rousing his troops at 4 a.m., eating a "hasty breakfast" then tearing down the tents and packing the bags in accordance with orders received the day before. However, once the regiment was ready to march, the order was countermanded so they unpacked and pitched their tent anew.
The letters note his disdain for whiskey and poker, common pastimes for the other soldiers, and the pain of loss. From Gettysburg, he wrote about two of his "very best men" who were killed instantly. "(Sgt. John) Troth was shot through the heart, and never spoke," Beem recounted. "I could have laid my hand on him when he fell."
Suzanne Hahn, IHS vice president of the archives and library, and Susan Sutton, IHS director of digitization, note the letters are especially valuable because, unlike the following wars, the military did not censor the information the soldiers told their families. Civil War battles such as Gettysburg were smoky, smelly, loud and confusing affairs. Beem's letters provide vivid accounts of his battlefield experiences, his feelings and longing for home.
Missing from his missives are mentions of the law or his legal career. He was admitted to the Owen County Bar in the fall of 1860 and opened a law office in Spencer. The war interrupted his practice but afterward, he resumed his private practice and eventually took on managing the local bank.
Hahn and Sutton said Beem's letters do reflect his education and character as a lawyer. The writings are very descriptive, intelligent and use proper spelling and grammar.
"As an attorney, I think you could trust him to do everything correctly," Sutton said.
After the war, Beem settled into domestic comfort. He and Mahala had three children and built a large house, which still stands, four blocks from the county courthouse. A constant reminder of his military service was the tuft of chin hair he always sported to cover a scar from a battle wound.
Beem does not loom as a large part of Civil War history, but he was there, running across the battlefields, yelling at the top of his lungs, and dodging enemy fire. Then he wrote it all down. Letter after letter gave a personal account that today is a treasure.
Books are filled about Civil War generals, Sutton said, but "history is made by the David Beems."•
Please enable JavaScript to view this content.