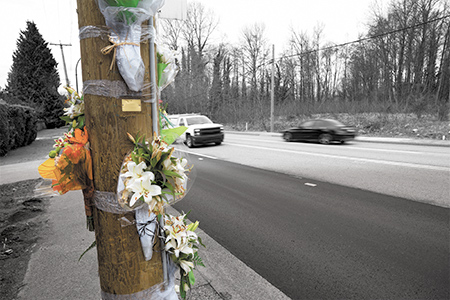 It's an uncomfortable reality most people don't want to think about: death can strike at any time, taking a life without warning or regard for age. Estate planning attorneys and probate judges are all too familiar with this reality, as clients and litigants frequently come to them for guidance when a car accident, house fire or other tragedy unexpectedly claims a loved one's life.
"It happens all the time," said Marti Starkey, a partner at Harrison Moberly LLP and chair of the firm's Trust and Estate Practice Group. "The order of death is out of order."
Settling a deceased loved one's affairs is never easy, but when the person has not prepared a will or other estate planning documents, legal experts say the process becomes increasingly complicated. Younger people in their 20s and 30s, in particular, usually don't contemplate their own deaths, which means they don't take the time to draw up a will or other advance directives, Starkey said.
Hartnett
But the unpredictable nature of death and tragedy underscores the importance of preparing those documents well in advance, the probate professionals said. The recent mass shooting at a concert in Las Vegas highlights this fact, said Steve Hartnett, director of education for the American Academy of Estate Planning Attorneys.
"They seem mostly like young, healthy individuals — not who you might expect to die," Hartnett said. "That's why it's important to have a plan in place, because you just don't know."
Even so, estate planning attorneys and probate judges recognize the natural tendency to avoid thinking about death, which is why they're trained to help families deal with the probate process when a loved one dies without a plan in place. When such an intestate succession begins, there are several nuances attorneys and judges must consider to ensure the deceased's affairs are properly put in order.
Understanding the process
Starkey
One of the first steps an estate planning attorney has to take during an intestate succession is to make sure their clients understand the applicable law. When a person dies without a will in Indiana, the state gets to decide how their estate will be distributed, Starkey said, and the manner of that distribution can often come as a surprise to families.
For example, a woman whose husband dies unexpectedly and who had no children might expect the entirety of her husband's estate to be transferred to her. But in reality, the husband's parents are also entitled to a portion of his estate, Starkey said, which may be a shock to the surviving spouse.
Similarly, if a person leaves behind a spouse and children, the children are automatically entitled to a portion of the estate, though some people believe the surviving spouse would receive the entire estate, Starkey said.
Morgan Superior Judge Peter Foley, who hears probate cases in his court and has previously worked as a probate attorney, noted that traveling for work or on a family vacation can also open the door to estate planning issues. If a person who is traveling is injured in an accident while away from home, it's imperative he or she has advance directives in place to dictate important decisions, such as who can make health care decisions.
Foley
Similarly, an injury while traveling can raise guardianship issues if a parent is hurt and cannot return home. That's another instance where advance directives are crucial, as those documents can help a court determine who can legally take care of the children while the parent is away and injured, or in the event the parent dies, Foley said. Guardianship questions, in general, are among the most important reasons to have advance directives in place in case of an untimely death, the judge said.
Each of these considerations can seem confusing or overwhelming to litigants who seek the guidance of probate attorneys or judges, a fact that Starkey largely attributes to the uncomfortable nature of estate planning law.
"I just think people don't want to think about their death and don't want to take the time and spend the money to see a trust and estate attorney," she said.
Role of the court
While estate planning attorneys may be on the front lines of helping a family understand the process of settling a loved one's estate, there are still steps a judge can take to ensure the court is as helpful as possible, Foley said.
One of the most important actions is to simply be available to litigants, he said. If it's necessary to hold a hearing at the opening of a probate case, the Morgan County judge tries to hold those hearings as soon as possible to help quickly resolve the case.
"The ability to deal with things on a prompt basis may be the greatest benefit we can provide in that situation," he said.
Both Starkey and Hartnett agreed that reaching a prompt resolution to a probate case is often in the best interests of litigants dealing with the grief of losing a loved one, especially when the death was unexpected. In her experience, Starkey said Hoosier judges are cognizant of the need to hear probate issues as soon as they can.
Providing emotional support
Similarly, Foley said it's important for judges to tap into their emotional sides when handling probate affairs. Legal professionals, by nature, tend to compartmentalize their emotions when doing their work, but intestacy situations naturally call for a higher level of sensitivity, he said. In those cases, judges must be cognizant of the emotional state of litigants and be sensitive to the difficulties they are facing.
Starkey said compassion is one of the greatest assets an estate planning attorney can bring to their work.
People are never fully prepared to lose a loved one, she said, but when a death is unexpected, grief can become even more poignant. During those times, Starkey said she counts it a privilege to be asked to help her clients work through "the most vulnerable time in their lives."
If a client is dealing with extreme grief, Hartnett said it's a good idea to know of a counselor who the client could be referred to for help. He also noted that it's important to give a family enough time to grieve their loss before beginning the probate process.
Some family members might want to settle the estate right away, while others might need more time to process the death, Hartnett said. When that kind of division exists within a family, he encouraged attorneys to maintain communication with family members who want to begin the process, while being sensitive to the needs of other family members who are still working through their loss.
"It's probably better to have it taken care of sooner rather than later, but it doesn't mean that family needs to come in the day after the death to take care of this stuff," Hartnett said. "People need time to grieve, and people do that in their own way."•
Please enable JavaScript to view this content.