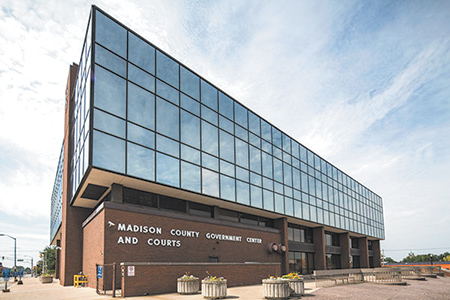 Anyone with business at the courthouse in Anderson after Thanksgiving won't be doing it there.
The discovery of asbestos earlier this year prompted officials to decide to close the Madison County Government Center for about seven months beginning at the end of November. Court offices will move into a building at the Flagship Enterprise Center at Interstate 69 and State Road 67, about six miles from the downtown courthouse. Non-judicial offices will rent space in the former First Merchants Bank tower, just blocks from the 1973 courthouse.
"You can't look this stuff up in a book, that's for sure," said Madison Circuit Chief Judge Thomas Clem about how to temporarily relocate. "It's been somewhat of a task, to say the least."
But officials said they had to close he building to keep employees, the public and workers safe. "We basically have to shut it down," Clem said. "Nobody's going to put anybody's health and life at risk. This is the only way to do it."
The county has set a target date of Nov. 27 for courthouse offices to begin work in their temporary spaces. The asbestos-free courthouse is scheduled to reopen in June 2018.
Clem, Madison County Court Administrator Jim Hunter and other officials toured the glass-and-steel Anderson University Flagship Center building last week. It formerly housed a joint educational program between Anderson and Purdue universities, and officials said it has sufficient space to house more than 100 employees from the county's court, clerk, probation and prosecutor offices, as well as court users.
An exception may be jury trials. Clem said the county may have to work with city courts in Anderson and Elwood, for example, or seek other suitable venues to conduct jury trials during the cleanup period. Hunter said the county sometimes has more than one jury trial happening the same week, which could mean trials in multiple locations.
"Under the circumstances, this is about as good as we can hope for," Hunter said of the temporary accommodations. One of the biggest challenges will be transporting inmates from the Madison County Jail to court appearances at a much more distant location. Hunter said the temporary facility will be secure and have the same teleconferencing connectivity as judges have in the courthouse. This, along with new digital videophones and other technology, may allow courts to conduct more criminal hearings remotely where possible.
County officials say they'll be posting notices at the courthouse of where offices will be moving temporarily and trying their best to let people know where to go. But they still expect issues to arise.
For litigants and attorneys, notice of where to go for court hearings likely will have to be served again in many cases. Clem said in his Madison Circuit Court 5, for example, the court calendar is scheduled well into 2018. Any notices that have been sent directing people to the courthouse during the time it will be closed could be considered defective.
"I know it's a pain in the neck for the public," Marion Circuit Clerk Darlene Likens said. "We feel bad about it, but there's not much you can do." She said it's helpful, though, that the county's offices connected to the judiciary will be housed in the same location.
Officials said they are looking into ensuring public transportation to the temporary court site, which is near Anderson's southern city limit.
"It's going to be an interesting seven months," said Madison County Administrator Dan Dykes. The county had to find room on short notice to relocate more than 250 total courthouse employees and accommodate an average of more than 800 daily visitors.
Dykes said despite five years in his current position and a prior 15 years as a member of the County Council, he was unaware of asbestos in the building. A report from Indianapolis environmental consulting company Micro Air Inc. this year confirmed asbestos was contained in a substance sprayed on structural steel above ceiling tiles in parts of the building.
Dykes said Micro Air confirmed that the asbestos had not been airborne, but it could have become friable had crews disturbed the material on the steel while working on a new heating and air system. The county will remove the asbestos before proceeding with heating repairs. Dykes said the county estimates it will spend about $180,000 to lease temporary space for courthouse functions. All in, the total cost of asbestos remediation, courthouse repairs and temporary relocation is expected to be about $3.5 million, he said.
"We're going to do full surgery and take care of this," Dykes said.
He noted there's also a silver lining. The closing of the courthouse will allow for the long-overdue installation of new carpet, acoustic ceiling tiles in the courtrooms, new LED lighting, and other upgrades after the asbestos is removed. "It won't be a Carmel- or a Fishers-type showplace," he said, "but we can go in and get this stuff done."
In the meantime, officials are hoping the unseasonably warm fall weather continues. Because some work had begun in anticipation of an HVAC overhaul, Dykes said heat in the building soon will be able to be turned on and off, but it won't be able to be regulated until further repairs are made after the asbestos removal.
"If we didn't need heating and air, we'd probably be OK," Likens joked.•
Please enable JavaScript to view this content.