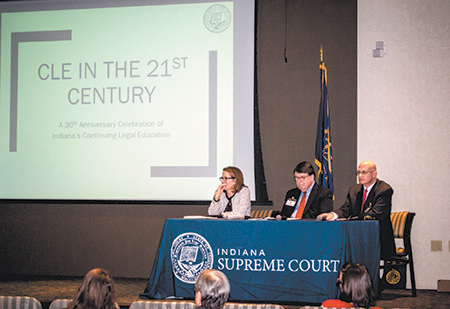 The special presentation commemorating 30 years of continuing legal education in Indiana relied on a format that, according to some participants, is already outdated and should be abandoned long before the 60-year celebration.
Judges, attorneys and law professors stood behind podiums and sat at tables delivering information and their opinions through lectures, panel discussions and PowerPoint slides. This is the traditional way CLE courses have been presented to Hoosiers, but during his turn on a panel, Indiana University Maurer School of Law professor Fred Cate described the standard format as "very, very boring."
Others agreed.
The final panel discussion, appropriately entitled "Thinking Outside the Box: New Techniques in Delivering and Administering Mandatory CLE," noted regulations and traditions are creating barriers to moving these legal seminars beyond the standard "butts-in-seat" approach. Attorneys sitting in an auditorium, passively watching a teacher review material and getting credit based on the hours spent in attendance continues to be the common method for keeping the practicing bar abreast of changes in the law.
"Perhaps it's time … to evaluate whether we should broaden what we think of as education, how we measure it, and what it should look like for our individual attorneys," said Julia Orzeske, executive director of the Continuing Legal Education Regulators Association and former executive director of the Indiana CLE Commission.
The talk of change was wrapped in a party marking the 30th anniversary of Indiana CLE. Hosted by the Indiana Supreme Court and the Indiana Commission for Continuing Legal Education, the celebratory event on Oct. 19 in Indianapolis included cake and conversation along with a review of why continuing legal education was developed and two discussions on how technology is impacting the work of the courts and lawyers.
Presenters and participants at the celebration saw the value in CLE and expect the courses will remain relevant far into the future. But in the closing discussion when the attorneys were given the opportunity to speak, several advocated for things to be done differently.
"Some guy standing up on a podium with 95 PowerPoint slides and … it's death by PowerPoint," Cate, who is vice president of research at Indiana University, said after his panel discussions.
"If you thought you might be called on, you'd put your cell phone down and you'd pay attention."
True to its roots
Indiana mandated CLE in 1986, becoming the 18th state to do so. However, the state's CLE roots stretch back to the 1950s when the Indiana State Bar Association began publishing Res Gestae and seminars started popping up around the state, all focused on educating busy lawyers.
In the 1980s, CLE became mandatory. The ISBA appointed a task force to examine the issue, and the Indiana Supreme Court traveled to different parts of the state to discuss the matter with local judges. In 1986, the ISBA House of Delegates approved adding Rule 29 for mandatory CLE to the Rules for Admission to the Bar and the Discipline of Attorneys. A split Supreme Court then adopted the rule in a 3-2 vote.
Since then, CLEs have grown and are now offered by the courts, law schools, law firms, bar associations and outside vendors. The topics range from new laws and practice techniques to technology, practice management and wellness. Some presentations have bucked the classroom format, such as an ethics CLE conducted by Justice Steve David in 2012 at a gym while he and the participants rode exercise bikes.
Speaking after the anniversary event, attorney John Krauss said CLEs must maintain a connection to the practice of law to be worthwhile. Lawyers have to solve problems and create opportunities for clients, so the courses should provide the tools and knowledge for doing that.
"The profession is not stagnant, so we can't be stagnant," he said. "We have to learn."
Christina Miller, vice chair of the Indiana Commission for Continuing Legal Education, acknowledged the commission members have been keeping an eye on the proposals submitted for CLE approval so they do not go too far afield. Yet, she noted, some experiments have been successful. In particular, she pointed to the Evansville Bar Association hosting a CLE in 2016 on a bus as attorneys traveled to a baseball game for a social outing.
"It's not just about putting it on the chalkboard and giving a lecture anymore," Miller said. "That's what we're going to have to learn if we're going to keep people engaged who've already had an 8-hour or 10-hour workday."
New formats
The best way to hold people's attention is to "mix up the modalities of teaching," said Cate.
He pointed to research showing many individuals tune out after the first 35 minutes of a lecture. Attorneys who have to sit hour upon hour listening to a presentation in a CLE probably are not retaining much, but they can learn more if the course comes with a dose of activity. Again, citing research, Cate noted people learn best when they can interact with the teacher, role play or work in small groups.
From his own experience teaching law students, he believes the new generation of attorneys coming into the profession will force reform. Students today have short attention spans, turning on their computers and watching a movie for a few minutes then flipping to a game of solitaire before clicking on something to read.
"If we think they can sit for hours and take this stuff in, they are going to die; their heads are going to explode. Either we're going to see them using more ways of opting out," Cate said, explaining the coming attorneys will sit in the classroom but spend the time playing on their iPads, "or we're going to have to change to make (CLEs) more engaging."
One sustained push for change has been the call for allowing more, if not all, continuing education credits to be earned through online programming. Miller expects distance learning to be on the agenda when she takes over as chair of the commission in January. While the number of online hours permitted may increase, she does not want to lose the face-to-face camaraderie and joint learning that in-person CLEs bring.
"You learn as much from the table of people you're sitting with than you do the speaker on many occasions," she said.
That was a point emphasized during the first panel discussion with Indiana Chief Justice Loretta Rush and retired Chief Justice Randall Shepard.
Although Rush pointed out that distance education can provide attorneys with very specialized training that they might not otherwise get, both she and Shepard maintained lawyers benefit when they attend CLEs with other lawyers. They can talk and think about the law with their peers, which adds to the educational value.
Allen Superior Judge David Avery, speaking during the audience discussion at the end of the event, picked up on that theme and noted CLEs have become the gathering place.
As he explained, attorneys once ran into each other and stopped for short chats when they made their almost daily trips to the courthouse, but now with e-filing they have fewer opportunities to connect. An in-person CLE gives lawyers from different generations and perhaps different practice groups the chance to mingle and not be so isolated.
Miller believes the ability to gather with other attorneys and learn about the law will keep CLEs a part of the legal landscape for another 30 years.
Continuing legal education "might be completely different than what we're seeing now," she said, "but it'll be here."•
Please enable JavaScript to view this content.