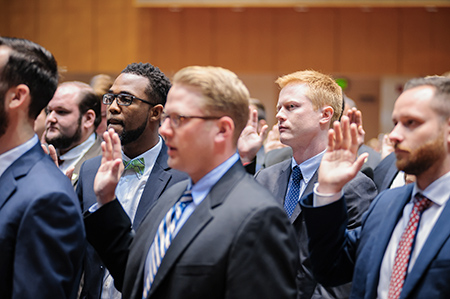 Here is the list of lawyers who passed the Indiana Bar Exam in July, many of whom took their oaths as lawyers at the Admission Ceremony Oct. 16.
Anastasiia Allen
Nicole Ashley Alonzo
Zachary James Anderson
Kristina Jean Anderson
Maryam Hanniah Arfeen
Christine Diane Astbury
Zachary Scott Bailey
Portia LeAnn Bailey-Bernard
Steven Alexander Baldwin
Kyle Matthew Bandy
Kahlyn Niccole Barcevic
Prosper Andre Batinge
Nathan Steffan Baumgartner
Nicolas James Baumgartner
Jessica Elizabeth Bauml
Erica Nicole Beers
Kevin Thomas Bennett
Frank Bradley Benson
Benjamin Patrick Beuchel
Tyler Paul Biddle
Melody Marie Bledsoe
John-William Parker Blessing
Christopher William Bloomer
Alyssa Leigh Borchak
Adam Benjamin Bourdette
Bradley James Bourne
Blake Andrew Bower
Jacob Scott Brattain
Kelsie Lynne Breit
Molly Anne Brier
Joseph Thomas Brinkman
Katelyn Marie Brouillard
Blayre Elaine Brown
Martin Austin Brown
Stephanie Marie Bruns
James Randall Buikema
Tyler Evan Burgauer
Jackie Ayleen Burke
Kevin John Burns
Joshua Daniel Byanski
Harriet Louisa Cable
Scott Edward Campbell
Justin Lee Camper
Alexander Robert Carlisle
Brandi Nicole Caruthers
David Carter Casagrande
Rachel Elizabeth Cerwinske
Andrew J. Chabot
Tabatha Christine Chapman
Maio Cheng
Tamzin Mari Cheshire
Hee Jong Choi
Matthew Thomas Ciulla
Kelly Dianne Cochran
Kristen Elizabeth Coffey
Christopher S. Collman
Evan Matthew Comer
Norman Elkhana Cooke Jr.
Stephen Bradley Cornelius
Bailey Christine Coultrap
Rane Davis Cravens
Chelsea Rae Crawford
George Sidney Cressy III
Alexander O'Brien Crowley
Megan Cristine Culp
Sarah Ann Cummings
Charles Michael Curts
George Nicolas Cusack
Alexandra Leigh Cutler
Sean Sadr Dadban
Rachel Kathleen Dalton
John Patrick Dark
Nicholas Scott DeMario
John Joseph DeRoss Jr.
Rachel Dawn Dockery
Jared Alan Doden
Evan Michael Dominguez
Emma Lee Douglas
Eric Kristen Doyle
Kailey Lynn Drago-Hiser
Matthew Kyle Duncan
Corey John Dunn
Joshua Allen Eal
Nathan Ross Eberhart
James Anthony Eckhart
Scott Michael Edson
Melanie Ann Eich
Taylor Adeline Eigelbach
Ryan Paul Eldridge
Kayla Marie Ellis
Cassandra Louise Elrod
Christina Ruth Engleking
Shane Michael Evans
Roberto Falconi
Gerald J. Fankhauser III
Adam Ji Farber
Justine Lynn Farris
Joshua Patrick Farrow
Young Fei
Erin Elizabeth Filban
Nicholas Charles Fisher
Marie Leora Forney
Griffin David Foster
Heather Lynn Franklin
Anderson Charles Franklin
Kristina Mary Frey
Allison Page Gardner
Ryan Lee Garner
Nicholas John Gartner
Caryn Emily Garton
Prianka Ghanta
Areeba Salman Ghouri
Scott Michael Gill
Nicholas James Golding
John Henry Goth
Carol Jeannine Greer
Michael Thomas Griffin
Talisha Renea Griffin
Kayla Christine Grimes
Patrick Michael Grimmer
Rebecca Rae Grove
Roselyn Gyampoh
Indiana's newest lawyers introduce themselves to the judiciary and legal community at the start of the Admission Ceremony held at the Indiana Convention Center in Indianapolis. (Photo courtesy of Indiana State Bar Association)
Daniyal Moazzam Habib
Lauren Dunbar Hacias
Stephanie Anne Halsted
Peter David Hamann
Amber Marie Hammond
Marley Genele Hancock
Andrew Christian Hanna
Megan Mitra Hansen
Carolyn Elizabeth Harlamert
Elaena Danielle Harris
Charles Daniel Harting
Mark Ashley Hatfield
Chad Alan Heck
Joseph Robert Hedinger
Ryan Matthew Heeb
Kenneth Aaron Heifner
Corei Irene Helmer
Tate Allen Henvey
Scott Dale Hermesch
Sandra Lucille Hicks
James Daniel Hildebrand
Jessica Stone Hilger
Roxanne Marie Hilton
Jennifer Lee Hitchcock
Francesca Louise Hoffmann
Ryan Erick Holden
Russel Carrie Hollis
Tyler James Holmes
Janet Melissa Anne Horne
Caitlin Elizabeth Housley
Victoria Lynn Howard
Jacob Matthew Howerton
Kathryn Elizabeth Hudson
Alyssa Claire Hughes
Matthew Robert Hults
Jess Wallace Hunter-Bowman
Breanna Elizabeth Huser
Pallavi Ivaturi
Benjamin M. Jakubowicz
Benjamin Hudson Jaqua
Emma Elizabeth Jay
Charles William Jewett
Miranda Lucher Johns-Cummings
Andrew Shilling Johnson
Erik James Jones
Tyler Lewis Jones
Abigail Leigh Kaericher
Peter Karl Kalmbach
Grainne Lilian Evelyn Kao
Austin Thomas Kearney
Abbee Lachelle Kenney
Katelynn A. Kepler
Kara Jane Kerker
Lauren Victoria Ketzler
Emily Allison Kile
Zachary Michael Scott Kimmel
Casey Ryan Klippel
Cory Jacob Kopitzke
Katlyn Marie Kranik
Marcy Marie Kreimier
Andreea Nicoleta Lampert
Daniel Joseph Lane
Zachary Philip Lange
Sara Anne Langer
Peter McCabe Laramore
Jessica Ohmart Laurin
Tyler Scott Lemen
Theodore Stanley Leonas III
Scott Robert Lesser
Emily Lynn Lewis
Mark Jordan Liechty
Vontarez Jamon Lovan
Katrina Marie Lynn
Thomas Joseph Lyons III
Elizabeth Tuohy MacGill
Elyse Amanda Madigan
Hira Malik
Blair Nicole Martin
Alexandra Lindsay Martinez
Francis Xavier Mattingly
Philip Burton McDowell
Christopher Michael McGee
Mariah Renee McGhee
Hunter James McKee
Dylan Wade McLean
Evan Charles McMullen
Shipra S. Mehta
Robert David Miller
Rustie Lynn Mills
Margaret Josephine Miran
Michael Carl Mohler
Kyle Cyrus Montrose
Tyler John Moorhead
Kari Annette Morrigan
Jenelle Lyn Murling
Ethan Donald Myers
Sarah M. Nadolny
Michael William Nasser
Jennifer LeAnn Naue
Kyle Frederick Noone
Brittany Kay Norman
John Douglas Norman
Evan Michael Norris
Lauren Victoria Nottoli
Jon James Olinger
Thomas Jonathon Olson
Alex Michael Ooley
Kevin Curtis Oschman
Elizabeth Ann Pagel
Nathan Aaron Pagryzinski
Jacob Thomas Palcic
Cory Daniel Parks
Florence Italia Patti
Robyn Gayle Pauker
Julia Catherine Payne
Thomas Corcoran Payne
Andrew Robert Penman
Jennifer Elaine Penman
Dale Lee Pennycuff
Jason Timothy Perkins
Alexander L. Pierce
Caroline Lynch Pieroni
Jenna Marie Pilipovich
Sarah Elizabeth Pitts
James Louis Policchio
Kasey Marie Polk
Sherry Kay Porter
Christopher Bernard Brown Price
Matthew Lloyd Price
Nathan Mark Psimos
Luke Andrew Purdy
Litany Ann Pyle
Joshua Richard Quandt
Alessa Beatriz Quinones-Ortiz
Nasima Ismoilovna Rakhmatova
Bryn Marie Ramsey
Jason M. Rauch
Evan Craig Reinhardt
Anna Catherine Rich
Mark McConnell Riffle
Angela Marie Rinehart
Oscar Adkins Rivas, Jr.
Kyle Reath Robbins
Brandon Joseph Robinson
Mayra Rodriguez-Alvarez
Whitney Lynn Rogers
Sarah Lorraine Rounsifer
Alexis N. Ruark
Hans Christer Hansson Rundkvist
Yusef Ahmad Saadeh
Ashlee Kate Satterfield
Kathleen Michel Sawtell
Paul Daniel Schmitt
Allison Claire Schten
Samantha Kathryn Schu
Justin James-Payne Schuhmacher
James Joseph Schwabe
Justin Karl Schwemmer
Zachary Thomas Searcy
Sunrita Sen
Alyssa Diane Servies
Sterling Wilson Shown
Charles Thomas Shull
Mollie Ann Slinker
Matthew Irven Snyder
Stefan Adam Sokolowski
Rebecca Marie Spangler
Samantha Holloway Spencer
Leslie Ann Stanard
Stevan Stankovich
Adam Curtis Steele
Caroline Ashley Stephens-Ryker
Anthony Robert Stevens
Emilee LouAnne Stotts
Lee Matthew Stoy, Jr.
Janette Elaine Surrisi
Jamie Michael Sutton
Robert Michael Swaby
Kristina Marie Swanson
James Lester Sweeden, Jr.
Robert Alexander Swider
Ariana Nicole Tanoos
Carle Jessica Tarnutzer
Carly Jolene Tebelman
Caroline Elizabeth Thee
Sarah Christine Thompson
Tracy Anne Thompson
Melanie Alyse Toloday
Danielle Adrienne Triplett
Douglas Alexander Triplett
Margo Loraine Tucker
Brian John Tuinenga
Madeleine Rae Vala
Darwinson Antonio Valdez
Tyler Paul Van Kuiken
Anthony Charles Varbero, Sr.
Joseph Daniel Vaughn
Anjelica C. Violi
Tabitha Nicole Voglewede
Harlan Leroy Vondersaar III
Nathanial David Walter
Lydia Anne Walters
Whitney Morgan Wampler
Robert Zachrey Watkins
Elyse Tyler Watkins
Elizabeth Marie Watkins
Charles Donald Watterson IV
Nicholas Robert Weiskittel
Natalie Faye Weiss
Nicholas John Wildeman
Gary Joseph Wilson
Brett Camden Charles Wilson
Lukeus Keith Wingo
William Kent Winingham
Jessie Marie Wise
Cole Andrew Wogoman
Edward N. Wolenty
Joshua Christian Woodward
Joey Keller Wright
Jesse Oren Wyatt
Joseph Kevin Wyckoff
Annie Roberta Xie
Ross Thomas Yates
Joel Evan Zimmerman
Jarod Michael Zimmerman•
Please enable JavaScript to view this content.