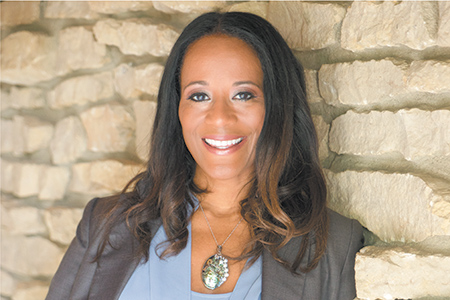 It took Indianapolis attorney Natalie Chavis 47 years to write her debut book, starting from the time she was born to its publication last month.
Chavis may not have been actively writing that entire time, but she was always doing something she views as equally important to the writing process: learning. Through her life experiences and career as an adoption attorney, Chavis gained insight into the legal and emotional effects of the foster care and adoption processes, insight that led her to self-publish her first novel, "Adopting Tiger," on Oct. 21.
Fact and fiction
In "Adopting Tiger," Chavis, writing under the name Chavis Fisher, chronicles the fictional journey 12-year-old Tiger takes as two foster families fight in court to adopt him. Drawing on the real-life cases she's litigated throughout her career, Chavis said she wanted to illustrate how the process affects all parties involved from multiple perspectives, from that of a child like Tiger to the adults fighting for custody.
"Ninety-nine percent of my practice is foster care and adoption, so I've been seeing recurring themes and some things that are pleasant and some things that are not pleasant," Chavis said.
Throughout her legal career, Chavis has kept a journal where she documents interesting occurrences she witnesses in court or with her clients. Drawing on those notes, she then began to develop the content of "Adopting Tiger" based on questions she is routinely asked when she gives presentations about foster care and adopting. The book is meant to provide answers to those common questions in an easy-to-access manner, she said.
Though she considered writing a how-to book that details the steps of walking through the foster care and adoption process, Chavis said she ultimately chose to write a fiction novel to provide some levity to issues that otherwise would be hard to take in all at once. But that doesn't mean the attorney's real-life experiences aren't featured in her fictional story.
One of the female characters in "Adopting Tiger" is "the culmination of every foster mother (Chavis has) ever fallen in love with" during her years working with foster and adoptive families. Similarly, the character of a star quarterback whose family is trying to adopt Tiger was created based on Chavis' experiences running life skills programs for the Indianapolis Colts and Indiana University football teams. Plus, the entire premise of the novel draws heavily on Chavis' firsthand experience watching the foster and adoption processes play out in court.
"My eyes have seen so much," Chavis said. "So, to make it fiction, it has to flow, and some of it is a figment of my imagination."
Statewide adoption celebrations
The lawyer-turned-author will share her book with the Indianapolis community during a book launch on Nov. 18 at Indy Reads Book on Massachusetts Avenue. The launch, which will also include a panel discussion and fundraiser for Indy Reads, coincides with National Adoption Day, which is celebrated annually on the Saturday before Thanksgiving. Chavis timed the release of her book and the launch to coincide with statewide National Adoption Day festivities.
Throughout the month of November, trial courts across the state have been opening their doors to family, friends and media to celebrate the finalization of legal adoption proceedings. Earlier this year, Chief Justice Loretta Rush authorized the use of cameras in trial courts during National Adoption Day festivities to allow for public celebrations. According to Vanderburgh Superior Judge Brett Niemeier, who will celebrate adoptions in his court on Nov. 16, the joy felt by adoptive families in court on National Adoption Day makes it the "happiest day of the year."
Clark Circuit Judge Vicki Carmichael opened her courtroom to cameras on Nov. 3, when she marked National Adoption Month with five families adopting eight children. Describing the event as a happy day filled with smiles and cupcakes, Carmichael also noted National Adoption Day holds a special place in her heart for a very important reason – her daughter, Cleneth, whom she adopted from the Philippines when she was 18 years old.
Clark first met Cleneth while her husband was a Peace Corps volunteer at an orphanage on the island of Cebu. Clark and her husband sponsored their daughter's student visa to enable her to come to the United States five years ago, and the couple adopted her within three months of her arrival "so she would know she has a forever family."
"Working with the Department of Child Services every day, I know the needs for foster parents and adoptive parents," Clark wrote in an email. "As one of the sisters of a child being adopted (Nov. 3) said, 'This is a heart change.' Everyone's hearts change with adoption."
Across the state in Lake County, Circuit Court Judge Marissa McDermott also has a strong connection to National Adoption Day: her own adoption. Looking back on what she's achieved in her life, McDermott said she was able to find success due to the support of the loving family that adopted her.
Now, McDermott sees National Adoption Day as a chance to celebrate other families who are giving children an opportunity to succeed, just like her family gave to her. Her court will mark National Adoption Day, with a focus on adult adoptions, on Nov. 17.
In addition to personal connections, the judges said they enjoy celebrating National Adoption Day because it brings some happiness into courtrooms that are often filled with families and children facing hardships.
"In juvenile court, it's pretty rare that we have fun days," Niemeier said. "It's a treat for me and a treat for my staff."
National Adoption Day celebrations are also a treat for attorneys like Chavis, who get to take part in the celebration of their clients' families officially coming together. In Marion County, Chavis said treats and teddy bears are often standing by for the kids, while there are also displays that advocate for the adoption of older children, similar to the adoptions McDermott hears in her court and Carmichael's adoption of her daughter.
"Each court does it differently, but it really creates a unified effort for awareness and celebration," she said.
But the impact of an adoption doesn't end when the legal process is finalized, which is why Chavis wrote "Adopting Tiger" as just the first in a three-part series about Tiger's life. The second book will follow Tiger when he is in college and is forging his own path, while the final book will check in with him as an adult. The idea of telling Tiger's story, Chavis said, is to shed light on how adoption can affect a person's life from childhood and beyond.
"It's a short novel with a big impact," she said.•
Please enable JavaScript to view this content.