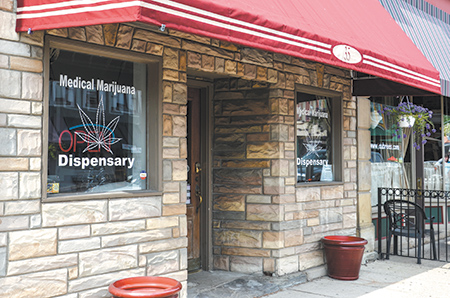 There's a sharp contrast in the rhetoric surrounding the legalization of medical marijuana in Indiana, depending on whose opinion you seek.
Lucas
On one side of the issue stand lawmakers such as Rep. Jim Lucas, a Republican, and Sen. Karen Tallian, a Democrat, who are vocally advocating for their colleagues in the statehouse to support legislation legalizing medicinal use of the drug. They're joined by organizations such as the American Legion, which recently offered its support for medical cannabis as a method of helping veterans deal with issues such as post-traumatic stress disorder.
Tallian
But on the opposite side stands the Indiana Prosecuting Attorneys Council, led by Dave Powell, which asserts marijuana is not medicine, but instead would exacerbate the ongoing opioid crisis. Attorney General Curtis Hill and Gov. Eric Holcomb have likewise opposed the proposed legislation for similar reasons.
Still others, such as Marion County Prosecutor Terry Curry, stand more in the middle of the road. Curry released a statement on Dec. 6 saying he will continue to enforce existing drug-related crimes, but recommended allowing the medical community to determine the efficacy of the medicinal use of the drug. 
The rationales behind each camp's position stand in stark opposition. Lucas, who has announced plans to author a medical marijuana bill, points to stories of Hoosiers who have testified to marijuana-related healings as evidence of its medicinal qualities. But Powell maintains that statistics and science support his assertion that the drug is not medicine. Further, Curry said crimes such as dealing in illegal drugs, marijuana included, is contributing to the rash of violence across Indianapolis, as well as across the country.
Powell
The dichotomy between those for and against medicinal marijuana will have to be resolved in the Statehouse, where Tallian has unsuccessfully introduced multiple medical marijuana bills in the past. But, as conflicting versions of the facts continue to play out, Powell said he hopes lawmakers will allow science to have its say about medicinal marijuana before lawmakers make any final decisions.
Drug or medicine?
The central question underlying each issue in the debate over medical marijuana is whether the substance can be considered "medicine," or whether it is merely an illicit drug that does more harm than good. Powell and Hill believe the latter and cite studies that show medical marijuana use leading to opioid abuse.
For example, in a letter to Jim McClelland, chairman of the Indiana Commission to Combat Drug Abuse, Powell, writing on behalf of the IPAC board, referenced a 2017 study in the American Journal of Psychiatry that found "cannabis use, even among adults with moderate to severe pain, was associated with a substantially increased risk of non-medical prescription opioid abuse." Similarly, Hill wrote in a recent op-ed that a 2015 study from the Centers for Disease Control and Prevention found people addicted to marijuana were three times as likely to become addicted to heroin.
"In our letter, we cited authority and research, not anecdotes," Powell said. "Everybody has an opinion, but … the point is, 'show us the research.'"
Lucas, however, said the arguments advanced by Powell and Hill are "easily discredited" and that the real-life testimonies of people who attribute their healing to marijuana support his view. The Seymour Republican also said there are studies that back his view of the benefits of medical marijuana, pointing specifically to statistics that show a 25 percent decrease in opioid overdose deaths in states where it is legal.
Lucas' public Facebook page is rife with articles putting forth similar findings, including a 2014 story from Reuters that cited JAMA Internal Medicine as the source for the finding of a 25 percent decrease in opioid overdose deaths.
"There are 29 states plus D.C. that have medical cannabis that have helped countless lives, and not one has rescinded it," Lucas said. "If all these boogeyman horror stories are true, I would assume that these states would have discovered the horrors we're hearing about and would go back to criminalizing it, but that's not the case."
Sallee
Todd Sallee, an Indianapolis criminal defense attorney and former deputy prosecutor, acknowledged there are studies supporting both views of the issue, but said he, like Lucas, is inclined to believe the stories of people whose symptoms have been relieved through the medical use of the drug. Sallee also acknowledged the concerns about marijuana contributing to the opioid crisis as legitimate, but said through regulations, doctors can control who gets access to the drug.
Threat to public safety?
Aside from concerns about worsening the opioid crisis, Powell and the IPAC board raised concerns about the public safety impact of allowing marijuana use, even for medicinal purposes. He pointed to statistics from the Colorado Bureau of Investigation that show a 5.5 percent increase in statewide crime from 2015 to 2016. The western state legalized marijuana in 2014.
Similarly, in the IPAC letter to McClelland, Powell wrote that a 2012 British Medical Journal Study found marijuana use doubles the risk of car accidents. Likewise, Hill wrote in his op-ed that 147 drivers involved in fatal crashes in 2016 in Colorado tested positive for marijuana, compared to the 71 who tested positive in 2013.
However, Carlis McDerment, a former Ohio deputy sheriff who is now a speaker for the Law Enforcement Action Partnership, formerly known as Law Enforcement Against Prohibition, pointed to a different drug he said proves to be more far dangerous when used behind the wheel: alcohol.
Not only do motorists operating while under the influence of alcohol pose a threat to other drivers on the road, they also pose a threat to law enforcement officials trying to pull them over, McDerment said. In his experience, McDerment said drunk drivers were frequently belligerent and would want to fight with officers, while those who were under the influence of marijuana rarely exhibited such behavior.
Sallee agreed alcohol-related crimes feature much more frequently in his practice than those involving marijuana. In his experience, traffic infractions that involve alcohol prove to be much deadlier and much more frequent, he said.
But rather than comparing the dangers of alcohol and marijuana, Powell pointed to the widespread risks created by alcohol as a reason not to legalize the medicinal use of the drug.
"It's a challenge to keep up with alcohol now," he said. "So our concern is that once you call (marijuana) 'medicine' and permit it, then we need to be prepared for those consequences, and I can tell you, we're not."
Public support
Though there has already been opposition to his proposed legislation, Lucas said he is looking forward to discussing the issue of medical marijuana during the coming legislative session because he thinks it will give him the opportunity to present facts and statistics that support his position. Both he and Tallian agree Indiana is behind the times on the issue and are advocating for their fellow lawmakers to give it a hearing, which has not been done in the past.
Lucas also said he has the backing of the public. A WTHR-Howey Politics poll in October found 73 percent of Hoosiers supported medical marijuana. The poll has a margin of error of 4 percentage points.
Powell, however, noted such backing is only meaningful if it is given by an informed public. In this situation, he thinks proponents of medical marijuana have effectively shared their message with Hoosiers, but have left out details concerning the risks and impact the drug can have. He likened it to the pro-cigarette messaging put forth by big tobacco companies in the 1940s through 1960s.
Lucas, however, said it is just a matter of time before Indiana will join other states — including Illinois, Michigan and Ohio — in legalizing medicinal marijuana. He plans to introduce his proposed legislation during the 2018 Legislative Session, which will officially convene on Jan. 3.•
Please enable JavaScript to view this content.