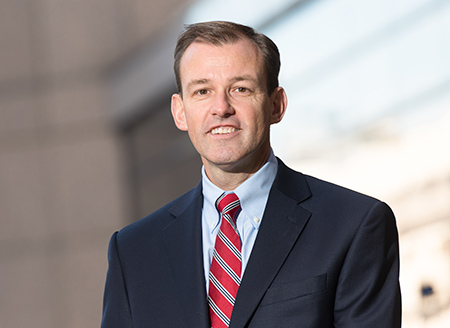 Frost Brown Todd litigator Rob Thornburg knows a thing or two about coaching young talent, and those skills may translate well as he begins his year as president of Defense Trial Counsel of Indiana.
One of his strategies as leader of the organization is finding ways for young trial attorneys to gain experience even as the number of cases that proceed to trial continues to decline. It's a challenge, but Thornburg recently talked about that and more when he sat down for a Q&A with Indiana Lawyer.
DTCI this year marked its 50th anniversary. What do you believe are some of the reasons for the organization's longevity?
I think it's the people. There are a lot of incredibly bright, skilled lawyers that have been the backbone of the organization since it started. People like Lloyd Milliken, and people like John Trimble, just to name a few. … It's the people, the collegiality, and the quality of the educational opportunities that the organization has — the seminars, the CLEs, the meetings.
As DTCI marked a milestone year, it did so at a time when bar association membership generally is declining. How does the future look to you for DTCI's next 50 years?
I think pretty good, and the reason I think that is, we actually had an increase in membership this year. Our membership has been pretty stable over the past several years. … One of the recent successes the group has had was when Jim Johnson was president several years ago, he started a Women in the Law group which has become one of our most active and engaged groups the organization has. The programming they put on is sensational. It's really impressive.
As you begin your term as president, what are you hearing from members in terms of the issues that most concern them?
It's many different things, but the biggest change or challenge attorneys face is, if you look the numbers, cases being filed are down, and in particular the number of cases that proceed to trial is significantly down. And for a group like ours, the Defense Trial Counsel of Indiana, we pride ourselves on being trial attorneys, defense trial attorneys. And so one of the biggest challenges is, how do we maintain trial opportunities for our members while representing our clients and our constituents? How do you do that cost-effectively, how do you do that efficiently. That's the biggest challenge I think we're going to face.
What are some of the things you intend to advocate for as DTCI president?
The organization has gone through several iterations of a long-term plan, and my predecessor, Michele Bryant, always had on her list to look at the long-range plan that we currently have — is that still relevant, what do we need to do going forward? She didn't have a chance to do that because she was focused on the 50th anniversary, and so I plan to get that out and look at it, because now is the perfect opportunity. We've got 50 years behind us, what does the next 50 years look like to the practice of law, to our members? … How (do we) train and create opportunities for the next generation of trial attorneys?
A hypothetical: You have cleared your calendar for one week. You can do anything you choose. What do you choose?
Tongue firmly planted in cheek — sleep. What I'd probably do if I could do anything would be go somewhere warm with a beach with my family (wife, Michelle, and sons Ethan, a freshman at St Theodore Geurin High School, and Nicholas, a seventh-grader at St. Louis de Montfort Catholic School.) Go someplace warm where there's a beach and sand.
What's something you have gained as a defense attorney through your association with DTCI?
The ability to meet really good people that I probably would never have the opportunity to meet otherwise — lawyers from different areas of the state, lawyers who practice in different substantive areas than I do, and frankly, that's probably the biggest benefit of all bar organizations.
What would you say are the most important qualities in a defense attorney?
It would be your honesty, it would be responsiveness, and preparation. You have to always be prepared and ready to go. And so if you're honest with your adversary, you're not ever going to get cross-wise with them. Doesn't mean you have to give the farm away, of course. In Indiana, we're very fortunate because we have a lot of good lawyers that are plaintiffs' attorneys and defense attorneys, and so we're very fortunate that a lot of the things you hear about lack of civility don't apply here. Thoroughness and preparation are really the keys.
You've been active as a youth sports coach and organizer. What do you most enjoy about that?
I enjoy spending the time with my kids. It's one of the ways that I can be involved in a positive way with them and in their lives, and with frankly some of their friends, and hopefully, positively impact them. Honestly, things like that are rewarding. … With the kids' stuff, I've done soccer, I've done football, I've done basketball, usually as an assistant coach. There's somebody else as a head coach that frankly knows what they're doing. I've done scouting stuff with the kids, so I've always tried to be very active in their lives.
What would you be doing if you weren't an attorney, and why?
Honestly, I would probably be a builder. The reason for that is, growing up my dad (Steve) was a fireman and I was always his handyman helper. … I did all those kinds of things growing up with him, and there's something satisfying and I guess maybe this translates to legal work, but with construction, you've got a beginning, a middle and an end. And then when you're done, you've got a work product, and the same thing goes for litigation. To oversimplify it, there's a beginning, a middle and an end … a resolution. And hopefully at the end, … you've accomplished.•
Please enable JavaScript to view this content.