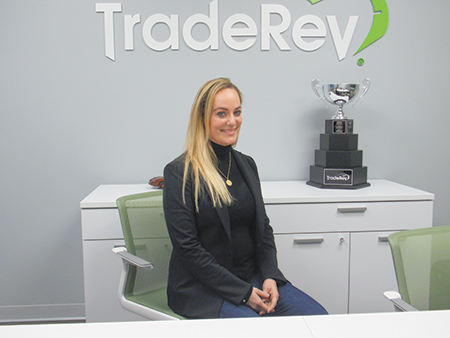 Introducing herself to the employees of TradeRev recently, Becca Polak, a lawyer by training, told them something that attorneys are rarely heard to say — there is nothing wrong with failure.
Polak was tapped to lead TradeRev, a business that enables car dealers to buy and sell vehicles digitally, after KAR Auction Services, Inc., in October agreed to pay $125 million to purchase the remaining 50 percent stake in the company. In 2014, KAR, based in Carmel, had gobbled up the first 50 percent for $30 million.
As TradeRev president, Polak has been tasked with expanding the company's offerings and moving it into a largely untapped segment of the auto market. She will be doing that along with fulfilling her other duties as chief legal officer and secretary for TradeRev's parent, KAR.
Imitators are popping up, but Polak is stepping on the gas by keeping her crew focused on the customer and not getting distracted by the bright, shiny objects that seem to appear in the tech industry every day. She explained she wants TradeRev to have market dominance equivalent to the online search engine Google rather than Bing.
Retaining the company's pole position requires putting the right talent on the team and making judgment calls, she said. It also requires being prepared to pivot quickly when the decisions made turn out to be wrong.
"I'm not scared of failure," Polak said. "You don't want to fail, but it's going to happen. We're all human. But that is how you grow. Out of failure, you can learn so much more than if you're successful all the time."
Going in-house
Describing herself as "very Type-A," Polak confessed she is not sure where she learned to be coolheaded about missteps, wrong choices and flubs. She speculated "the seasoning" might have come as her career progressed from 10 years in private practice to 12 years as in-house counsel and building the KAR legal department from five to 20 attorneys.
Now she is regularly calling upon the issue-spotting, relationship-building and advocacy skills she learned as a lawyer as she transitions into what may be the ultimate J.D.-advantage job of running a company.
Hallett
Before Jim Hallett, CEO of KAR, signed the check for the remainder of TradeRev, he wanted to be sure he had a capable leader to run the company. Polak had the experience along with the respect of her colleagues, knew KAR and its subsidiaries well, and could see how all the departments and units across the entire organization worked together.
Most important to Hallett, she understood the corporation's culture of less bureaucracy, less politics, less talk and more getting things done. Her ability to find alternative solutions greatly impressed him.
"I think a lot of lawyers know how to say no," Hallett said. "Becca knows how to find a way to say yes."
Polak moved from Krieg DeVault LLP, where she focused on mergers and acquisitions and securities law, to ADESA vehicle auction in 2005. She had been planning to stay in private practice, following the career path of her father, Steve Claffey, who practiced at Faegre Baker Daniels for 45 years but then the offer came to go in-house.
As outside counsel, Polak had been getting frustrated by taking a phone call from her business clients, giving advice, but not knowing what happened next. She realized that being on the inside, she would have the satisfaction of being able to negotiate and hammer out deals from beginning to end.
Transforming an industry
Two years into her new job, ADESA went through a leveraged buyout and KAR Auction Services, Inc. became the parent company with Hallett, who had been fired from ADESA in 2005, at the helm. After the upheaval, Polak was promoted to general counsel for KAR, whose business units have about 18,000 global employees.
The corporation has since transitioned, as Hallett explained, from being a brick-and-mortar operation into a tech company that happens to sell cars. TradeRev extends KAR's reach into the digital realm by offering dealers an app they can use to auction cars virtually. With their smartphone or tablet, they can look at photos of vehicles on the auction block or post pictures of the cars they want to auction, then make and take bids.
What comes next will put TradeRev in the middle of an untapped dealer-to-dealer market. This is the handshake segment of the auto business where dealers call one another personally to buy and sell trade-ins directly. An estimated 10 million cars are moved annually dealer-to-dealer, and TradeRev believes its app will be attractive to facilitating those transactions.
Each year, about 10 million autos are physically auctioned, and in 2016, KAR handled roughly 2.1 million vehicles at its auction. In addition, the company's salvage subsidiary sold about 5 million.
Polak described the offer to lead TradeRev as a rare opportunity to be at the forefront of great change.
"TradeRev has the opportunity to really transform our industry," she said. "It's fun to be part of something that I really do see, it might be extreme to say change the world, but the applications of TradeRev within the automotive industry are pretty endless."
Every morning, she meets with the senior leaders at TradeRev who represent all the aspects of the company from human resources and finances to sales, innovation and legal. They talk about their agendas for that day and strategize for the longer term. They also make decisions about how to maintain the company's top spot in the market.
Polak knows some of the plans will not work out as expected. She will not panic but, she explained, the company will need to change course quickly to keep up with the advances in technology or risk stagnating in a very competitive industry. Her philosophy is to "fail fast" by identifying quickly what is not working, then pivoting to the next idea.
As part of the correction, she will call upon the relationships she has built with employees and other executives throughout KAR. Cultivating and nurturing relationships is a skill she carries with her from her work as a lawyer.
"One thing I've learned since coming to KAR out of private practice is just how essential relationships are," Polak said. "Because when mistakes happen, as they always do, if you have a relationship with somebody then you can get through it."•
Please enable JavaScript to view this content.