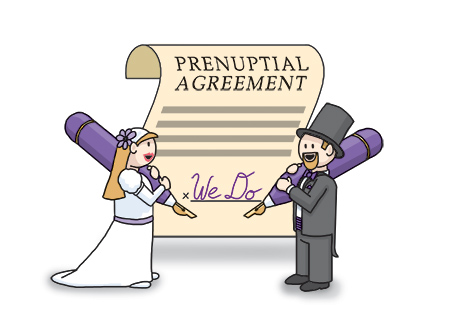 While they are often portrayed as monetary safeguards for the rich and famous, prenuptial agreements have been appealing to a different demographic in recent years: millennials. In fact, about 51 percent of family law attorneys within the American Academy of Matrimonial Lawyers said they have noticed an increase in the number of young couples seeking premarital agreements.
Further, 62 percent of the attorneys said there has been an increase in the number of clients across all age groups seeking prenups — a trend Indiana family law attorneys also are noticing. While protecting family or personal assets continues to be a driving factor for prenups in all age groups, practitioners say a set of factors unique to the millennial generation is sending younger couples into family law offices.
Younger appeal
Ryznar
Margaret Ryznar, associate professor of law at the Indiana University Robert H. McKinney School of Law, cites three main reasons for the uptick in young couples requesting premarital agreements.
First, millennials are getting married later in life, which means they likely already have begun establishing their careers and finances before walking down the aisle, Ryznar said. Similarly, millennials embrace the notion of financial equality and independence, which may inspire them to protect the assets they acquired on their own prior to getting married, said Jim Reed, a partner at Bingham Greenebaum Doll, LLP.
Secondly, roughly half of all millennials are children of divorce, so they've witnessed firsthand how divorce proceedings can affect families and the division of property, Ryznar said. Finally, many members of the millennial generation carry student loan debt, so they may want to protect themselves against having to incur their spouses' debt in the event of a divorce.
Reed
The presence of debt can be exacerbated by the fact that young couples are getting married later in life, giving them the opportunity to incur additional debt from seeking advanced degrees, said Hollingsworth & Zivitz partner Erin Connell. Credit card debt is also a common concern among young people who don't want to sustain financial obligations that aren't their own, Reed said.
"This age group gets married at 28, and they still have enormous school debt, so there is this concern about one person not wanting to take on additional responsibility," he said. "They also have assets, they advance quickly, they've got all kinds of benefits accumulated and accruing. It's totally different circumstances than it was 20 years ago."
Outside influence
Green
Even though millennials may seek prenuptial agreements for reasons different than their parents' generation, parents often play a critical role in encouraging their children to visit a family law attorney.
If a young person entering their first marriage is asking for a premarital agreement, they're likely making that request at the behest of their family members, said Tom Green, chair of the Indianapolis Bar Association's Family Law Section. In those instances, the concerns are less about protecting against a spouse's debt and more about protecting a family's business interests, Green said.
Faegre Baker Daniels partner Drew Soshnick agreed, noting that as the baby boom generation ages, they are taking precautions to ensure their family businesses, trusts, foundations and other assets are kept in the bloodline. Though a millennial family member may not yet be active in a family business, prenuptial agreements help ensure that younger generations are able to take on that responsibility without any outside interference when the time comes, Soshnick said.
Assets from long-held family businesses such as farms can be particularly tricky and emotional to deal with when a premarital agreement is not in place, Connell said. Without a prenup, all or parts of such businesses can be disbursed to the spouse who otherwise would have no stake in the business interests, she said. That affects both the parties to the divorce and extended family members.
Similarly, if soon-to-be spouses are working in professions such as the law, they may have an equity partnership interest that their firms want to protect, Green said. In those cases, pressure for a prenuptial agreement can come from the firm itself, which doesn't want a non-partner to have any financial stake in the practice, he said.
Soshnick
Even prospective business assets can be motivation enough to seek a prenup, Soshnick said. For example, a spouse at a startup expected to one day be worth millions might use a premarital agreement to safeguard assets from the startup in the event of a divorce. Or, if a millennial knows she will one day be gifted a significant inheritance, a prenup can protect those funds, he said.
Romance v. practicality
Regardless of whether a premarital agreement is sought by a young couple entering their first marriage or an older person seeking to protect his or her assets before a second or third marriage, there's a stigma that often follows prenups, the attorneys said: a lack of romance. But while discussing divorce before even getting married might not seem devoted, the family law practitioners agreed that the practical benefits of having a plan in place are worth the awkwardness of preparing for a potential divorce.
Without a prenup, a judge has discretion over the division of assets, Ryznar said. While Indiana begins divorce proceedings with the presumption of an equal distribution, any number of factors could alter that distribution in favor of one party, she said. But with a prenup in place, marital assets can be divided in a manner that both parties view as fair.
That fact is why many divorced adults entering subsequent marriages are attracted to the idea of prenuptial agreements, Connell said. Additionally, older adults often have children to consider, so they may want to ensure that assets such as life insurance policies are passed on to the next generation, rather than distributed to a spouse in a divorce proceeding.
"It's not the most romantic idea, but everybody knows where they stand, so it saves a lot of fear in the long run," Connell said.
Contract-based enforcement
If a couple decides to divorce, prenuptial agreements are interpreted in Indiana under the theories of contract law, Reed said. Further, Indiana public policy also favors the enforcement of prenups.
However, extreme circumstances can arise that might defeat an agreement's validity, Connell said. For example, if one party signed the agreement while under the influence or without enough time for consideration, the prenup can be invalidated. But those cases are extremely fact-specific and can often be hard to prove, she said.
Thus, if agreements about prenuptial agreements arise, they are usually about interpretation of specific provisions, Soshnick said. Reed agreed those disputes can arise, often in the context of title-based agreements.
For example, if an agreement divides monetary assets based on the name of the account holder, an issue can develop if joint accounts are later opened, Reed said. In those cases, the agreement can become a form of leverage to negotiate assets not considered at the time it was signed, he said.
But absent those issues, the family law practitioners agreed that having a prenuptial agreement in place helps facilitate the proceedings in what otherwise might be a nasty divorce.
"A well-done premarital agreement can save people many problems," Green said.•
Please enable JavaScript to view this content.