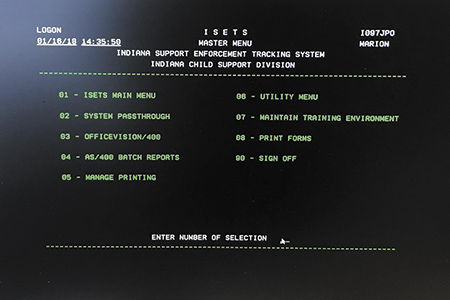 Several times while talking about the statewide computer system that keeps track of child support money, John Owens rapped his knuckles on the nearest piece of wood.
Indiana's technology, dubbed ISETS — Indiana Support Enforcement Tracking System — is used to establish child support accounts, receive payments and disburse the funds to custodial parents. According to a 2013 report from the Indiana Department of Child Services, ISETS maintains 351,000 Title IV-D cases, which are administered by the DCS Child Support Bureau, along with nearly 150,000 non-IV cases, processing almost $1 billion in child support payments every year.
However, the DCS report described ISETS as "built on dying technology." Prosecutors who use the system talk about regular glitches and outages that stop all or part of the processing work.
The concern is one day, ISETS will crash for good.
Since 2009, the DCS Child Support Bureau has been working to design and implement the replacement system, called INvest (Indiana Verification and Enforcement of Support). But in 2017, Gov. Eric Holcomb pulled the plug.
Mary Beth Bonaventura, former executive director of DCS, spotlighted ISETS in her blistering resignation letter submitted in December. She asserted ISETS is "on the verge of collapse," and with no modern alternative available, millions of Hoosier families are at risk of not receiving their child support payments.
With stumbling technology and now no replacement on the horizon, Owens, supervising deputy prosecutor of the child support division of the Marion County Prosecutor's Office, can only knock on wood and hope ISETS continues to function.
"We fear there's going to be a catastrophe and we will all be helpless," Owens said. "We'll look to the Child Support Bureau and give them all the support and prayer we can to get ISETS up and running."
Late 1980s technology
Officials from DCS, prosecutors' offices and representatives from other state agencies had been close to finalizing the criteria for INvest, Owens said. Stakeholders in the process had traveled to other states to review those child support systems and they spent what was estimated to be thousands of hours back home determining what Indiana needed its system to do.
At the Indiana Prosecuting Attorneys Council, executive director David Powell and IV-D liaison Karla Mantia noted the process of formulating the design requirements for the ISETS replacement has been frustratingly slow. The pace was largely the result of the intense oversight from the federal government, which has its own criteria that has to be included in any child support system that accepts federal funds.
Yet, the team was almost ready to send a request for proposals to vendors when the project was stopped.
Bonaventura charged Holcomb's staff abruptly ordered the cancelation of the program. No one is sure why work on INvest was halted, and the governor's office did not respond to a request for an explanation.
"That, quite honestly, was the biggest morale drop I've seen in my 40 years of (child support) work," Owens said of having INvest derailed.
Cynthia Longest, deputy director of the Indiana Department of Child Services Child Support Bureau, was unavailable to comment.
As DCS waits for instructions from the governor and the specs for INvest sit, both Owens and Mantia noted technology is advancing. The criteria that was developed over several years could become shortly outdated, which would require the replacement process to start all over again.
Even if that work was started immediately, getting a new system designed and implemented would probably take another five years.
In the meantime, ISETS's troubles are expected to continue.
ISETS was developed in the mid-1990s but it relies on technology from the late 1980s. The system lacks modern computing features such as point, click and drop-down menus, and is cumbersome to use because it is not intuitive or user friendly. There are just the green and white characters that appear on the black screen as data is entered.
Primarily, ISETS is accessed by staff in the offices of the local prosecutors and county clerks. Learning the system requires constant repetition. Becoming proficient can take up to a year as workers must learn not only how to use the it but also how to maneuver around its limitations, which are growing as the courts move to efiling and county offices go paperless.
A new system, Powell said, would improve efficiency and productivity. Workers would not have to call up multiple screens, hit the F function keys and wait several minutes for the system to do one task.
Bonaventura claimed DCS had reserved funds and sought federal matching funds for INvest. Her letter did not detail how much money was directed into developing the ISETS replacement. For the years that ISETS has its own line in the state budget, it is also unclear whether the money was put toward the new system or used to keep the old system running.
The ISETS line item began appearing in state's biennium budget in 2005, the time when DCS was spun off from the Indiana Family and Social Services Administration. From 2006 through 2015, the total appropriation topped $48.3 million, but the line vanished from the 2016 and 2017 budgets.
Rising anxiety
Some family law attorneys say they have not noticed any hiccups with ISETS. They see child support payments getting recorded and distributed to the proper families.
"The dollars go in and the dollars come out," said Bruce Pennamped of Cross Pennamped Woolsey & Glazier P.C.
Solo practitioner Travis Van Winkle did experience a glitch when a client's payments suddenly began being routed to a different account. The number on the account had not changed and the amount of the payment had not been modified. He was told the misstep was caused by an internal error but, to him, it underscored what could happen.
When ISETS goes down, the money does not flow to the families. Household budgets can quickly get choked so utility bills can go unpaid and food cabinets can go bare. In turn, the custodial parents can become anxious if they do not receive their payments, and the situation can be exacerbated when they call the local prosecutor's office for answers only to be told they will have to call back later because workers cannot access the system.
Prosecutors can feel the same kind of anxiety whenever ISETS breaks.
On Jan. 8, the Marion County child support division arrived to work and could not get ISETS to boot up. The system is available from 6 a.m. to about 7 p.m. Monday through Friday, then is taken offline for maintenance every Saturday afternoon. Every night, the payments entered into the system are processed.
For roughly an hour, Owens and his team waited to gain access. He said in general the blood pressure and fear rise slowly, but once the outage hits 20 minutes, the anxiety skyrockets.
Eventually the system restarted, and they were told an operator's error had prevented the payment process from being completed. Still, in the back of his mind, whenever a glitch happens, Owens said he wonders if knocking on wood no longer works, and this is the day ISETS quits.•
Please enable JavaScript to view this content.