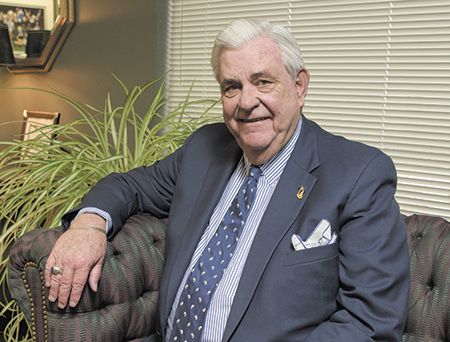 At 70, Judge Michael Barnes could continue to serve on the Indiana Court of Appeals for another five years before facing mandatory retirement.
Instead, he's thinking young.
"Age and grandchildren change one's perspective," he said.
Barnes said his compelling motivation was to spend more of those precious years doting over the youngsters, ages 5 and 2, with another on the way.
"I will have had 18 years on the court, and it's time," he said.
The judge will return home to South Bend, where he served for decades as a prosecutor, but his grandkids on the East Coast won't be the only children to whom he'll be his devoting time. He looks forward to getting more involved in community efforts close to his heart, particularly those that help children victimized by crime.
Heading home
"We just love him," Caroline Hahn said of Barnes. She calls him a founding father of the CASIE Center in South Bend, where she's executive director. The center — Child Abuse Services, Investigation and Education — pioneered a one-stop advocacy center for children victimized by crimes of sexual and physical abuse and neglect. Hahn, who's been with the center for more than 20 years, credits Barnes and the St. Joseph County Prosecutor's Office with establishing a center that since has become a model for the state and nation.
"The organization was just built right," Hahn said. "His founding message was always, 'It's not about the prosecution, it's about protecting children.'"
Before the CASIE center, child victims often were made to retell their traumatic stories to police, prosecutors, social services providers and others. Hahn said the center instead offers a comforting, caring environment.
"Because of teamwork and collaboration, (children and families) are not having to go from agency to agency to get the help they need. … It's just a concept of putting the child as the focus," Hahn said.
She said when she learned the center recently received the St. Joseph County Community Foundation's award for nonprofit agency of the year, Barnes was one of the first people she called. He and the program's founders "just had such good foresight and such good ideas."
Barnes said he also hopes to re-engage with other community organizations where he's been active in the past, including those that help people recover from alcoholism and addiction.
Different route
Barnes announced Jan. 11 he will retire on June 1, 18 years after his appointment to the COA by then-Gov. Frank O'Bannon. His appointment to the court while serving as St. Joseph County's elected prosecutor, a post he'd held since 1978, wasn't the typical path to the appellate judiciary.
"I was not the regular fit. I never was a judge before this, but I believe I did bring some perspective and added something to the court," he said.
Barnes' departure could mean a less diverse professional background for 15 judges on the Court of Appeals. Barnes noted that when he joined, five members had no prior experience on the bench. With Barnes' retirement after the departure in 2015 of Judge Ezra Friedlander, there will be only three who didn't wear a robe previously — Melissa May, Edward Najam and Margret Robb.
Barnes thinks it's important that the court have perspectives of legal professionals from private practice, public service and elsewhere. He said he also doesn't believe candidates who haven't been judges should be penalized on that count when the Judicial Nominating Commission considers his potential successors.
He also makes a case for prosecutors on the court, because about 60 percent of the appeals are criminal matters. His prior career allowed him to bring to the appellate bench a familiarity with criminal procedure, criminal law and prosecutors' nomenclature, among other things.
"So, it helps, yes. Of course, it's a very different situation being an advocate and being an arbiter," he said.
Court of Appeals Chief Judge Nancy Vaidik called Barnes a wise and gifted lawyer and a kind colleague who left his mark on the court.
"His mastery of the law and understanding of human nature have produced clear, insightful and just opinions that will long be cited. In criminal law, he has been as tough on prosecutors as he has been on defendants. In all areas of the law, he knows injustice when he sees it and isn't afraid to call it out," Vaidik said.
Barnes said he strives to write clear opinions and persuasive dissents that don't use six words when two will do.
"I would like to be remembered as somebody who followed the law, who wrote clearly and concisely," he said. He said he wants his opinions to be accessible and informative for litigants, the bar and all Hoosiers.
That one case
Having written more than 2,800 opinions during his time on the appellate bench, Barnes said he remains fascinated that the case he'll always be known for stemmed from a South Bend misdemeanor he prosecuted that made its way not just to the U.S. Supreme Court in the early 1990s, but to stage productions in recent years.
"Rather otherworldly," he said.
Barnes prosecuted nude dancers at the Kitty Kat Lounge and Glen Theater for violating the state's public indecency statute — which justices of the U.S. Supreme Court upheld in a 5-4 decision, Barnes v. Glen Theater, 501 U.S. 560 (1991). The First Amendment does not extend to public nude dancing, the majority ruled.
A few years ago, Barnes caught a performance of the stage adaptation based on the case, "Arguendo," at the Woolly Mammoth Theatre in Washington, D.C.
"It was fun," Barnes said. "Justice (Ruth Bader) Ginsburg was there afterward."
Retirement also will give Barnes more time to root for his beloved Notre Dame Fighting Irish and Cleveland Indians. But, he won't be out of the judging game entirely. He said he plans to seek a senior judgeship.
"It's been a great run," Barnes said. "I've had two wonderful careers. … I'm deeply grateful for both."
Vaidik said Barnes' presence on the bench is measured beyond the opinions he's written.
"On the court, he is a leader. His kind, honest and collegial way provides support and inspiration to all members of the court family," she said. "He cares about us and the people of Indiana."•
Please enable JavaScript to view this content.