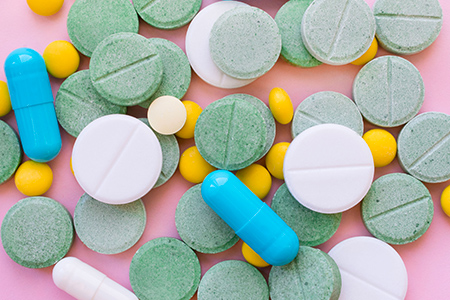 It's an epidemic that everyone knows about, but no one can seem to stop: the opioid crisis. Despite numerous policy changes, drug-free initiatives, mental health services and jail recovery programs, the number of Americans — including Hoosiers —addicted to drugs never seems to wane.
Indiana University decided to face the crisis head-on by launching a new program, the Responding to the Addictions Crisis Grand Challenges initiative. Officially announced in February, Grand Challenges is a 16-project program aimed at preventing, reducing and treating addictions throughout the Hoosier state.
IU professors from all disciplines are currently working on applied research projects to understand why the opioid crisis continues to grow, with the eventual goal of making policy recommendations that will create real progress toward ending the epidemic. The Indiana University Robert H. McKinney School of Law is in on the action, with two law professors exploring how health law and policy can help — and hinder — the fight against addictions.
'A wicked problem'
Terry
The project IU McKinney professors Nicolas Terry and Ross Silverman are working on began with Gov. Eric Holcomb's 2017 State of the State Address, said Fred Cate, IU vice president for research and professor at the IU Maurer School of Law. Holcomb highlighted his commitment to fighting the opioid crisis during the address, and IU President Michael McRobbie told the governor the same day that the university wanted to join in the fight, said Cate, whose office oversees the initiative.
The $50 million Grand Challenges initiative was born from that exchange, with Terry and Silverman focusing their portion of the research on developing "evidence-based law and policy recommendations that improve substance use health outcomes." Their work includes primary research and conversations with health law and policy experts to determine how the U.S. healthcare system can be refined to address the unique challenges presented by opioid addiction.
Silverman
One of those challenges is the multi-faceted nature of the epidemic, said Silverman, who is also a professor in the IU School of Public Health. While it is commonly referred to as an "opioid crisis," abuse of non-opiates such as methamphetamine is also on the rise. That means that a healthy policy that effectively combats opioid addiction may not be effective for other drugs. To that end, Terry and Silverman said their goal is to develop recommendations that adequately address the nuances of the drug problem.
"This is an immensely complex problem — it's been called a wicked problem — in that when you push a solution … it can have an adverse effect elsewhere in the complex ecosystems," Terry said.
Helping and hurting
Health law is a double-edged sword when it comes to addictions, Terry said. On the positive side, some laws are used to implement policies that can promote addiction recovery.
One such law is the 2016 version of Indiana Senate Enrolled Act 226, which prohibits health care providers from prescribing more than a seven-day supply of opioids to patients under 18 or adults who are being prescribed the drugs for the first time by that provider, said Hall Render Killian Heath & Lyman P.C. attorney Julie Lappas. There also have been programs implemented to help pharmacies and doctors' offices prevent and respond to drug diversion, Lappas said, another example of how health law can combat the crisis.
"We have a lot of providers being proactive and creating organizations and policies regarding opioid prescribing," she said. "That's an area where we've seen a lot of legislative activity."
But the other side of the sword can hinder entities trying to combat the drug crisis, Terry and Silverman said, which is what they want to correct. In his own research into the U.S. healthcare system, for example, Terry said the effective sharing of data is a near-constant issue, especially when privacy laws are factored in. But the healthcare system won't be able to combat the drug crisis unless it develops a data-sharing program that can provide drug offenders with coordinated care that will effectively treat their addictions, he said.
Similarly, Lappas said legislation and policies designed to target the opioid crisis should factor in doctors' expertise. She praised Indiana's laws for deferring to prescribers' judgment when it comes to SEA 226, noting that a doctor who knows their patient should be an exception to the seven-day rule has the discretion to override the seven-day limitation.
"I think it's important for these laws to maintain that flexibility and allow for the professional judgment of the prescriber."
Time-sensitive issue
Though Grand Challenges is a five-year initiative, both Silverman and Terry said they don't have five years to make their research count. The opioid crisis is a moving target that changes daily, they said, with new issues constantly emerging.
For example, a recent report from the Centers for Disease Control and Prevention showed another spike in opioid-related emergency room visits, particularly in the Midwest, Terry said. And while heroin, fentanyl and prescription drugs tend to get most of the blame, the growing use of meth and cocaine also complicates how the researchers approach their projects, Silverman said.
The healthcare system itself is another time-prohibitive factor. Likening the system to an aircraft carrier, Terry said it can take months or even years to make a change in health laws and policies. By the time changes take effect, the nature of opioid crisis also likely will have changed, he said.
Even financial resources can prove ineffective if they are not distributed quickly enough, Terry said. Though state or federal lawmakers may promise to devote more funds to combatting the opioid crisis, it takes time for those funds to be distributed and used, he said.
"We have a little bit of a sprint, but we're running a marathon," Silverman said. "These are generational concerns that we're working from a public health perspective."
Long-term goals
As the Phase One professors wrap up their initial research, Cate said the first round of findings will soon be presented to Indiana's congressional delegation in Washington, D.C. From there, Grand Challenges will likely develop into an iterative process based on the changing nature of the crisis and the legislative support the university secures, he said.
When the Grand Challenges initiative was first presented to Indiana's lawmakers, Cate said they were enthusiastic about helping where they can. However, Cate also said he knows that not every recommendation will be doable, which is why the school wants to consult with lawmakers to get a sense for which recommendations could get government support.
As that process plays out, Terry said he and Silverman plan to use their initial findings to guide their future research. They also plan to continue studying how other facets of the crisis not related to health law are responding to the epidemic and developing recommendations that can work in tandem with other disciplines.
"Part of what we're trying to do is see where we can find common ground between all of these different groups, and perhaps we can develop a more common definition of how to move forward rather than having different components of these systems work at odds with one another," Silverman said.•
Please enable JavaScript to view this content.