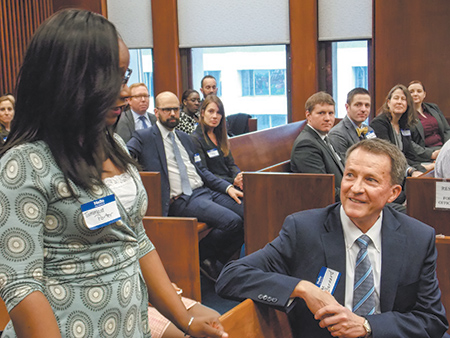 Asked how to lessen the need for free legal services, Mark Torma, executive director of the Volunteer Lawyer Network, Inc., in South Bend, could not hide his exasperation.
"Oh, my," he said.
Solving the problem of unrepresented litigants appearing in court for a host of civil matters would likely require addressing policy issues that happen well outside the judicial system, Torma explained. Economic instability and societal insecurity have essentially eroded people's confidence in their wellbeing.
As a result, the legal system has been hit with more households needing help and fewer being able to afford it. Within Indiana, a key part of the response has been to push lawyers to take pro bono cases. The Indiana Supreme Court adopted a new rule in 2015 requiring Hoosier attorneys to report their volunteer hours and monetary donations while the U.S. District Court for the Southern District of Indiana instituted mandatory pro bono in 2016.
"Lawyers have the opportunity to contribute and they need to do that either through hours or dollars," Torma said. "Very few lawyers can't do either."
For those lawyers who represented pro bono clients in 2017, the Southern Indiana District Court hosted a special appreciation breakfast March 30. Attorneys were treated to a buffet of eggs, fruit and an assortment of sweet rolls in a makeshift banquet hall set up on the third floor of the Birch Bayh Federal Building and U.S. Courthouse in Indianapolis. Afterward, judges and court staff gathered the lawyers in the nearby courtroom and thanked them.
"Your work helps the court with the great burden because of the caseload it has … but I think more importantly, it provides litigants with a sense that they're getting a fair shake in the justice system," Chief Judge Jane Magnus-Stinson told the volunteer lawyers.
The Southern Indiana District is the second busiest in the 7th Circuit. In 2017, it had 6,360 cases filed but also had the highest weighted caseload per judgeship at 1,028, according to an analysis by the Administrative Office of the U.S. Courts.
Driving much of the pro bono work are petitions filed by state and federal prisoners. From 2016 to 2017, the number of prisoner petitions in the Southern District rose from 1,163 to 1,317.
The Southern Indiana District Court relies on volunteer counsel to help prisoners who have legitimate complaints. A sizable portion of the attorneys come from bigger law firms and do not practice civil rights law, but the chief judge said tapping them for assistance is the "only workable way" to provide representation.
"I went to law school to try to help people," Magnus-Stinson said. "… I think, fundamentally, that is a reason people go to law school. They want to be part of making the world a better place, and this gives them an opportunity to do that."
Reporting rule impact
The Southern District will assign pro bono cases to attorneys as a part of its effort to get some of the pro se litigants legal assistance. Comparatively, the number of lawsuits that get free help is small — just 70 last year — but the number of cases in which counsel were appointed rather than volunteering nearly doubled from 19 in 2016 to 36 in 2017.
Brian McDermott, principal at Jackson Lewis PC, is a labor and employment attorney but has volunteered to handle some prisoner cases in the Southern Indiana District. He does not view the court's move to mandatory pro bono as unusual since, he said, other jurisdictions have the same requirement.
"I think it helps keep the focus on the need for efficient use of judicial resources and the fact that there are people in need of these services," McDermott said. "The more that people get involved, either through mandating or volunteering, the more mainstream pro bono becomes. I think that's good for everyone."
Indiana state courts do not mandate attorneys do pro bono work. However, lawyers are required to list their hourly and monetary contributions to legal aid, even if the amount is zero, when they renew their registrations each year. Although only two years of data has been collected, the numbers show the start of an upward trend.
Fifty-four percent of all attorneys eligible to donate did so in 2016, up from 50 percent the year before. Likewise, the number of hours volunteered rose by 33 percent in 2016, and donations of money or property, such as office furniture, increased 20 percent.
Torma and Mary Fondrisi, plan administrator for Southern Indiana Pro Bono Referrals, Inc., have noticed an uptick in attorneys volunteering since the state pro bono reporting rule was adopted. They credit the rule with raising attorneys' awareness of the need and they ways they can help.
"We are really making great strides in having attorneys speak to people about their legal issues," Fondrisi said. "We're doing a little better in getting people to appear in court (as legal counsel)."
Even so, the need for legal aid does not appear to be diminishing.
More people have been showing up at the talk-to-a-lawyer functions hosted by the Southern Indiana Pro Bono Referrals. Fondrisi also sometimes cannot find an attorney to take a case, particularly when it comes from a rural county. Finding counsel to take pro bono divorces — especially those involving domestic violence — has been very difficult.
The litigants without attorneys cannot be covered by legal aid offices nor, Torma said, should they be. Being able to tap lawyers from the larger legal community enables the pro bono organizations to find the expertise demanded by the particulars of each case. Bankruptcy and foreclosure are among the areas that can be better addressed by volunteer lawyers from private practice.
However, to really reduce the number of unrepresented litigants, both Torma and Fondrisi said Indiana should make pro bono service mandatory. "Other states have this requirement and the world has not fallen apart," Torma said.
Worthwhile cases
Indianapolis solo practitioner Stephanie Jane Hahn started volunteering in the Southern District in 2015. As a labor and employment attorney, she has handled three cases, and she sympathizes with people who try to navigate federal court by themselves.
The rigorous deadlines and case management standards along with the high expectations of the judges make many attorneys leery about practicing in the federal judicial system. For a nonlawyer trying to litigate an employment complaint, the chances of success are "virtually impossible," she said.
As for getting more attorneys involved, Hahn believes the main problem is lawyers are not aware of the need for pro bono services. "And if there is a need, we lawyers oftentimes are uncomfortable with trying to fill it," she said. "I think lawyers are people who want to do a good job, on the whole, and we're typically most comfortable doing things we've done before and been successful at."
Still establishing her practice, Brooke Smith, associate at Keffer Barnhart LLP in Indianapolis, has found the volunteer program in the Southern District gives her experience in managing cases on her own. She noted the screening process by the court ensures the disputes offered to the pro bono pool involve substantive legal matters.
"You know that the cases you are getting are quality cases, individuals that have real issues that need to be taken care of," Smith said. "The time commitment is worthwhile because the case is worthwhile."•
 
Please enable JavaScript to view this content.