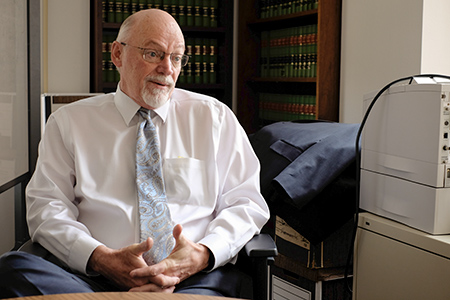 Despite working on Indiana public defense reforms for 41 years, there are still goals Larry Landis wishes he could have accomplished before his impending retirement from the Indiana Public Defender Council. In a perfect world, Landis said his career would have led to more judicial sentencing discretion, a greater focus on mental health treatment, and a justice system that values restoration over punishment.
But a quick survey of people who have worked with Landis shows the retiring leader and creator of the Public Defender Council will be remembered for his accomplishments, not for the work he sees as left undone. Landis' colleagues say his July 2 retirement will be a significant loss for the Indiana judicial and legislative branches, which have come to depend on his decades of knowledge and experience.
But Landis said he plans to stay involved in public defense work even after he leaves the PDC in the hands of his successor and current assistant executive director, Bernice Corley. Though he will no longer be the official face of Indiana public defense, the retiring executive director said as long as criminal defendants need someone to stand up for their rights, he'll be around to be their advocate.
"It's nice to see a guy be able to walk away from his life's work when he's been able to do what he really believes in and accomplished so much," said Indianapolis criminal defense attorney David Hennessy.
Creating an identity
There's never been a time when the Public Defender Council existed without Landis. He established the organization in 1977 and has been at its helm since. There have been numerous changes to Indiana's public defense landscape during that time, chief among them a change in perception, Landis said.
In the early days of his career, public defenders generally described themselves as lawyers, sometimes indicating that they did criminal work — but never readily admitting they did public defense. Further, public defenders were generally employed by the judges they argued before, a system Hennessy said dampened public offenders' effectiveness.
But that began to change with the creation of the council in 1977, and the Public Defender Commission in 1989, as well as the authorization of the creation of public defender offices in 1991, Landis said. Those organizations created a sense of identity and purpose among the state's public defenders and ensured they were given a seat at the table to discuss policy changes, he said.
Professor and dean emeritus Norman Lefstein of the Indiana University Robert H. McKinney School of Law considers the creation of the Public Defedner Commission to be among Landis' greatest contributions to the Indiana legal profession. As a longtime commission chair, Lefstein said Landis' expertise and knowledge about the state of public defense in each of Indiana's counties were invaluable tools as the commission tried to implement statewide standards.
To Marion County Public Defender Robert Hill, the creation of those standards was the most significant accomplishment of Landis' career. It's common for public defenders to be asked to juggle very heavy caseloads, Hill said, but the commission's standards have helped ensure defenders can serve the greatest number of litigants possible without sacrificing the quality of their work.
Legislative liaison
Aside from the creation of Indiana public defense organizations, Landis is perhaps best known for his legislative advocacy. Landis gave some of his most significant legislative input when he worked on criminal code reform in 1976, 1977 and 2014.
The 2014 revisions changed the nature of Indiana's criminal justice system to focus less on an offender's past and more on rehabilitation to avoid future recidivism, a system Landis has long advocated. Rep. Greg Steuerwald, the Avon Republican who chairs the House Judiciary Committee, said without Landis' advocacy, the legislature may not have made the initial switch to a rehabilitation-based system.
Corley
"So much of the time the General Assembly is working on being tough on crime," Steuerwald said. "But what was amazing about Larry was that he has not lost his passion. Even though he was many times fighting an uphill battle, he never wavered in his passion or from his perspective that we needed to take a look at what we were doing and what the effect would be."
Even if legislators disagreed with Landis' stance on an issue, Corley — who previously worked for the legislature as minority counsel — said she was often impressed by his ability to build bridges and bring the opposition to his side. Further, council legislative liaison Kristin Casper said she, along with lawmakers and Legislative Services Agency staffers, often marveled at Landis' ability to read bills and extract the nuances of their implications.
Judicial impact
Landis' statehouse advocacy also extended to the Supreme Court, which he assisted in the approval process for multiple Rules of Criminal Procedure. Chief Justice Loretta Rush specifically credited his work on Criminal Rule 25, which secures the right to counsel in juvenile delinquency proceedings, and Criminal Rule 26, which allows for pretrial release without requiring bail.
Landis' strength in advocating for Criminal Rule 26 came from his belief in evidence-based decision-making to determine if an offender poses a substantial risk of flight or danger, Rush said. Landis also touted the introduction of evidence-based decision making as among his proudest accomplishments. And aside from the criminal rules the chief justice referenced, Landis said he was also proud of his work on Criminal Rule 24, which requires judges to appoint two qualified attorneys to represent indigent defendants facing the death penalty.
The chief justice also credited Landis for his participation with the Commission on Improving the Status of Children in Indiana and his work on public access issues. When the court began looking at what documents should be publicly availably online, Landis was there to offer the perspective of defendants, she said.
"In my 20 years of being a judge, I don't know if any person had a greater impact on the rights of the accused than Larry Landis," Rush said.
The next phase
With his retirement two months away, Landis said he is beginning to evaluate the ways in which he will continue to advocate for criminal defendants. He currently sits on the commission by virtue of a Criminal Justice Institute appointment and on the Supreme Court's evidence-based decision making pretrial working group — appointments he said he plans to keep.
As Landis winds down his time with the PDC, Corley is winding up to her first day as the organization's head by planning for the two "buckets" of issues she wants to address. The first bucket heralds back to the initial perception issues Landis encountered in the 1970s and 1980s: changing the attitude that defenders are merely plea negotiators and not litigators. The second bucket will go more toward customer service by ensuring the PDC serves defenders effectively so that defenders can effectively serve their clients.
Landis is not shy in saying Corley will encounter many of the same challenges he faced along the way — namely, the slow pace of change in Indiana's public defense landscape. Though that pace was often frustrating, Landis said he never abandoned the cause of defendants for one simple reason: "justice matters."•
Please enable JavaScript to view this content.