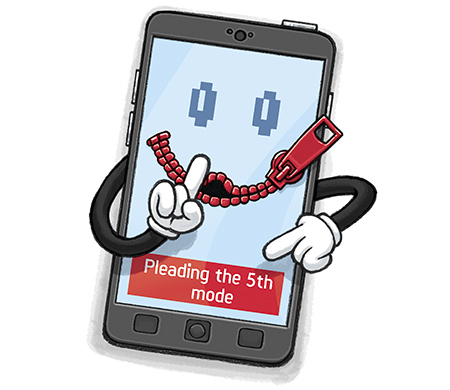 When does an action become testimonial? What role do technological advances play in Fifth Amendment analyses? When can law enforcement compel people to unlock their cellphones without infringing on constitutional rights?
The Indiana Court of Appeals is grappling with those questions as it considers a Fifth Amendment case of first impression, Katelin Eunjoo Seo v. State of Indiana, 29A05-1710-CR-2466, which it heard on May 1. The underlying question: can a court order Katelin Seo to unlock her cellphone as part of an invasion of privacy investigation, or is that a testimonial act that would infringe on her rights against self-incrimination?
The state argues it's a foregone conclusion that Seo knows the passcode to her iPhone 7 and that there are text messages on the phone. But Seo's counsel argued that forcing her to reveal her passcode is the same as requiring her to divulge the "contents of her mind."
The appellate panel — judges Patricia Riley, Melissa May and Paul Mathias — seemed stuck on the fact that Seo's case presents a technological element that distinguishes it from Fifth Amendment caselaw. The role technology plays in protecting or infringing on Fifth Amendment rights will be the central issue the judges have to consider, attorneys and legal technology experts say – an issue that, once decided, will have significant implications on law enforcement searches.
Inside the mind
The Seo case began in July 2017 when Seo was charged with invasion of privacy, stalking, intimidation and other charges stemming from her alleged harassment of David Sapp. As part of the criminal investigation, the Hamilton Superior Court issued a search warrant requiring Seo to unlock her iPhone 7 via a biometric fingerprint, a passcode or a password. Seo was also given the option of unlocking the phone and removing the passcode feature or changing the passcode to 1234.
Seo refused to comply, so Judge Steven Nation found her in contempt but stayed the contempt finding pending the instant appeal. On appeal, Seo's counsel, William Webster, told the court that requiring his client to comply would violate her rights against self-incrimination, because requiring her to disclose her passcode is the same as requiring her to share the "contents of her mind."
Webster's appellate brief found support for that argument in Doe v. United States, 487 U.S. 201, 212, 108 S. Ct. 2341, 101 L. Ed. 2d 184 (1987), which held that "expression of contents of individuals' mind is testimonial communication for purposes of the Fifth Amendment." Applying that analysis here, Webster told the court that Seo's passcode alone is considered part of the contents of her mind.
Further, under United States v. Hubbell, 530 U.S. 27 (2000), defendants cannot be compelled to provide information "that may lead to incriminating evidence" — meaning here that Seo cannot be forced to unlock her phone and give law enforcement access to its possibly incriminating contents, Webster said.
But Ellen Meilaender, counsel for the state, maintained that Seo was only required to unlock the phone and make it accessible to law enforcement, not to disclose the passcode or the contents of her mind.
Keffer
Bradley Keffer of Keffer Barnhart said the court's decision on which of those arguments to agree with will depend on how the judges view the contents of a cellphone.
Mathias, for example, noted that cellphones have been likened to clones of the brain because of the intimate nature of the information people store on them. Similarly, Fred Cate, a professor at the Indiana University Maurer School of Law and senior fellow at the Center for Applied Cybersecurity Research, noted that phones store more than just texts and photos — they also store location and other sensitive information about a person's life.
"It's really going to be what the Court of Appeals' take (is) on what is really associated with that password," Keffer said. "Is it standalone numbers, or is there more encompassed in it?"
A foregone conclusion?
The state's primary argument in favor of compelling Seo to unlock her phone is that her knowledge of the passcode and the contents of the phone — specifically, that there are text messages on the phone — falls under the foregone conclusion doctrine first laid out in Fisher v. United States, 425 U.S. 391 (1976). Because it is an implied fact that Seo knows the passcode to her phone — and because the state has independently established she used the phone to contact Sapp — Seo cannot assert a Fifth Amendment claim because of the foregone conclusion doctrine, Meilaender said.
If the court accepted that argument and Seo were compelled to unlock the phone, Mathias noted that the act of unlocking the phone could require Seo to decrypt her data. Encrypted data is indecipherable, which means that decrypting it could be considered the same as recreating the entire contents of the phone, implicating her Fifth Amendment rights, he said. Neither party briefed the encryption issue at length, a fact Keffer said could hinder the court's analysis.
Cate
Cate agreed that decrypting data is similar to "recreating" data, but he pointed to an important distinction between electronic data and a physical document: electronic data, if left unchanged, will look the same each time it is decrypted, while paper documents could look different depending on who creates them. Given that, Cate said a judge could draw a distinction between the Fifth Amendment implications of creating a physical document — which has already been addressed by courts — and the newer issue of decrypting data.
The state's foregone conclusion argument also gave rise to another aspect of the case that has yet to be briefed: the Fourth Amendment. Assuming the foregone conclusion doctrine applies, Webster said forcing Seo to unlock the phone would give law enforcement access to all of the contents of her phone with no restrictions. To that end, he distinguished Seo's case from other foregone conclusion cases where law enforcement sought specific documents.
Meilaender responded by reminding the court that scope is not at issue in the Fifth Amendment context, but would be an available argument as the litigation proceeds. Once the self-incrimination questions are resolved under the Fifth Amendment, Keffer said it is very likely the case will proceed to a Fourth Amendment analysis, which could have a significant impact on how law enforcement accesses digital evidence.
Law enforcement vs. liberties
Of the states that have already addressed the issues raised in Seo, Cate said most have found that courts can't compel defendants to reveal their passcodes. If that ruling plays out in Indiana, then even at the Fifth Amendment level, it will become more difficult for law enforcement to access data on suspects' phones.
However, as more people move to using biometrics such as fingerprints or facial recognition to unlock their phones, the passcode issue could become moot, Cate said. But as long as passcodes are still prevalent, Keffer said it is important for Indiana courts to provide guidance on whether those codes are protected.
However, if the court rules in favor of the state, Cate said Indiana runs the risk of weakening Hoosiers' civil liberties.
"If in fact they can get that access, it makes the rest of the Fourth and Fifth Amendments not that meaningful," he said. "It creates a giant exception."•
Please enable JavaScript to view this content.