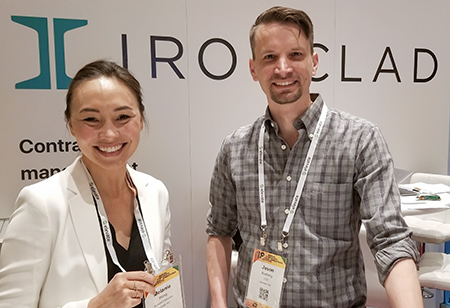 Attorney-turned-technology-entrepreneur Jason Boehmig knew from his time working as a law firm associate that creating software for the legal profession would be complicated.
Legal teams want the technology to work on day one with all the options installed that they will need but none of the bugs or glitches that can appear whenever something new is put into practice. The attitude of Silicon Valley startups to move fast and break things is definitely not shared by lawyers.
Despite the rigorous demands, Boehmig, a 2012 graduate of Notre Dame Law School and co-founder of Ironclad, saw an opportunity. The legal profession had not adopted technology like other industries such as sales, finance, and human resources, but he believed law firms and legal departments would inevitably start incorporating software and hardware specifically made to help attorneys do their jobs.
He became interested in what he calls the "structuring of legal information" from his time practicing corporate law at Fenwick & West LLP in California. There he often would have to provide a legal opinion in advance of a financing event for a business. But much of his time in preparing that opinion was spent reviewing company documents to make sure stock grants had been made and approved by the board.
Boehmig then began wondering if there was some way to capture the information in contracts so attorneys would not need to read through thousands of pages to extract the relevant data. He believed that having software keep track of the information would be more efficient and allow lawyers to do more substantive legal work.
Ironclad CEO Jason Boehmig, center, gives a presentation about his company with software engineer Lucy Li, left, and the general counsel of GoFundMe, Chris Young, right. (Photo courtesy of Jason Boehmig)
While still at Fenwick, he began exploring the technology available, evaluating technology that the firm could use, and even coding up some internal prototypes of products. The technology he thought could return lawyers to lawyering was not available, and that's when he saw the opportunity for a new venture.
A native of Pittsburgh who spent four years at the former Lehman Brothers before going to law school, Boehmig described himself as having "always been interested in making a bet." So in 2014, he left Fenwick and, after a trip to the Burning Man festival to decompress, settled into writing the code that would become the basis for Ironclad.
Boehmig soon began working with Cai GoGwilt, who brought an expertise in software engineering and became the co-founder of Ironclad. In September 2015, the pair raised $3.2 million for their startup and in July 2017 got an $8 million infusion of funding led by Accel.
Ironclad is geared toward in-house legal departments. And today, it has grown to about 31 employees and has a customer base that includes GoFundMe, Gusto and HotelTonight.
The 36-year-old Boehmig regularly returns to Notre Dame to teach a legal technology course to law students. He took some time recently to talk about technology and its potential impact on the legal profession.
Many attorneys say they learned how to practice law by combing through boxes of documents in a discovery exercise. By eliminating the menial tasks, will new attorneys have fewer ways to learn about lawyering?
I did find value in (the contract diligence work) because it helped me become more familiar with the basics. However, I think there are other ways to learn that information in a more efficient way. I understand there's criticism of technology — that this is going create a different development track, and how will attorneys be trained appropriately if they don't do the menial? What I would counter to that as a technologist is there are better, more efficient ways to learn the same type of information.
How will using software like Ironclad provide an educational opportunity?
By helping the client set up an automated contracting system, (the junior attorneys) are going to be exposed to thinking about what information is captured in the system that might be relevant in future corporate legal work. There's a great training opportunity around that. Also, to me, it fits in with this theme of returning legal work to the actual counsel part of the job and less of the monotonous part of the job. I think much of the dissatisfaction of the junior attorneys comes from … we're trained to be thoughtful advisers and counselors, and so often the junior associate role is effectively a very expensive computer that's sitting there checking boxes, doing very perfunctory diligence or discovery tasks.
In some circumstances, technological advancements have replaced workers. Will software like Ironclad eventually reduce the number of jobs in the legal profession?
The state of market is that legal teams are overworked. They don't have enough people to do all of the tasks that are being asked of them, and that dynamic is only increasing. I don't think we've ever supplanted a job anywhere. In fact, we are creating jobs because there is an increasing class of folks called legal operations professionals who are usually nonlawyers in the legal department tasked with making the legal department more efficient.
Do you foresee at time when artificial intelligence will replace lawyers?
I don't think so. … I don't think technology will ever replace the core value of the legal profession, which is providing advice on legal matters. Humans will always be better than a computer at synthesizing complex information and developing a grand strategy for dealing with legal matters. I don't think that's going anyway. I don't think the counseling and advice part of legal work is going to change, but I do think the … routine and repetitive tasks will be more efficiently done by a computer.
What should law schools do to prepare their students for the coming technological revolution in the legal profession?
Law schools need to just start talking about technology. … Our course at Notre Dame Law School tries to familiarize students with a broad variety of technology so that they're conversational when talking about e-discovery platforms, they know what state-of-the-art is in contract automation, and they are familiar with the existence of legal operations. I think just familiarizing the students with how that landscape is changing and what the various forces are at play is the most important and the most practical thing that law schools can do.
You switched careers from being a lawyer to running a legal startup. Do you like it?
Love it. Many of the things I liked about being a lawyer, I still get to do as a technology entrepreneur working within the context of the legal profession.•
 
Please enable JavaScript to view this content.