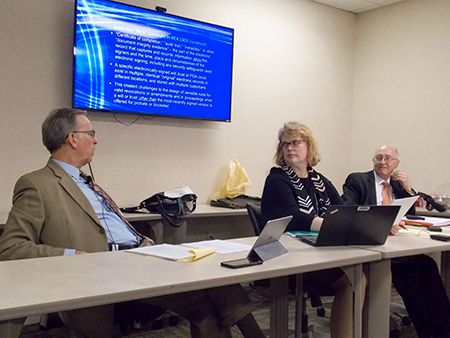 Though the law has a reputation for being resistant to change, new legislation that will take effect this summer is designed to give estate planning attorneys the opportunity to embrace technology when advising clients about probate documents while allowing more traditional lawyers to conduct business as usual.
The Indiana General Assembly fell just one vote shy of unanimously passing House Enrolled Act 1303, a bill that gives clients the option of executing electronic wills, trusts and powers of attorney. The crux of the legislation is the ability to electronically sign probate documents, a feature estate planning attorneys say is not yet prevalent nationwide, but will be soon.
Though initial criticism of electronic probate documents centered on whether e-signing would give a competitive advantage to online legal service providers such as LegalZoom, the attorneys who drafted HEA 1303 say their bill is not meant to promote do-it-yourself estate planning. Rather, the idea is to provide an electronic alternative for the next generation of clients who might not keep paper copies of their important documents.
And for those attorneys whose clients still prefer the old ways, the structure of HEA 1303 means nothing will change for them at all.
'Give us a year'
Dible
Though HEA 1303 was passed during the 2018 legislative session, the idea was first proposed in 2017. That year, LegalZoom lobbyists advocated for House Bill 1107, which similarly would have allowed clients to electronically sign their probate documents.
But there were shortcomings in HB 1107 that gave Frost Brown Todd estate planning attorney Jeff Dible pause, chief among them being the bill's allowance for remote witnesses. Allowing remoting witnessing could lead to wills signed by testators who are either under undue influence or who are imposters, problems that would be harder to catch if the witnesses weren't in the room, Dible said.
The bill also implicated the concept of remote notarization, an issue Indiana did not yet have legislation for, Dible said. Speaking at an Indiana State Bar Association continuing legal education presentation about electronic probate documents, Probate Section Chair Mary Slade said remote notarization is now legal via Senate Enrolled Act 372, but the law will not take effect July 1, 2019.
Considering those issues, Dible asked 1107's author, Rep. Greg Steuerwald, to give the ISBA's Electronic Documents Task Force one more year to draft new legislation they believed was best for Hoosiers. Steuerwald agreed, and the 26-member task force — which included representatives from the statehouse, law firms, courts and the Office of Judicial Administration, among others — set about on a yearlong research and writing process that culminated in five successive drafts of HEA 1303.
What's different?
Kolb
Aside from the fact that HEA 1303's allowance for electronic wills is completely voluntary, one of the law's most significant features is its structure.
Rather than incorporating electronic provisions into Indiana's existing probate code, the task force drafted three new chapters covering electronically signed wills, trusts and powers of attorney, task force member and Vincennes estate planning attorney Jeff Kolb said. The chapter related to electronically signed wills will be added at Indiana Code section 29-1-21, while electronically signed trusts will be located at I.C. 30-4-1.5 and powers of attorney are at I.C. 30-5-11.
The idea of drafting three new chapters into the probate code was to make the transition to electronic probate documents as painless as possible for attorneys whose clients still sign the traditional way, Kolb said. But in reality, those three new chapters don't say much that is different from what attorneys would find in the original probate code, Dible said.
Other than the fact that the probate documents will be signed electronically rather than with a pen, the legal processes for filing and probating wills, trusts and powers of attorney will be the same, Dible said, including requirements for witnesses and notarization. To that end, the task force also grappled with the development of safety protocols to maintain the integrity of those processes.
Built-in safety features
Geyer
Considering HEA 1303 does not allow for remote witnessing, Rebecca Geyer, a Carmel probate attorney who served on the task force, said one of the most poignant concerns attorneys had was how to verify the documents were actually signed in the presence of the witnesses. But what many attorneys didn't realize was that it's easier to prove the presence of witnesses when dealing with an e-signed document, because e-signing software contains metadata that can pinpoint the exact time and location a document was signed.
That metadata is then stored in the "completed converted copy" — generated as a PDF — of the probate document that must be created, Dible said. Those copies will also contain "document integrity evidence," such as digital markers to prove the document has not been altered after signing.
A related issue was the process of altering or revoking an electronic probate document, another question that Dible said is answered in HEA 1303. Clients can either sign a new document that revokes the previous version, sign an entirely new probate document or "permanently and irrevocably make unreadable and nonretrievable the electronic record" of the document. Each of those revocation procedures must comply with Indiana law and electronic safety provisions, Dible said.
Dible also noted that clients can choose the level of protection and difficulty of technology they are most comfortable with. For example, one client might be satisfied with signing a will drafted in a Word document — which can be easily manipulated — while another client might prefer a protected PDF or the highest level of protection available through electronic signature software such as DocuSign.
What's next?
Though Dible, Kolb and Geyer each said their clients aren't asking for the ability to electronically sign their wills, trusts and powers of attorney, HEA 1303 was necessary because the practice is beginning to slowly take root. The idea of e-signing is also being discussed in other state legislatures, including in Nevada, where Kolb said remote witnessing of wills is permissible. Considering Indiana doesn't yet recognize remote witnessing, HEA 1303 changed the state's comity law to require witnessing to be done in compliance with Indiana's probate code, Kolb said.
While both Indiana and Nevada have embraced electronic probate documents, Geyer said The American College of Trust and Estate Counsel has recognized Indiana's law as a national model that other states should try to replicate as they enact their own e-signing legislation. Other states such as Florida have unsuccessfully grappled with the concept, making Indiana a national leader, she said.
Dible said the state will revisit electronic probate documents during the 2019 legislative session to tie up one loose end: the creation of an online probate registry. The idea of the registry would be to make it easier for attorneys to locate information about a probate document upon a client's death, a task Dible said can be very difficult.
Though the Office of Judicial Administration supported the idea of running the registry, the 2018 session was a non-budget year, which means funding for the registry was not available, Dible said. The task force will make its case for the $90,000 to $100,000 it needs to get the registry off the ground during the 2019 budget session.
HEA 1303 is scheduled to take effect on July 1.•
Please enable JavaScript to view this content.