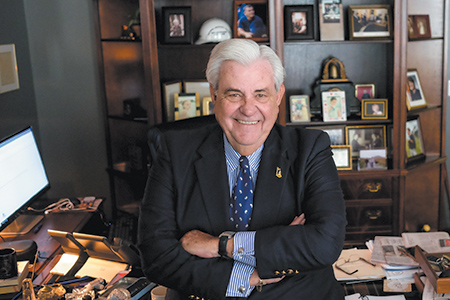 The signs of Indiana Court of Appeals Judge Michael Barnes' impending retirement were evident on the 18th anniversary of his ascension to the bench. On the morning of May 22 — exactly 18 years from his first day as a judge — books were stacked in piles on the glossy conference table in Barnes' chambers, with boxes nearby to store the items he'll take home to South Bend and a trash can in the middle of the floor to discard the things he'll leave behind.
The retiring judge didn't feel sad as he began to pack away the mementos that marked a nearly two-decade judgeship, but he was reflective. Barnes' career has taken him down multiple paths — including 27 years with the St. Joseph County Prosecutor's Office, 1½ years with Barnes & Thornburg and 18 years on the bench — and each experience exposed him to new facets of the law.
But looking back as he prepares to leave the Court of Appeals on June 1, Barnes said what he'll most miss are not the experiences he's had, but the people he's met. Whether it's the administrative assistant who has been with him for 34 years, the senior law clerk who started at the court on the same day as him, or the 14 other judges who have challenged and supported him, the Third District presiding judge said leaving behind the colleagues who have become family will be difficult.
Barnes will not completely leave the court behind, considering he plans to serve as a senior judge in two- or three-day blocks of time. His impact as a judge will also continue to be felt after his retirement, a fact evidenced by comments from candidates who have applied to fill his seat.
During his second interview with the Indiana Judicial Nominating Commission, St. Joseph Superior Judge Steven Hostetler recalled a conversation during which Barnes told him that reviewing pro se cases from inmates can be difficult, yet stressed the importance of giving those inmates the same access to justice as any other litigant. Another judicial candidate, Valparaiso attorney Jaime Oss, also took time during her second interview to praise Barnes' honesty both on and off the bench.
The JNC recently named Hostetler, Lake Superior Judge Elizabeth Tavitas and Fort Wayne attorney David Van Gilder as finalists to fill the court vacancy left by Barnes' retirement. The three finalists were picked from a pool of 12 northern Indiana applicants who interviewed with the commission in late April and early May, followed by a second round of interviews with six semi-finalists in mid-May. Gov. Eric Holcomb will have the final say on which candidate will ascend to the appellate bench and must make his decision this summer.
As both Barnes and the Court of Appeals prepare for the upcoming transition, the retiring judge said his most prominent emotion is gratitude — for his careers, his colleagues and his experiences.
"I had a great career in the prosecutor's office and as the prosecutor, I met hundreds of people and I really did things," Barnes said. "And I've had a really nice run here – very nice colleagues, good people … support staff, clerks who made me look good, smart and appear judicious. I'm just very thankful."
Barnes recently sat down with the Indiana Lawyer to reflect on his career, the changes he's witnessed and the future of the court.
What has been the most memorable part of your time on the Court of Appeals?
The overall thing on the court is the technology. In 18 years, you can imagine the technology is just completely different … so it's been a technological landslide, some of which I haven't been too good with keeping up with. I worry about the technology in the sense that our job is to analyze cases, to think carefully about cases and to dissect cases, and with this instantaneous ability to access the cases and read them and the go-go-go of voting on cases, I want to make sure the technology doesn't drive us to be any less deliberate, any less cautious or any less thoughtful.
Do you think technology is the biggest change you've seen during your career?
Technology has affected the law, and cases have spun from that, but clearly the practice of law is taking a different shape than it did. It's no longer that you go into an office and somebody's keeping time on a timesheet – although that's still done.
What was difficult about being a COA judge?
I came here after spending 27 years in the prosecutor's office, and I really had to discipline myself to take myself out of the advocate role and into the arbiter role and really look at criminal cases in a light I never looked at before. I believe I successfully did that, and I believe criminal defendants got an equitable and fair shake from me, but it was certainly very different for me to do that – but necessary.
What's been your proudest moment on the court?
I think we put out good opinions that were easily read, not a lot of superfluous language, to the point and sometimes with a little humor, which never hurt anyone. In a search warrant case I talked about not being able to find an elephant in an ice cube tray, and in one case that (Judge James) Kirsch and (Judge John) Baker and I did, we did (the opinion) all in rock and roll songs.
The thing I'm most proud of is that many of the men and women who have worked for me have gone on to be judges, magistrates, counsel, some of the leading personal injury attorneys. And somebody gave me a break, so I really … try to make sure that I've always had a (Conference for Legal Education Opportunity) student or an extern or both during the year. I hope they take a little sliver of what we did together and apply it.
What will you miss the most once you retire?
I'm going to miss the people. I'm going to miss the ability to affect people's lives. I've done that for almost 45 years in one way or another, and hopefully had a positive effect. But I'll continue as a senior judge, so in a limited fashion I'll still be able to decide cases.
What changes do you foresee for the future of the court?
I think we'll be more and more focused on technology. Does it take a search warrant to get into a cellphone? What is the proprietary interest in the cloud? All those things have and will create legal questions that need to be answered. All this technology just begets more and more legal questions as we use technology more and more.
What qualities does your successor need to have to succeed as a judge?
You have to be able to change your mind. You're working with smart people … and sometimes one needs to simply say, "They were right, I was wrong." That's a very difficult thing to do sometimes, but that absolutely needs to be a trait that a judge in this position needs to have.•
 
Please enable JavaScript to view this content.