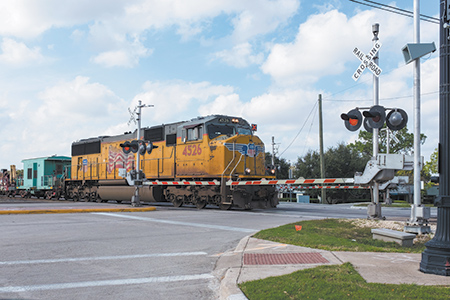 It's a frustration many Hoosiers have experienced time and again: getting stuck at a railroad crossing while a train passes or is stopped. Sometimes the train will move on quickly, while other times it can seem like an endless waiting game, delaying motorists from work or other appointments.
By law in Indiana, trains can only block highway grade crossings for a maximum of 10 minutes, unless there are circumstances beyond the railroad's control. Otherwise, the corporation can become subject to a Class C infraction charge and related fines.
The Norfolk Southern Railway Company received 23 state-issued citations before challenging Indiana's blocked-crossing statute, Indiana Code section 8-6-7.5-1, in court. The Allen Superior Court granted summary judgment to the rail company after determining Indiana's statute is pre-empted by the Interstate Commerce Commission Termination Act and Federal Railroad Safety Act, but the Indiana Court of Appeals unanimously reversed that decision in October. Specifically, the appellate panel found the federal laws' silence as to obstruction of highway traffic bars facial pre-emption.
Norfolk Southern appealed to the Indiana Supreme Court, which heard oral arguments May 17 in State of Indiana v. Norfolk Southern Railway Co., 18S-IF-00193. In its appeal, the railway maintained that though the question of federal preemption of the blocked-crossing statute is an issue of first impression in Indiana, the issue has already been settled consistently in favor of preemption in other courts across the country.
Raymond Atkins, a Washington, D.C.-based attorney with the firm Sidley Austin LLP, pointed the court in the railway's petition to transfer toward multiple decisions in favor of federal preemption from the Fifth and Sixth Circuits, as well as the Supreme Courts of Pennsylvania and Illinois. Similarly, Atkins told the justices during oral arguments that courts have found blocked-crossing statutes in Washington, Ohio, California, Michigan, Mississippi, Oregon and Colorado were pre-empted by ICCTA and/or FRSA.
The reason for those consistent rulings, Atkins said, was that Congress intended to centralize the regulation of the railroad industry at the federal level to facilitate the free flow of commerce across state lines. The Surface Transportation Board is given exclusive jurisdiction to regulate and manage railroad transportation, he said, and any state law that has the effect of similar management or governance is pre-empted — including Indiana's statute.
But Indiana solicitor general Thomas Fisher maintained that nowhere in either ICCTA or FRSA does Congress express a clear and express purpose for pre-emption. The ICCTA is concerned with the business side of the industry, while FRSA allows states to implement regulations of specific subjects not covered in its provisions, Fisher said. The issue of blocked grade crossings is not covered through FRSA, he said, making I.C. 8-6-7.5-1 enforceable.
Both parties based their arguments on 49 United States Code section 10501(b), a provision of the ICCTA that gives the Surface Transportation Board jurisdiction over "rates, classifications, rules … practices, routes, services, and facilities of (rail carriers); and … construction, acquisition, operation, abandonment, or discontinuance of spur, industrial, team, switching, or sides tracks, or facilities … ." That provision does not encompass grade crossings, Fisher said, making its pre-emption inapplicable.
The solicitor general urged the justices to "start at square one" and look at the plain text of the applicable statutes, a review he said would prove that the presumption against pre-emption applies in this case. Though Atkins did not delve deeply into that presumption during his argument, he did tell the court that where, as here, there is a heavy federal presence on an issue, the presumption does not apply.
Each of the five justices questioned the attorneys during the argument, with both Chief Justice Loretta Rush and Justice Steven David asking what remedy would be available to the state if Norfolk or any other rail company continues to block grade crossings. Atkins told the court that the state could file a petition with the STB, but Fisher maintained that the STB's informal process likely wouldn't yield quick or efficient results for the state. He also said the state should not be supplicants to the federal courts when faced with an issue of local safety.
Atkins also told the court that allowing Indiana's blocked-crossing statute to stand would negatively impact the state and national economy by disrupting the railway transportation system. But when asked about that issue by Justice Geoffrey Slaughter, Fisher called it a "runaway theory," noting that many court decisions or state statutes have an economic impact. Multiple amicus briefs were filed in the case, though none of the amici participated in the May 17 oral arguments.•
Please enable JavaScript to view this content.