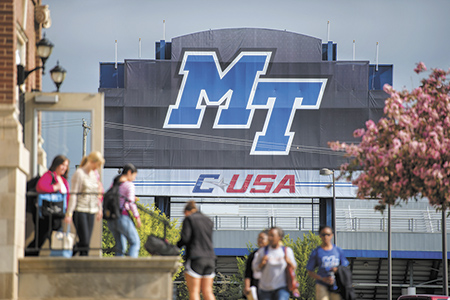 At first glance, the two schools are opposites.
Valparaiso University is a private Lutheran institution with 3,255 undergraduates in northwest Indiana's Rust Belt, just an hour's drive from Chicago.
Middle Tennessee State University is a public school with about 22,000 undergraduate and graduate students in Murfreesboro, one of the nation's fastest growing cities.
One school keeps a focus on faith, fosters a tightknit student community, and every winter clears lake-effect snow from its sidewalks and roadways. The other boasts the second-largest number of graduates among public universities in its home state, rallies around its Division I Blue Raiders and has an average high temperature of 48 degrees in January.
However, as different as they may be, the two institutions now have at least one thing in common – legal education. Valparaiso and MTSU announced in late June they have entered into a nonbinding letter of intent to transfer Valparaiso Law School to Middle Tennessee.
"I was shocked," said Murfreesboro attorney Kirk Catron. "I was really surprised."
Valparaiso has emphasized the talks between the schools are preliminary, with both sides still exploring the option. Still, Catron's reaction was echoed by others.
The announcement followed turbulent fall and spring semesters for Valparaiso Law School. In November, after the American Bar Association lifted its public censure of the law school, the university announced it was suspending admissions for 2018 and looking for ways to remain open. As the school year came to a close, Dean Andrea Lyon stepped down.
Jaime Oss, managing partner at Huelat & Mack PC and 2003 Valparaiso Law School graduate, was bewildered at how her alma mater and MTSU got connected. She expected the law school would join another school in Indiana, Chicago or Michigan.
Valparaiso Law School has a rich history in northwest Indiana and strong ties to the attorneys there. Alumni often return to attend a continuing legal education seminar, help students and reconnect with former classmates. Its possible exit will leave a hole in the legal community.
"I don't really know how I feel about it," Oss said of the potential transfer to MTSU. "I do think transferring rather than closing certainly is better for the students. I don't know what that means for us as alumni, but it feels better than just saying it's closed and done."
Middle Tennessee does not have a law school. In a press release, MTSU president Sidney McPhee said the law school would be a gift and not something his university would merge with or buy.
Middle Tennessee State University said the potential transfer of Valparaiso Law School would be given as a "gift" and could be housed in the Andrew Woodfin Miller Education Center.
Catron, who is president of the Rutherford and Cannon County Bar Association, sees the positive of getting a law school in the neighborhood. For the legal community that is very active with about 100 attorneys, a law school would be a good resource and could provide students to help with things such as ask-a-lawyer events. It would boost the local economy by bringing in more students from outside Murfreesboro who would rent housing and spend their money in local businesses.
What happens after graduation might be a problem. The city is not home to any large law firms and most attorneys handle divorce, criminal defense, custody and business as well as construction law. If the law school graduates settled in Murfreesboro, the area could become saturated with legal professionals.
Tennessee, with a total population of 6.72 million, is already home to six law schools. From 2015 through 2017, the accredited law schools graduated 1,543, with a median bar passage rate among those three classes of 89 percent.
In the last 10 years, two new institutions have squeezed into the market with Lincoln Memorial University Duncan School of Law opening in Knoxville in 2009 and Belmont University College of Law opening in Nashville in 2012.
Nashville School of Law, which only offers night classes, is not accredited by the ABA but its graduates are allowed to sit for the Tennessee Bar Exam. The remaining three law schools — University of Memphis Cecil C. Humphreys School of Law, University of Tennessee College of Law, and Vanderbilt University Law School in Nashville — are fully accredited by the ABA.
Lucian Pera, past president of the Tennessee Bar Association, described himself as a "free-market guy" and said if a university wants to open another law school, it should be allowed to do so. But he conceded no one is saying the Volunteer State needs another law school.
He said the legal market in the Volunteer State, as in other states, is not growing many jobs. Attorneys are under pressure to contain costs and get clients as many people are opting to go into court pro se.
"I have not seen any evidence that we are in dire need of lawyers," he said.
Details of any possible transfer, including whether current faculty and students would be a part of the move, are still being discussed. In the addition, the governing boards of each university along with the relevant accrediting and government entities would have to approve any transfer.
Although Oss is uncertain now, she does know what she and other alumni will experience if their school leaves Valparaiso. "We will all feel lost," she said.•
Please enable JavaScript to view this content.