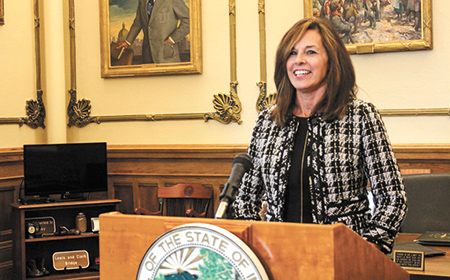 Lake Superior Judge Elizabeth Tavitas was on the bench on July 18 when her phone rang with a message that would change her career. It was a call from Indiana Gov. Eric Holcomb, informing her that she had been selected as Indiana's next Court of Appeals judge.
"I saw his (Holcomb's) name light up on my cellphone, and I had to recess," she said.
Though her waiting litigants kept Tavitas from celebrating immediately when she got the life-changing call from Holcomb last week, the judge was all smiles the next day when the governor publicly announced her as his pick to succeed now-Senior Judge Michael Barnes, who retired last month. The governor's selection of Tavitas as the next COA judge marked the second time he has named an appellate judge – the first being Justice Christopher Goff's appointment to the Indiana Supreme Court – and he said selecting the state's highest jurists is a task he does not take lightly.
"Selections … to the top two highest courts – there's no more important decision," he said.
With the governor's confidence placed in her, Tavitas pledged to be faithful to the rule of law once she ascends to the appellate court bench. And though she said she can never truly replace her predecessor, Tavitas also said she hopes to continue his legacy of humility and public service.
"I stand here as a public servant ready to serve this great state of Indiana at the next level," Tavitas said.
Gov. Eric Holcomb has named Lake Superior Judge Elizabeth Tavitas as the next Indiana Court of Appeals District Three judge. She will succeed Senior Judge Michael Barnes.
From there to here
Born, raised and educated in St. Joseph County – including earning her undergraduate and law degrees at the University of Notre Dame – Tavitas said she has built her life around northern Indiana, the region she will now serve as a District Three appellate court judge. After finishing her education, Tavitas headed slightly west to Lake County, where she has spent the entirety of her career.
Tavitas' early days as a practitioner included time spent as a Lake County deputy prosecutor and in the county's public defender office. She also maintained a private practice while working for the prosecutorial and defense agencies, handling family law, criminal, juvenile, worker's compensation and personal injury cases.
Then in 1998, Tavitas made her first move to the bench when she became a Lake County juvenile court referee. She held that position until 2006, when then-Gov. Mitch Daniels appointed her to the Lake Superior Court.
In the ensuing 20 years since she first became a referee, Holcomb said Tavitas has gained a "heightened level of experience" presiding over cases involving families in crisis. In addition to her experience on the juvenile court, Tavitas' docket on the Lake Superior bench has included domestic relations and protection order cases.
An innovative jurist
Given that experience, Holcomb said Tavitas has been spurred to take action to improve her court and her community during her years as a judge. One action she has taken was creating a volunteer guardian program that provides an advocate for children who are involved in custody disputes, children in need of services cases and other legal proceedings.
In addition to family law issues, Tavitas' time as a judge has also developed another judicial passion within her.
"Most of all, I bring (to the COA) my passion for public service, my respect for the rule of law and my passion for access to justice for those who cannot afford to hire attorneys," she said.
Access to justice issues have been a key part of Tavitas' judicial legacy in Lake County. She said as much during her first interview with the Indiana Judicial Nominating Commission in May, when she told Chief Justice Loretta Rush and the other JNC members that money is generally the greatest obstacle to justice for Hoosiers.
But under her watch, the Lake Superior Court has launched a pro bono clinic in Gary to meet the legal needs of indigent litigants and a low-cost mediation program to help parties agree on a solution that best meets their needs.
"These acts have not only improved the judiciary and the county," Holcomb said, "but I submit to you they have improved the lives of people, residents in Lake County."
Giving perspective, gleaning wisdom
All of these accomplishments, as well as Tavitas' knowledge of the state and federal constitutions and "sound legal reasoning," are what led Holcomb to the decision that Tavitas was the best choice to become Indiana's next appellate judge. He picked the Lake County jurist from a group of three finalists that also included St. Joseph Superior Judge Steven Hostetler and Fort Wayne attorney David Van Gilder. The JNC selected the three finalists from a pool of 12 northern Indiana applicants, who were interviewed in April and May.
The governor praised Tavitas for her "firm belief in judicial restraint" and for her practice of keeping her personal beliefs out of her judicial work. Once on the appellate bench, Tavitas promised to live up to Holcomb's praises, describing her judicial philosophy as having a respect for the rule of law and adhering to statutes and constitutional provisions.
Considering she has spent extensive amounts of time in both St. Joseph and Lake counties, Tavitas said she will bring the perspective of litigants from both counties to her role as a District Three jurist. She also said her extensive experience handling family law matters on the front end in the trial court will prove beneficial when hearing children in need of services or other similar cases for the COA.
"I can bring my experience from the family court and watching their demeanor and understanding the fact that we see them sometimes…for decades and get to know these families," she said. "And I understand what families go through."
Speaking on behalf of Chief Judge Nancy Vaidik, who was out of the country and could not attend the July 19 announcement, Judge John Baker welcomed Tavitas into the ranks of the COA judges – a group she referred to as her "new judicial family." He said he looked forward to Tavitas taking part in the appellate court's tradition of resolving disputes "in a timely and thorough manner."
For her part, the Hoosier state's newest appellate judge said she hopes to glean wisdom from her more senior colleagues. She also said she has an important question for Vaidik once the chief returns to the country.
"I look forward to speaking with her about when I can start," Tavitas said.•
Please enable JavaScript to view this content.