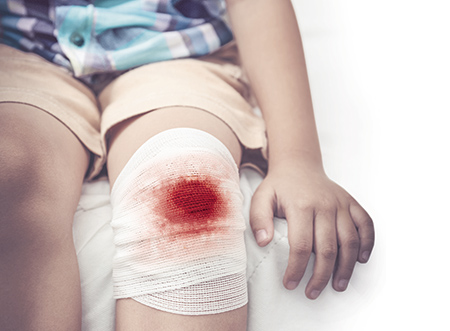 It's not uncommon for the Indiana Department of Child Services to hear it doesn't have enough evidence to support its child welfare cases. Children in need of services cases that enter the court often leave shredded by judges for lack of a sufficient reasoning as to why they came before the bench without enough evidence to back up the claims.
The majority of Indiana CHINS cases align with Indiana's definition of neglect, which has fallen under recent scrutiny by state officials. In June, the Child Welfare Policy and Practice Group presented a lengthy list of data and findings after Gov. Eric Holcomb asked for a study to be conducted into DCS earlier this year.
One of those recommendations suggested Indiana should re-examine its "broad and unqualified" statute of neglect, Indiana Code section 35-46-1-4. The study pointed out that although Indiana's definition isn't unusual, it does not explicitly limit welfare cases of neglect to exclude "poverty or occasional inattention or lapses in judgment" like neighboring states do.
The study also found Indiana child welfare cases saw a 63 percent increase in the past five years. That number is exceedingly high compared to surrounding states and national figures.
The study also noted Indiana's rate of court involvement in those cases were even higher, and unusually so – 72 percent of Hoosier child victims have been involved in a court case, compared to 29 percent nationwide.
DCS critics fear the current definition might bring more child welfare cases than necessary into a system that's already buckling under a heavy load. In 2017, 77 percent of Hoosier kids placed in foster care were removed due to neglect, according to the CWG study.
With a broad statute in place and a recommendation to narrow its language, one central question remains unanswered: what is the appropriate definition of "neglect" that should qualify for a CHINS finding?
Unnecessary findings?
Ortega
Indiana law currently determines youngsters are neglected when their "physical or mental condition is seriously impaired or seriously endangered as a result of the parent/guardian/custodian being unable, refusing, or neglecting to supply the child with necessary food, clothing, shelter, medical care, education, or supervision." But that definition could be interpreted differently by different people, said Renee Ortega of ROK Legal Group, LLC.
"Because I have a legal background, my interpretation of 'seriously impaired' or 'seriously endangered' is going to be different than that of a lay person," Ortega said. "It may even differ from what a DCS attorney believes that it should mean because we're on opposite sides."
In her experience representing parents in CHINS cases, Ortega said she has never considered the statute of neglect to be too broad. She said doesn't think narrowing the definition any further will make much of a difference in the DCS system.
"I believe that we would still have some of the same issues even if we had a more narrow statute," she said. "I don't know that narrowing the statute is something that is necessarily going to drastically reduce case loads."
DCS case workers have been bogged down in recent years by a swell of CHINS cases entering the courts, many of which are sent away because they cannot provide sufficient evidence to support their cases. While the study found the total number of CHINS cases in Indiana has been on the decline since September 2017, the current figure stands at roughly 22,000 cases – still 62 percent higher than it was five years ago.
Jan Berg, division chief of termination of parental rights and CHINS for the Marion County Public Defender Agency, said half of all of the CHINS cases she's involved with close without a CHINS finding. To that end, Berg said the state needs to both revise the definition of neglect and re-evaluate its practices so that DCS is not "overly involved in a family's life."
"If 50 percent of the cases filed do not result in a child in need of services finding, then they need to re-think the way they're investigating these cases," she said.
What is 'neglect'?
Ryznar
Things get a little hazy when it comes to determining what truly constitutes neglect. According to Indiana University Robert H. McKinney School of Law professor Margaret Ryznar, neglect cases vary depending on the situation and level of severity involved. That can make honing in on a specific definition very complex.
"There's a reason why most definitions, even in states that have more narrow definitions, are still pretty broad," she said. "It's really hard to foresee what abuse and neglect looks like. And most state legislators prefer to cast a really wide net to make sure they can catch all potential abuse and neglect within the state's border."
Ryznar noted that a broader definition will collect a wider range of CHINS cases pouring into the courts, including cases that wouldn't be considered CHINS elsewhere. Berg has seen such cases throughout her career. For example, since the beginning of summer, she's encountered numerous cases of CHINS investigations against families who don't have air conditioning in their homes.
"They're concerned that it would be too hot for the children," she said. "I grew up in a home without air conditioning. It just kind of highlights the different socioeconomic expectations."
Marion County public defender Barb Webb Fuller agreed. Over the course of her 30 years as an attorney, she said she's watched the margins for accidental cases grow slimmer under the pressures of DCS.
"Twenty years ago, a toddler could fall off the concrete porch and hurt her lip or get some bruises," Fuller said. "Now that would be called neglect because the parent wasn't carefully watching."
While DCS doesn't specify that one-time parental lapses or poverty are grounds for removal, Fuller sees it happens all the time. Although the agency knows the statute's language of neglect requires a child's physical or mental condition to be seriously impaired or endangered before he or she is removed, Berg said it often skips over that definition.
"They always say the child needs something necessary that the parent is not providing," Berg said. "Those are things that perhaps parents are not providing that DCS sees as important, but that failure to provide is not seriously impairing or endangering that child."
Lost in the shuffle
Despite well-intended efforts to study DCS and offered suggestions for improvement, Katie Meger Kelsey of Kids' Voice of Indiana worries the statute of neglect will continue to needlessly bring families into the mix that don't belong there. However, Kelsey also pointed out that behind closed doors, there are still children in need of help that are somehow being over looked.
"The work that I do makes me more reluctant to start tinkering with definitions that would narrow things, because I'm just worried about missing children with the net that we're casting," she said. "But on the other hand, if we're rising and rising and rising and we are seeing children in there that don't belong, there's a problem to address."
A DCS spokeswoman said the department is currently reviewing CWG's findings to determine whether it should recommend a new definition of neglect.
"We expect to present a legislative package later this year for consideration by the General Assembly," Noelle Russell said. "Any recommendations we make will support the need to provide the right care to the right children."•
Please enable JavaScript to view this content.