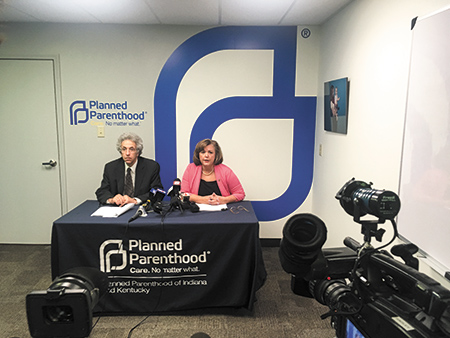 As the American Civil Liberties Union of Indiana and Planned Parenthood of Indiana and Kentucky marked yet another legal victory in a challenge to an Indiana abortion law, the leaders of the organizations say they hope state lawmakers will begin to see what they say is the futility of the annual passage of abortion-restricting legislation.
On July 25, the 7th Circuit Court of Appeals struck down a provision in House Enrolled Act 1337 signed in 2016 by Gov. Mike Pence that required women to obtain an ultrasound 18 hours before having an abortion. The law was initially allowed to go into effect, but was later enjoined by Indiana Southern District Court Judge Tanya Walton Pratt.
The appellate panel agreed with the injunction, with Judge Ilana Rovner writing the 18-hour abortion requirement imposed "an undue burden on those seeking an abortion without any known benefits to balance it."
That burden was the time and resources it would require for women to travel to a Planned Parenthood abortion facility to receive both an ultrasound and to have the procedure the following day, ACLU of Indiana legal director Ken Falk told reporters on July 26. Planned Parenthood can only provide ultrasounds at the clinics where it also performs abortions — four total across the state, he said.
Looking at the example of a Fort Wayne resident, Rovner wrote a woman would have to travel nearly 400 miles over two days to meet the requirements of HEA 1337. PPINK's Fort Wayne facility, which recently closed due to alleged harassment of its staff, has never provided abortions.
Indiana Attorney General Curtis Hill released a statement following the ruling saying his office is "disappointed" by the 7th Circuit's decision in Planned Parenthood of Indiana and Kentucky Inc. v. Commissioner of the Indiana State Department of Health, et al., 17-1883, and is currently considering its options.
PPINK President and CEO Christie Gillespie said from a medical perspective, it's actually better for a patient to obtain an ultrasound on the same day her abortion is scheduled. Gillespie also said abortion-related litigation is about more than upholding the line of precedent stemming from Roe v. Wade, but it also about the real lives of women who were unable to receive an abortion during the time the contested provision of HEA 1337 was in place.
The 7th Circuit Court of Appeals struck down another provision of HEA 1337 in April, holding a state may not prohibit a woman from exercising her right to terminate her pregnancy prior to viability for any reason.
Indiana Solicitor General Thomas Fisher had argued in the case of Planned Parenthood of Indiana and Kentucky, et al. v. Commissioner, Indiana State Department of Health, et al., 1:16-cv-763, that allowing "discriminatory" abortions would risk decimation of people with certain disabilities, such as Down syndrome. Judge Daniel Manion reluctantly concurred with the majority ruling, though he wrote separately that abortion had become a "super-right" that needed to be downgraded to the same level as other constitutional rights.
In addition to 1337, Indiana is currently ensnared in abortion-related lawsuits filed by the ACLU and PPINK against the 2018 version of Senate Enrolled Act 340, which was enjoined last month, and the 2017 version of Senate Enrolled Act 404, which was enjoined last June. SEA 340 required abortion providers to report all "abortion complications," while SEA 404 would have made it tougher for teenagers to get an abortion without their parents' knowledge.
Gillespie said lawmakers who want to reduce abortions should focus their efforts on sex education and birth control. Similarly, Falk said the continued practice of passing abortion legislation that is later struck down does not seem like the best use of the state's time or resources.
"I'm not over the Legislature, I don't know what they're considering, but I don't know what else they could do to show the fact that they oppose abortion in any form," he said.
Falk said the state had 14 days from the ruling to petition the 7th Circuit for rehearing or 90 days to file a writ of certiorari with the U.S. Supreme Court.•
Please enable JavaScript to view this content.