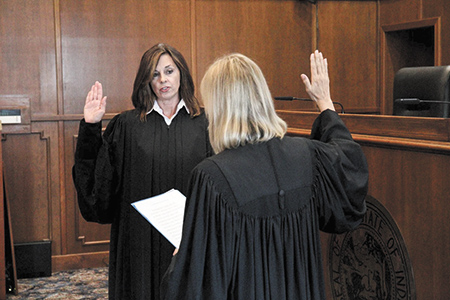 Newly-minted Indiana Court of Appeals Judge Elizabeth Tavitas has done a little bit of everything throughout her legal career. She's been a prosecutor, a public defender, a private practitioner, a referee, a trial court judge and now, a judge on the state's second-highest court.
Gov. Eric Holcomb announced Tavitas as his choice to replace now-Senior Judge Michael Barnes as a Third District COA judge on July 19, and the former Lake Superior Court jurist officially joined her appellate colleagues Monday. Tavitas was selected from a pool of 12 northern Indiana applicants interviewed by the Indiana Judicial Nominating Commission in April and May.
The JNC then sent a list of three finalists, including Tavitas, St. Joseph Superior Judge Steven Hostetler and Fort Wayne attorney David Van Gilder, to Holcomb, who said he chose the Lake County judge because of her "sound legal reasoning" and her "firm belief in judicial restraint." Tavitas likewise described her judicial philosophy as having a respect for the plain meaning of statutes and the state and federal constitutions.
As Tavitas settles into her new role, her colleagues on and off the bench say her varied legal experience, both in court and in the community, will inform her work as an appellate court judge. The judge agreed, noting her career has been marked by a willingness to step in wherever she's needed.
"I think that's easy, to transfer my experience," Tavitas said. "… Being in the second-largest county and my willingness to accept any civil cases in which a special judge is needed, I'll bring all of that experience, as well as my jury trial experience."
A heart for families
Tavitas' jury trial experience traces back to her days as a Lake County deputy prosecutor, when she handled more than 20 jury trials, many of which involved child molestations and rapes. She then switched to working simultaneously in private practice and in the public defender's office, spending her time in the latter representing juveniles and parents involved in delinquent and/or family law proceedings.
From there, Tavitas became a juvenile court referee and, later, a superior court judge in the Domestic Relations Division, where she primarily handled dissolution cases. Given that experience, Tavitas said it's only natural that she has developed a passion for family law issues, particularly as they relate to children.
Describing her time as a deputy prosecutor as heart-wrenching considering the nature of the crimes against children she was charged with prosecuting, Tavitas said she intentionally sought out the domestic relations judgeship as a way of helping children and families through the difficult times in their lives. There were times when Tavitas could have transferred to another division of the Lake County courts, but her concern for the family law litigants who came before her court kept her in place.
Tavitas views her extensive work with family litigation as a benefit to her in her new job, which she said will likely require her to hear cases of a similar nature.
"My family law experience, my juvenile experience, my prosecution and defense experience are all helpful because most of the appeals surround criminal, juvenile and family law cases," she said.
Justice for all
Another byproduct of Tavitas' juvenile and family law work is her passion for access to justice initiatives. Charles Dunlap, executive director of the Indiana Bar Foundation, said he first met Tavitas when she was serving on the statewide pro bono commission, a position she held at a time when IOLTA revenues were either static or declining.
Despite that hurdle, Dunlap said Tavitas worked diligently to fairly divide available pro bono resources throughout the northern part of the state, for which she was the representative. Back home in Lake County, Dunlap said the judge had a knack for reminding pro bono lawyers about the impact their work — which at times can seem thankless — would have.
"Attorneys who are volunteering get burned out, but she's good at taking care of them and very good at also being an inspirational leader," he said.
Having once been a public defender who was frequently appointed to handle juvenile and family law cases, Tavitas said she witnessed firsthand the importance of making counsel available to all litigants. Each family that comes into court has its own unique set of circumstances, she said, and it's important that those families have representation to advocate for their point of view.
"You're dealing with the fundamental rights as a parent and the rights of children," she said. "So justice is better served when everyone has access to an attorney or information or low-cost mediation."
To that end, Tavitas has spent much of her time on the bench expanding pro bono and mediation clinics in her court. As she transitions to an appellate court, the judge said she wants to continue working on access to justice issues from a statewide level.
Adjustments and advantages
While Tavitas has had a varied and extensive judicial career, there's one element of being a Court of Appeals judge that will be new to her: deciding cases on a panel of three, rather than making decisions on her own.
Having once transitioned from being a trial judge to an appellate judge himself, COA Judge John Baker said he knows what it's like to make the switch to a collaborative approach to judging. Baker first met Tavitas when she was a student in the Indiana Graduate Program for Judges, where the two began developing a close professional relationship.
Though moving to panel decisions requires a mindset change, based on Baker's personal experience and Tavitas' expected experience, both say discussing their cases with their colleagues is better for litigants because it forces appellate judges to consider varied perspectives.
"They'll ask very probing questions, and I'll say, 'I hadn't thought about that,'" Baker said. "I think she (Tavitas) will be like that."
From a trial court perspective, Lawrence Circuit Judge Andrea McCord said moving directly from a trial court to an appellate court will benefit Tavitas because the mechanics of trial court operations will be fresh in her mind. Like Baker, McCord got to know Tavitas through the Graduate Judges Program.
McCord pointed to the fact that trial judges make decisions independently, noting that, often, those decisions must be made quickly.
"You don't always have time to take it under advisement, because the parties need to have that closure," McCord said. "I think she'll be very good with understanding what our role is."
The Lawrence County judge also said she's read some of Tavitas' legal writings and believes her appellate opinions will be well-reasoned and well-written. She said Tavitas is intelligent and skilled at working through complex legal issues.
Similarly, Baker said Tavitas is "intellectually gifted" and will likely be the type of judge who is willing to offer constructive remarks when the situation calls for it. But at the same time, Tavitas' colleagues, both old and new, said she is humble and is willing to dig in and do the hard work of being a judge.
"Overall," McCord said, "she's they type of person I would want to come in front of as a litigant."•
Please enable JavaScript to view this content.