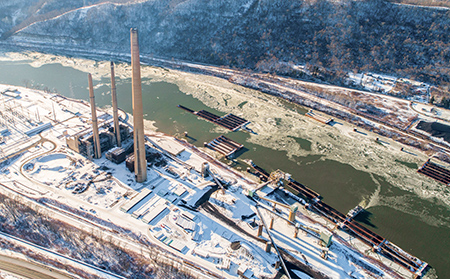 Beginning in Pittsburgh and flowing west across six states before emptying into the Mississippi River near Cairo, Illinois, the Ohio River forms at least part of Indiana's borders with three neighboring states and provides drinking water for many Hoosiers. The river is also a source of recreation and business development, serving as a hub for boaters, fishermen and on-the-water restaurants and shops.
Taking advantage of the Ohio River's resources is largely a matter of ensuring the water is kept free of chemicals that are dangerous to humans and wildlife. There are currently three sets of regulations designed to keep Indiana's portion of the river safe: federal, state and regional regulations.
Federal regulations take the shape of the Environmental Protection Agency's Clean Water Act, which sets standards states must follow and can build upon. On the other end of the spectrum are the regional regulations implemented by the Ohio River Valley Water Sanitation Commission, or ORSANCO, an eight-state cooperative that recommends water quality standards for states along or with an interest in the Ohio.
But ORSANCO commissioners, including three from Indiana, are currently preparing to vote on a proposal that would sunset the organization's pollution control standards. That proposal has yielded thousands of pages of public comments from proponents who say ORSANCO's standards are redundant and, more significantly, from opponents who fear water quality in Indiana would suffer.
"We don't want to impact the strides that have been made by eliminating possible pollution control standards," Evansville attorney and Indiana ORSANCO commissioner Joseph H. Harrison Jr. said. "I have to take a further look at this and come up with a decision."
Romig
Allocating resources
Harrison, of Massey Law Offices, LLC, is among those who think the federal government and, particularly, states, are better equipped to regulate the quality of their water. The Clean Water Act serves as the "floor" of water quality regulations, providing the minimum standards states must meet for their waterways, said Plews Shadley Racher & Braun partner Amy Romig.
Using the Clean Water Act as a base, states can then choose to implement more stringent standards under EPA supervision, Romig said. Specifically, states are given the authority to develop and implement programs whereby they issue National Pollutant Discharge Elimination System permits, Ice Miller LLP partner Don Snemis said.
"For practical purposes, and certainly in Indiana, the state is the primary governmental entity that enforces the Clean Water Act," said Snemis, former general counsel at the Indiana Department of Environmental Management.
Snemis
Outside of the public sector, there are some 16 regional organizations such as ORSANCO that regulate their relevant bodies of water, said Cheryl Gonzalez, of counsel at Barnes & Thornburg LLP. In Indiana, the ORSANCO recommendations are incorporated by reference into Indiana's rules, which become the state standards, an IDEM spokesman said.
But ORSANCO does more than set standards for the appropriate levels of chemicals and pollutants in the Ohio, executive director and chief engineer Richard Harrison said. The organization also runs multiple programs related to biological and chemical science, as well as surveys and studies related to the river.
With a 20-person staff, Richard Harrison said the proposal to sunset the water pollution control standards was born partly of the belief that ORSANCO's resources were better allocated toward its programs than its standards. Joe Harrison, the commissioner, agreed, adding he believes the "best use of its resources are through the source water protection system program, monitoring the river and its research efforts."
Weaker standards?
Even so, the commissioner said he has not yet decided how he will vote on the proposal. Recognizing the fact that millions of people use the Ohio for drinking, cooking, fishing, boating and other activities, Joe Harrison said he is giving serious consideration to the piles of public comments the commission has received — comments both he and Richard Harrison recognize as being overwhelmingly negative.
Among the groups leading the fight against the proposal is the Hoosier Environmental Council, which has put forth multiple reasons for the commission to kill the proposal. HEC takes issue with the argument that ORSANCO standards are redundant in light of federal and state regulations, arguing instead that 188 ORSANCO standards do not exist in one or more of the member states.
Gonzalez
In Indiana, there are 50 ORSANCO standards that are not present in state regulations, said Indra Frank, HEC's environmental health director. According to the ORSANCO Staff Water Quality Criteria Compilation released in February 2018, that's the highest number of non-existent ORSANCO standards among all member states.
But Gonzalez noted that sometimes, it makes sense for an ORSANCO standard, which applies to eight states, not to be present in just one state. For example, an ORSANCO standard that was implemented specifically to benefit Pennsylvania doesn't necessarily need to be present in Indiana, Gonzalez said.
HEC has also raised concerns about the possibility of downstream pollution affecting Indiana. Aside from Illinois, Indiana is the farthest state downstream along the Ohio, so if states upstream pollute the water, Indiana could suffer the consequences, Frank said. But Gonzalez said upstream states are required to be "good neighbors" to their downstream counterparts, though she acknowledged that requirement is not well understood or consistently applied.
Finally, HEC has raised political concerns, arguing the Trump administration is trying to weaken the EPA and federal water quality standards. While Gonzalez said no one is saying, "Throw more lead in the water," Romig said it's possible that standards under Trump may not be enforced as consistently or strictly as under his predecessor. But Romig also stressed she does not have concrete evidence to support that theory.
Changes possible
The American Queen makes its way down the Ohio River near West Franklin. In addition to boating, the river is used for fishing, swimming, tourism and drinking water for Hoosiers. (Photo courtesy of John Blair)
The feared result of ORSANCO's proposal, Frank said, is that Indiana's water quality will decrease to the point where it will no longer be safe for human and/or aquatic life or for recreation. Richard Harrison, however, stressed that even if the proposal is passed, ORSANCO will not lose its authority to promulgate standards.
Rather than sunsetting the standards completely, Frank suggested ORSANCO try to increase coordination among its member states so that standards are implemented consistently. To accomplish this, Frank said the organization should study each recommended standard individually to determine which ones are redundant, rather than eliminating all standards under the general belief that all are redundant.
If Joe Harrison and the other commissioners do support the proposal, Snemis, like Richard Harrison, said the changes that will take place will not be set in stone. If the worst-case scenario comes true and Indiana's water quality does deteriorate, Snemis said Hoosiers can petition the Environmental Rules Board to implement stricter regulations. Legislative action could also be taken to correct any resulting issues, he said.
IDEM is required to work within whatever rules and standards are promulgated, Snemis said. The state entity declined to comment on the ORSANCO proposal, saying doing so would be difficult because "the proposal could take many forms."
ORSANCO commissioners will hold their next meeting on Oct. 2 and then will meet two days later to officially vote on the proposal in Lansing, West Virginia. There are 27 commissioners total, with three appointed by the president and three from each of the member states — Illinois, Indiana, Kentucky, New York, Ohio, Pennsylvania, Virginia and West Virginia.•
Please enable JavaScript to view this content.