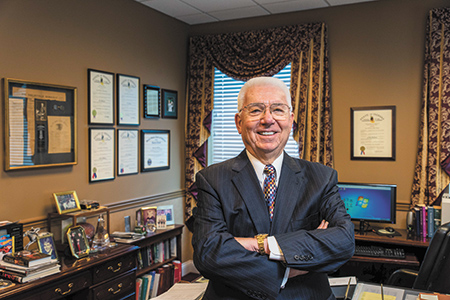 A small-town attorney with a folksy manner and sly wit, J. Lee McNeely never wanted to be anywhere other than his hometown of Shelbyville, but he no doubt realized younger attorneys would be more attracted to the excitement of Indianapolis.
So, when he set about convincing Russell Sanders to move to Shelbyville and join his practice in 1976, McNeely told the new lawyer, the community was just as close to New York as the Circle City — he just had to make the trip to the airport.
Sanders packed and moved, practicing with McNeely for 20 years before serving as Shelby Superior Judge for 18 years.
McNeely, who has represented clients around the state and built a national reputation, still practices in Shelbyville at the firm he founded, McNeely Stephenson. His career has included convincing juries in courtrooms, guiding community projects through controversy and to completion, and willingly serving the legal profession as president of the Indiana State Bar Association and the Indiana Continuing Legal Education Foundation.
Recently, he got a new accolade to add to his career. The Indiana Bar Foundation named him the 2018 Legendary Lawyer in recognition of his public service, community service and contributions to the legal profession during more than 50 years of practice.
The award surprised and humbled McNeely.
He knew as a youngster he wanted to be a lawyer, following in the footsteps of his great-grandfather and great-great-grandfather. After graduating from Wabash College and Indiana University Maurer School of Law, he settled into practice in Shelbyville, and even for a time lived in the house his great-grandfather had built.
"I love it," McNeely, 78, said of being a lawyer. "It's an incredible honor that people come to you with their problems, seeking resolutions. That is as rewarding as anything you can do."
When the Lilly Endowment charged the Indiana Lawyers Commission with improving the criminal justice system in Indiana, McNeely happily joined. When Shelby County was embroiled in a lawsuit claiming its 19th-century jail was a constitutional violation, he successfully argued the facility was in compliance and afterward convinced community leaders to build a new one.
He might be best known for his work from 1988 to 1996 in helping get the Delaware County jail built. Practically from the start the project was mired in political infighting and allegations of corruption, prompting Judge Sarah Evans Barker of the U.S. District Court for the Southern District of Indiana to tap McNeely to monitor the construction as special master.
The design was complicated with circular courtrooms being incorporated into the three-story rectangular building. When adjustments had to be made because the prefabricated walls were not fitting together, there came a growing sense that the project was going awry.
Those suspicions were confirmed by a late-night phone call to McNeely and an urgent request that he come to Muncie immediately. He soon met with a construction worker who told him the stairs in the building had been jury-rigged and pieces of the bolts and nuts had been tack welded on to give the appearance the steps were built according to the blueprints. However, they likely would collapse once a large group of inmates began tramping on them.
McNeely reported the information to Barker. She responded by switching his duties from monitoring to managing the project.
In her letter recommending McNeely for the Legendary Lawyer award, Barker commended his work in Delaware County. He mastered the political dynamics and got to know the personalities of the county officials, enabling him to navigate the conflicting factions while never losing sight of the important legal principles.
"… (T)his case demonstrates how the involvement and guidance of an astute and dedicated lawyer, such as Lee McNeely was here, can bring about such commendable results," Barker wrote. "That kind of gifted public service is the mark of our finest and best attorneys."
McNeely returns the praise to Barker. "A lot of people are smart but few people are wise," he said. "She is wise."
At one point, McNeely was called back to Barker's chambers where an FBI agent told him a death threat had been made. Federal law enforcement had picked up some chatter about possible plans to put a bomb in the attorney's car.
For a while, whenever McNeely began the drive home from Muncie, he would telephone his wife and tell her if he did not arrive within a certain period of time, she should call for help. He acknowledged the incident did make him a "little nervous," but he insisted it is a blip in his legal career rather than the defining moment.
The hallmark of his time as an attorney, he said, is the people who shaped him.
"I think I am fortunate to have had parents and mentors who knew how to be leaders without being offensive about it, how to bring people along with them to build consensus," McNeely said. "I've been blessed to be around really exceptional lawyers and to have built friendships that last forever."
Sanders is one of those friends. He encountered McNeely as a staff attorney for the Indiana Lawyers Commission and was immediately impressed by his intellect and ability.
Practicing together, McNeely was hard-charging and aggressive while Sanders was the countering, calming voice. The younger partner had to learn how to weather a "Lee Storm," but he said he came to realize McNeely has a bright and energic personality which, while overwhelming at times, provided the power to accomplish many things.
"He's not loved by everybody; sometimes people who have power and impact aren't," Sanders said of McNeely. "But he is certainly respected for his ability to get things resolved."•
Please enable JavaScript to view this content.