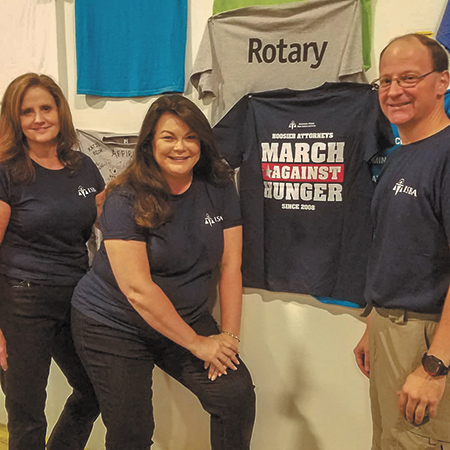 A couple of years into his practice at Kightlinger & Gray, a senior partner at the firm gave J. Todd Spurgeon a simple directive: "You are going to get involved in the bar association." The rest, as they say, is history: Spurgeon's now the incoming president of the Indiana State Bar Association.
Spurgeon's bar involvement has been steady since he was introduced to the ISBA at the turn of the century, with his participation ranging from lay member to leadership roles. He started as a member of the Young Lawyers Council and has gone on to lead that section and to serve on the Board of Governors and the Membership and Member Benefits Committee.
Now, the New Albany insurance defense and civil litigation attorney is preparing to take the helm of the ISBA, succeeding Taft Stettinius & Hollister LLP partner Andi Metzel. Spurgeon's leadership comes at an important time for the bar association, as it is still in its first year of having a new executive director and is in the midst of an introspective process of determining how to adapt to meet the needs of the modern lawyer.
Spurgeon credits Metzel with leading the ISBA through the retirement of former executive director Tom Pyrz and the on-boarding of Joe Skeel as the new executive director, so he views his job as continuing the momentum that began with the leadership transition. That process will largely include a continued review of the bar's services, then determining how to adjust those services to meet member needs.
"I don't want to have a presidential initiative, because it seems like it's doomed to fail. There's never enough time to get everything implemented and started," Spurgeon said. "Really, I think my charge is to continue pushing the ship forward."
Presidential 'initiative'
J. Todd Spurgeon, incoming ISBA president. (Photo courtesy of Indiana State Bar Association)
Though Spurgeon doesn't have a set agenda for his term as ISBA president, he is already working on initiatives designed to expand bar services.
One such initiative is the creation of an ISBA partnership with all four of Indiana's law schools. Through the partnership, all Hoosier law students will become ISBA members during their time in law school, and expected changes in ISBA bylaws will make it easier for students to get involved in the work of the bar.
Going all the way back to 1879, Spurgeon said the original ISBA Constitution called on the bar association to make legal education a priority. That goal remains relevant nearly 140 years later, he said, noting early bar involvement could make it likelier that today's law students will continue their involvement throughout their careers.
The ISBA House of Delegates will consider recommended bylaw changes at its upcoming annual meeting that will give law students more opportunities to join sections and committees. The idea, Spurgeon said, is not just to put law students' names on the rolls, but to engage them and allow them to have a say in bar initiatives and decisions.
"It only starts with law students," he said. "… They are the future, and the more we get them involved and have them feel like they have a voice and a place, the better."
Spurgeon is also working on an initiative that would allow the ISBA to offer health insurance to its members. A bar-sponsored insurance package has been a long-sought benefit, he said, but bar leaders have thus far been precluded from making that request a reality. Though he is pursuing that option during his term as president, Spurgeon noted insurance regulations could still prove to be a hurdle.
External changes, internal review
As she prepares to become an ISBA past president, Metzel said her year at the helm resulted in external and internal changes to the organization. Externally, the bar undertook new initiatives, such as a trip to Cuba in January and an effort to increase collaboration with other bar associations, including a holiday party with the Indianapolis Bar Association.
"We want to make sure we are involving everyone around the state, from local or county bar associations or special affinity bar associations," Metzel said. "We're making certain that the state bar is a convener of information and is a central resource we hope other bars can rely upon."
To that end, Metzel's year as ISBA president will end with a redesigned annual meeting in October. Rather than gathering all bar members in one location only to split them apart for different meetings and events, Metzel said this year's annual meeting Oct. 10-12 will offer more opportunities for socialization and networking. That will include a reception and dinner that all members will be invited to attend.
Further, Metzel said this year's annual meeting will offer legal education opportunities for a wider array of practice areas. That change, she said, is designed to make the annual meeting more appealing to a more diverse group of lawyers.
Similarly, Spurgeon said he has been studying other bar associations to determine how he can use his year as president to improve the services the ISBA offers. Like Metzel, Spurgeon said the state bar has undergone internal changes over the last year that have largely been driven by an internal review of how the organization can better serve its members. Coupling that introspection with his own research into other bar associations, Spurgeon said he expects his year as bar leader will lead to additional internal adjustments.
"The purpose of the bar association hasn't changed, but the function has to change," Spurgeon said.
Empowering others
In addition to a continued internal review, there are several pressing issues facing the legal profession that Spurgeon will have to address during his year as ISBA president.
For example, the American Bar Association recently made significant amendments to the model lawyer advertising rules, but some attorneys don't think those amendments went far enough to account for advertising practices in the modern legal market, Spurgeon said. That issue will come before the ISBA this year as it discusses whether Indiana should follow the ABA's example.
As he leads the bar association through those types of discussions, colleagues say Spurgeon will try to empower bar members to make important decisions.
Lake County attorney Michael Jasaitis will serve as Spurgeon's secretary this year and previously served on his executive team when the incoming president led the Young Lawyers Section. Jasaitis said Spurgeon's approach to leadership is to provide others the opportunity to engage in decision-making. He accomplished that by training those he led to be leaders themselves, then supporting and praising them as they sought to put that training into action, Jasaitis said.
Similarly, Dick Mullineaux, a senior partner in Kightlinger's New Albany office, described Spurgeon as subtle and reserved, though not in a "stand in the corner and never say anything" kind of way. Instead, Mullineaux said Spurgeon tries to connect with the people he's leading. This style is evident through Spurgeon's work with Junior Achievement, an organization that allows Spurgeon to work with high school students and teach them professional skills, Mullineaux said.
Spurgeon offers a similar description of his leadership style, saying he believes leaders should get things done and help others get things done. He'll officially become the ISBA's next leader during the annual meeting in French Lick.•
Please enable JavaScript to view this content.