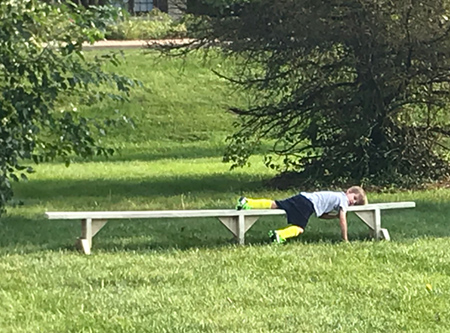 I don't like to brag, but I'm going to go ahead and say it: I'm undefeated.
I can honestly say I've never lost. Four years ago, I coached my daughter Emma in 4-year-old soccer and I've now coached my 4-year-old son Charlie for part of a season, and as head coach of a 4-year-old soccer team, I've never lost a single game. Of course, it helps that I'm in a recreational league where keeping track of wins and losses is forbidden. So the way I look at it is: No Wins + No Losses = Undefeated. In fact, in our league, we are so easygoing about results that the only folks who keep track of wins or losses are the coaches, the parents and the kids.
During one game, at the end of the third quarter, my team was gassed (and a bit whiny), so I was forced to give them an inspirational speech that went something like this: "Look. You may claim to be tired, but if you play hard in the last quarter, then MAYBE there will be a snack for you at the end of the game."
The reaction to my "Win one for the Gipper"-esque speech seemed pretty positive. I saw smiles on some of the players and I even saw some excitement about the Capri Sun and the snack pack of Oreos that Anne had packed for the team. As I started to feel the ghost of Vince Lombardi pat me on the back for my ability to motivate young people, one of my pigtailed players approached me and tugged my shirt tail. She looked up at me with serious eyes and then made the following counter offer: "If we play hard, at the end of the game, can we get a trophy too?"
As this was the first game of the season, I was sort of stunned and didn't answer immediately, so Miss Pigtails filled the silence by pleading her case. I took a knee, got on her eye level (like I was trained to do by the league) and I listened as she kept advocating for a trophy for her teammates and for her. When I found myself wanting to politely argue that she had to accomplish nothing over the entire season (and not just over three quarters) to get a trophy, she kept going. As Miss Pigtails pushed the envelope, I realized that she would make a great advocate one day and I started to notice that coaching 4-year-old soccer was a bit like the practice of law.
Like the practice of law, lawyers and coaches give a lot of solid advice that helps individuals improve their situation. For example, on the field, I give expert suggestions like "Don't use your hands!" "Stop! You're shooting at the wrong goal!" and "Stop stealing the ball from your teammate!"
However, like the practice of law, I also give spot-on advice that falls on deaf ears. Some of my greatest unheeded advice last week didn't go to a client, but to a player I'm still trying to understand. The advice went something like this: "Charlie, stop pretending you're Batman and play soccer!" "Charlie, turn around, the ball is right behind you!" and "Charlie, stop hugging your mother and get back on the field!"
Like getting ready for trial, in 4-year-old soccer, there's a lot of complicated stuff to take care of in a short amount of time. As a coach, I'm charged with instilling in these 4-year-olds the importance of teamwork, fair play and gaining muscle by weight training and not by not taking shortcuts by juicing – all within an hour of practice. At practice, we've got a lot going on. We dribble, we play red light-green light, we play "catch the coach" and we scrimmage. That may not sound like a lot, but when the team demands a water break every three and a half minutes, time begins to run short.
As a lawyer, I wear many hats. I am a people manager, a negotiator, a strategist and a writer. In soccer, I'm not only the coach, but I'm the trainer, the snack organizer, the referee and official shoestring tier for six pairs of unknottable shoes.
Like the practice of law, soccer forces me to deal with some interesting personalities. For example, I have a player who distracts the entire coaching staff (but not the team) by wearing a tutu to games. I have had two different players miss entire games because they were placed on the disabled list with "inexplicable crying." I am also constantly dealing with immaturity and a small attention span, but fortunately, this team of 4-year-olds has patience with me when it comes to this area of my life.
However, here is one way that coaching 4-year-old soccer is not like the practice of law: when I'm on the field with the team, I never look at my phone.
I don't check email or voicemail and I don't respond to urgent (or perceived urgent) messages from clients. I don't even think about clients, judges or my to-do list. Simply put, while "coaching" 4-year-old soccer (if you can call it coaching), I take a tiny vacation from the practice of law.
I don't know much, but I do know that by agreeing to practice law, you are agreeing to take on someone else's problems over the course of an entire career. That ain't always easy. The practice of law is confrontational, mentally exhausting and sometimes so much is simply out of the lawyer's control.
Bar associations across the country have documented that the practice of law takes a toll on its practitioners, and that is why the IndyBar has made the wellness of its members a priority in our strategic plan. In doing so, the IndyBar has scheduled three programs to help relax your mind and "restore mindfulness." These programs will take place on September 19, October 3 and November 7 and you can find out more details and register at indybar.org/events.
Unlike coaching 4-year-old soccer, in the practice of law, the results do count for our clients and very few of us are undefeated. Being a lawyer is hard, and finding time for yourself, your family and ways to relax your mind (with or without "coaching" a group of 4-year-olds) is important. We hope you will take part in these important programs we have planned over the next few weeks.•
 
Please enable JavaScript to view this content.