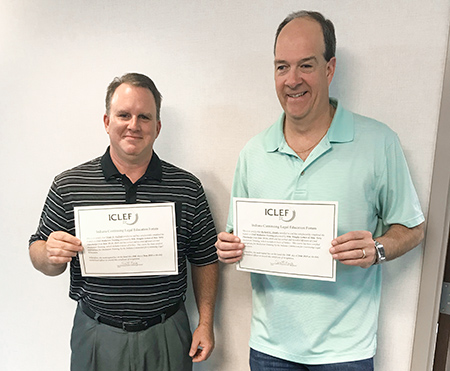 By Wade Fulford
When I agreed to write an article for the mediation section of Indiana Lawyer, I had just moved to the law firm of Lewis Wagner and decided I wanted to include mediation in my legal practice. After completing my civil mediation training and thinking about potential topics for this article, I realized that as a "new mediator," I cannot presently impart years of experience about the mediation practice from the mediator's perspective. Therefore, I decided to write about what I do know by providing insight into my own civil mediation training experience and giving prospective mediators an inside look at the intensive five-day training curriculum and the benefits for young and seasoned attorneys alike.
First, I want to praise the ICLEF faculty instructors, Joy Colwell, Doug Lemon and Judge Terry Shewmaker, and the many other contributors to the presentations and seminar materials. The scope and utilization of real-world examples set this learning experience apart from past seminars I have attended. It was undoubtedly one of the best legal seminars I have taken in 20 years of practice.
Prior to mediation training, my expectations were that it was an opportunity to learn some new information about mediation techniques. I attempted to get the seminar schedule and materials in hopes of getting to work on some other legal projects during the presentations. I was surprised there was no daily agenda provided or any online materials to plan my workload. After the opening, it became apparent that this was not a seminar where I could sit back, relax, multi-task and drink my morning coffee.
What to expect
•?Five full days of interactive and small group instruction. (Expect it to run from 8 a.m.-5 p.m. daily with very short breaks.)
•?Overnight reading and preparation for class instruction and role-play. (Believe me, I was not thrilled with this, but it really helped me get the most out of the presentations and out of the mediation role-playing scenarios.)
•?Challenging instruction and insight from the presenters. (Expect to be asked questions about your experiences and to participate in lots of interactive drills.)
•?Many mediation role-play situations that you have never been involved with as an attorney. (I got assigned two female characters in the mediation role-plays, and it was an enlightening experience.)
•?A lot of good-natured humor, participant feedback and an enjoyable experience. (I'll be honest, there was one attorney at the seminar I was not fond of. However after working with that attorney through mediation role-plays, my opinion changed.)
What not to expect
•?Being able to multi-task during seminar presentations. (I was hoping to respond to emails and do light work. It did not happen.)
•?Avoiding hands-on participation in mock mediations. (Not to spoil your anticipation, but there are many mediation role-play sessions that last several hours. You will take turns acting act as mediators, clients and attorneys.)
•?Blending into the woodwork and not providing firsthand feedback. (Everyone is asked to provide their feedback, constructive criticism and analyze their own performance in some rather challenging mediation scenarios.)
•?Expecting this to be a normal ICLEF seminar. It is all about participation.
What you might learn
During this seminar you will be taught many mediation techniques, approaches to conflict resolution tips and even how to work on your own communication skills as a mediator. For a longtime litigator (or veteran), this might be a challenge to your mindset. In addition, you will participate in several mediation scenarios in which you should expect the other attorneys to add their own personal experience and even some roadblocks to resolution. You will also be exposed to the shared neutral process and how to get parties working together toward a resolution rather than our typical role as advocates. More importantly, I learned that once you set the process in motion, and parties are communicating, "Don't Mess With Progress" even if they are moving at slow, incremental steps. It is all part of the developing process. But for me, what I found most insightful were the discussions about mediator "interventions," or techniques to get the parties going when negotiations completely stall. This was always one of my concerns about acting as mediator. Here are some of the helpful mediation intervention techniques I learned:
Play the fall guy and/or ask for input or advice. If the mediator takes some of the responsibility or blame for coming up with settlement proposals, this allows the parties to work on a resolution without getting defensive. Along the same lines, asking for input or advice on creating settlement proposals may pin down what the parties' real interests are and allow them to get re-engaged into the process.
Reshape the narrative. The mediator reshapes or transforms proposals from a negative position to a neutral or positive position. This is not changing the proposal, but communicating it in a way to keep parties involved and hopeful.
Confidential lowest/highest mediator's numbers. The parties agree to confidentially provide the mediator with their respective bottom line/bottom dollar numbers, with the caveat that if the numbers are within a certain range of each other, the numbers will be disclosed and the parties will continue to negotiate.
Use objective standards. Reliance upon a well-known standard can be comforting. The mediator should look to objective standards the parties may be able to agree upon for the dispute. They can be industry standards, technical opinions, judgments or even third-party experts.
Narrow the field of issues for discussion. This breaks a larger issue into more manageable subparts. If the parties are able to work on subparts, it will give them the sense of forward progress and a better chance of reaching the larger goals of mediation.
Find common goals. Although it may be difficult to divine, the common goal may be as direct as the desire to save time, money and resolve the case. If a mediator makes common goals easy to see, the parties may believe agreement is possible and be more motivated to bargain productively.
Reality check/getting into the other party's shoes. If the parties are butting heads on an issue, ask the parties why the other side would want to accept their proposal or what would be persuasive if they were on the other side of the process. You can even ask each side to try to make the other side's case position.
Brainstorm/legal and nonlegal solutions/outside-the-box ideas. Brainstorming works well when generating ideas that are not immediately critically reviewed. All ideas have to be acceptable. Don't evaluate the ideas until later. Also, open the floor to legal and non-legal solutions and bring up outside-the-box solutions. Some of the unique ideas can be very impactful to the parties. Some examples are apologize, reinstatement or property improvements.
Just play dumb. If the other interventions are not moving the parties, consider acting deliberately confused at a party's position or unable to understand their goals. It will force the parties to support and explain their respective positions. By this process the mediator may be able to get the parties to re-evaluate their expectations.
These techniques, along with the course instruction, gave me better insight into the mediator's role and responsibilities. Our group of attendees ranged from attorneys who had just passed the bar exam to a retiring judge who wanted to transition into mediation. I strongly believe we all learned a lot from the experience, not only as future mediators, but also in aiding our roles as attorneys representing clients at mediation. I encourage anyone who has been thinking about taking the civil mediation course to take the leap now that you know what to expect.•
__________
• Wade Fulford is senior counsel at Lewis Wagner. Opinions expressed are those of the author.
 
Please enable JavaScript to view this content.