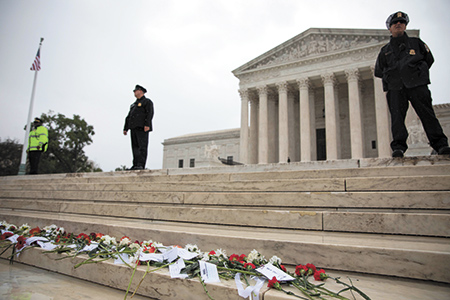 Ask any constitutional scholar whether the process of confirming Justice Brett Kavanaugh to the Supreme Court played out as was constitutionally intended, and the answer will likely be "no." Federal judges and practicing lawyers agree: regardless of your politics, the animosity that exploded in the Senate over the last month was not what the Framers had in mind.
Paul
"I suspect it would be unrecognizable to our founders," Faegre Baker Daniels appellate attorney Brian Paul said of the acrimonious confirmation process.
But if the consensus is that federal judicial confirmations were never meant to be filled with protests, arrests and emotionally charged hearings, then an obvious question comes to mind: how did we get here? The answers are as varied as the American people, but legal experts sum it up in one word: politics. The increasing divide between the left and right has spilled over into the judiciary, attorneys say, transforming the Senate's "advice and consent" mandate into a battle of partisan wills.
Kavanaugh's contentious hearing following allegations of sexual assault raised by three women is only the most recent example of this battle. In Indiana, for example, Notre Dame professor Amy Coney Barrett faced her own difficult hearing when Democratic senators pushed her on whether her pro-life politics would influence her decisions on the 7th Circuit Court of Appeals. Barrett did not respond to a request for comment about her confirmation experience.
More notably, D.C. Circuit Chief Judge Merrick Garland's SCOTUS nomination by former Democratic President Barack Obama never got a hearing in the Republican-controlled Senate, leaving the court with a 4-4 split that, according to some appellate scholars, deterred the justices from taking on big issues.
The solution to all of this, lawyers say, lies with the judges themselves. The only way to restore the integrity of the judiciary, they say, is to give confirmed judges the opportunity to prove themselves to be unbiased jurists — an opportunity Kavanaugh supporters are asking to be given to the newest justice.
Varied experiences
Retired 7th Circuit Judge John Tinder sat through the Senate confirmation process three times — once to become a United States attorney, once to become a district court judge and once to join the circuit court — but each of his experiences was far less dramatic than Kavanaugh's. There was only one problem Tinder encountered during his confirmations: a mortgage company failed to forward his property taxes to the Marion County treasurer, giving the appearance that Tinder did not pay his taxes, but lied about it on a federal questionnaire.
The judge was able to prove the mortgage company's failure and continue the confirmation process without further issue, but his 7th Circuit colleague, Senior Judge Daniel Manion, had a much different experience. Manion, an anti-abortion former state senator who co-sponsored legislation to allow the 10 Commandments to be posted in Indiana public classrooms, faced fierce opposition from Democrats, as well as concerns from the American Bar Association. The Reagan nominee ascribes much of that opposition to People for the American Way, a liberal activist group he said organized and funded the campaign against him.
Manion twice tied the Senate before he was finally confirmed by a 50-49 vote in July 1986, with the deciding vote coming from then-Vice President George H.W. Bush. Both Tinder and Manion said Manion's difficult confirmation marked the beginning of contentious Senate proceedings, noting his confirmation came just one year before the hearings that would doom the SCOTUS nomination for Judge Robert Bork.
Restoring order
Manion said he sees similarities between his confirmation experience and that of Kavanaugh — specifically, a coordinated, funded effort to keep both of them from advancing to higher federal courts. He also said personal politics played a leading role in opposition to both him and the newest justice.
Geyh
Charles Geyh, a professor at the Indiana University Maurer School of Law, said politics has always played a role in appointing federal judges, agreeing that the 1980s were a particularly acrimonious time. Even so, Geyh said he fears the Senate's "advice and consent" mandate has devolved to the point where senators are seeking advice exclusively from the members of their own party, rather than looking at the overall qualifications of judicial candidates.
But Geyh said there are ways to restore order to the chaotic process of putting a federal judge on the bench. One such way would be to elect a president who consults with senators on both sides of the aisle before putting forth a nominee, he said, pointing to Bill Clinton as an example.
Further, the elimination of traditional procedures such as the blue slip and the filibuster — which former Senate Majority Leader Harry Reid eliminated for lower federal courts and current Majority Leader Mitch McConnell eliminated for SCOTUS nominees beginning with Neil Gorsuch — have unnecessarily sped the process up, Geyh said. Mike Zubrensky, chief counsel of The Leadership Conference on Civil and Human Rights, which did not support Kavanaugh, likewise bemoaned what he said was a Republican effort to speed Kavanaugh through the process before the November midterms.
Even though the Kavanaugh confirmation appeared hurried to his opponents, Indiana University Robert H. McKinney School of Law professor Joel Schumm noted that, in many ways, the process of appointing a federal justice takes much longer than appointing a state justice in Indiana. Here, Supreme Court applicants sit for 20-30-minute interviews before the Judicial Nominating Commission — which is comprised of people from different political parties — picks three finalists. Those finalists then go to the governor, who is given 60 days to name the next justice.
Kavanaugh, in contrast, sat through days-long hearings in front of the Senate Judiciary Committee, while Garland's nomination languished in the Senate for months without ever getting a hearing, a fate that has not been uncommon for federal judicial candidates in recent years.
"(The JNC) works well together," Schumm said. "It's nothing like the sort of Democrat v. Republican fight that we saw at the Kavanaugh hearings."
A deterrent?
One concern that has emerged from the Kavanaugh confirmation hearings, particularly among his supporters, is a fear that qualified candidates will withhold their name from consideration for federal judgeships to avoid the grueling Senate confirmation process.
Faegre's Paul said there are already headwinds against any federal judicial candidate, including the possibility of a pay cut, public financial disclosures and an extensive background check. The threat of becoming a symbol in a larger culture war, he said, could be the last straw that keeps qualified jurists from seeking federal work.
Zubrenksky, however, said becoming a federal judge is the pinnacle of the legal profession, so only those with something to hide — specifically, those accused of sexual assault — will stay away from the confirmation process. But Carrie Severino, chief counsel and policy director of the pro-Kavanaugh organization Judicial Crisis Network, said deterring qualified candidates may have been an intentional side effect brought about by those who only want to see judges with liberal ideologies on the bench.
Solving the problem
Nearly every attorney and judge who spoke with Indiana Lawyer agreed the political nature of federal judicial confirmations is undermining the integrity of the judiciary. According to Paul, that problem can't be fixed unless senators step away from the political discourse and take their "advice and consent" role seriously when considering jurists.
Tinder also placed the onus on the courts, saying judges can restore the good name of the judiciary by issuing well-reasoned opinions that follow the letter of the law. Severino agreed, saying she was confident Kavanaugh's rulings from the nation's highest courts will prove he is an even-handed, fair-minded jurist, the same way he has been described during his 12 years on the D.C. Circuit Court.
But Paul also noted SCOTUS has made itself seem political by virtue of deciding politically charged cases, a reality he said was not intended by the founders. If that trend continues, then Paul said the divisiveness surrounding the Supreme Court may endure.•
Please enable JavaScript to view this content.