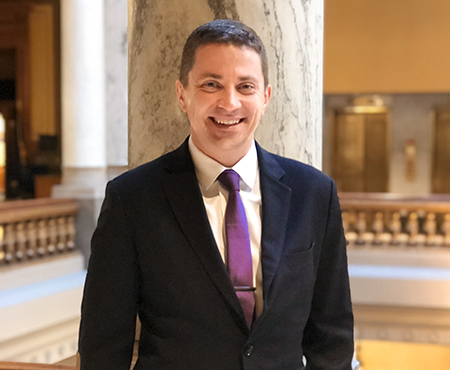 When the Indiana Supreme Court set out to find a new chief administrative officer this year, the justices were looking for a person who could be the conductor of the court's orchestra.
According to Chief Justice Loretta Rush, the ideal CAO — tasked with leading the court's recently created Office of Judicial Administration — was someone with institutional court knowledge and a skill set that would ensure the court's operations ran efficiently. The person selected would be replacing longtime court employee Jane Seigel, who became interim CAO when former Henry County Judge Mary Willis resigned in April.
About 50 people applied for the job, and after running, as he puts it, both the gauntlet and the gamut of an extensive interview process led by the five justices and other court managers, Justin Forkner was selected. The former executive director of the Indiana Office of Court Services started as CAO Oct. 26, one day after Seigel stepped down.
According to Rush, Forkner has all the qualities the justices and court managers he'll be supervising were looking for — specifically, institutional knowledge and an ability to efficiently lead the OJA. The chief said Forkner's court services leadership has helped revive struggling programs, and he was the unanimous choice to become the court's second official CAO.
Public service career
An Indianapolis native, Forkner earned his undergraduate degree from Indiana University in 2001 before being commissioned into active military service with the U.S. Army. Forkner spent more than seven years on active duty and served tours in Iraq and Afghanistan.
He then matriculated at Indiana University Robert H. McKinney School of Law, enrolling in the night school program and earning his J.D. in December 2010. Forkner worked for the Indianapolis law firm Norris Choplin & Schroeder, LLP for about two years before beginning a clerkship with then-Chief Justice Randall Shepard, serving as Shepard's last clerk before his retirement.
Forkner's clerkship with Shepard fed into clerkships with Justice Mark Massa and, later, with Justice Steven David. He then left the high court to become an administrative law judge and legal counsel for the Indiana Department of Homeland Security.
Though Forkner said he enjoyed his work with Homeland Security, when he received a call from the Supreme Court in late 2015 asking him to join the Office of Court Services as part of the court's reorganization, he welcomed the chance to return to his former stomping grounds.
"I jumped at the opportunity to come back," he said. "… I love the court."
Forkner returned to the Supreme Court as Court Services' deputy director, serving under Seigel, and was eventually promoted to the office's executive director when Seigel became interim CAO this spring.
Scaling up
As court services director, Forkner was tasked with overseeing four divisions and a staff of roughly 57 people. Through its four divisions — education, justice services, legal support and programming and projects — the Office of Court Services carries out much of the operational side of the Supreme Court's role as head of Indiana's judiciary.
According to the Supreme Court's 2017-2018 annual report, the Office of Court Services developed 1,205 hours of judicial education programming, certified nine court drug and alcohol programs and 32 problem-solving courts, reviewed 18 public records requests and distributed nearly $5 million in guardian ad litem and Court Appointed Special Advocate grants to 83 counties during the last fiscal year, among other accomplishments. As Forkner transitions from court services to the OJA, he said his new position will require him to oversee many of the same programs he managed while serving as executive director, but on a larger scale. He is now over nine court agencies, including attorney services; the clerk of the appellate courts; court technology; the fiscal office; court services; judicial ethics; Office of Communication, Education, and Outreach; Office of Personnel & Operations, and; Supreme Court services.
Among the initiatives Forkner now oversees is the continued rollout of the Odyssey online case management system, the expansion of problem-solving courts and the continued implementation of a text notification program designed to remind criminal defendants of upcoming court hearings. Forkner will also have his hand in the court's CASA program and the creation of a distance education program for judicial officers, among other court-led initiatives.
"We have a large number of really, really big initiatives that the court has been rolling out the last couple of years, and the CAO position, a big part of that (position) is making sure that those continue to move forward, that they don't conflict with each other, that they stay within the chief and the court's guidance and general goals, that they're managed effectively and efficiently, and that the staff running them have the resources they need," Forkner said.
'Mission first, people always'
As the newest leader of the court's operations — reporting directly to the chief justice — Forkner said he plans to operate under a leadership mantra he learned in the military: "mission first, people always."
The newly minted CAO acknowledges that sometimes, the mission and the people can be in conflict. While the mission — or in this case, court goals and initiatives — must always be carried out, Forkner said he strives to be empathetic and available when he's dealing with the people side of being a leader. His new job also requires open communication with the court, which serves as the final arbiter of what his mission will be.
Calling Forkner a kind person who can demonstrate "remarkable leadership," Rush said she thinks the new CAO has leadership potential he doesn't see in himself. She described him as a "finisher" — someone who tackles a problem and continues working until a solution is in place.
"I think he's got this natural ability to really work with somebody to have that person or employee meet their full potential," she said.
Making justice better
As he settles into his new role as CAO, Forkner said he already has a few goals. One is continuing to implement and perfect the court's structural reorganization, a process he said will be ongoing and continuous. Similarly, he wants to address internal processes that can be standardized to improve internal flow.
More generally, Forkner said he wants to support the court's overarching goal: making justice better.
"That's the mission of most of our programs and initiatives on a very base level," Forkner said. "Long-term, we want to make sure people have the means to do that."
Rush agreed, pointing specifically to civil justice reform efforts. She said Forkner and a team of judges, legislators and civil legal aid providers recently returned from a conference addressing civil justice reform, and Forkner is now using that experience to determine how the court can better ensure all litigants have equal access to justice.•
Please enable JavaScript to view this content.