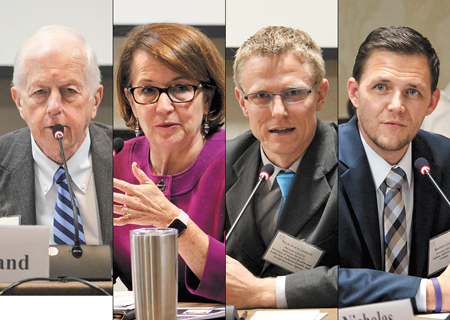 "Addiction almost killed me."
Brandon George, the executive director of Indiana Addiction Issues Coalition, is open about how his past substance abuse disorder shapes his work. A high school dropout who watched friends die and spent time in jail has since turned his life around and obtained multiple college degrees.
But his education and experiences weren't enough to teach George about the solution to one of the most pressing problems people with substance abuse disorders encounter: staying out of the criminal justice system. Though he found his way to recovery, George said he wasn't aware of the civil legal aid resources available to help Hoosiers struggling with and recovering from addiction.
That disconnect between Americans with addictions and civil legal aid options was the subject of the Oct. 17 meeting of the Legal Services Corp.'s Opioid Task Force. Gathered in downtown Indianapolis ahead of LSC's board meeting in the Circle City, the task force met to address the civil legal aid implications of the opioid epidemic.
During the meeting, a panel including George, Indiana Chief Justice Loretta Rush, state drug czar Jim McClelland and Family and Social Services Administration bureau chief Nicholas Svetlauskas discussed Indiana's response to the opioid crisis, which has been dubbed an early success story in terms of initiatives designed to address the underlying causes of addiction. The theme of Indiana's initiatives, panelists said, is collaboration across the public and private sector.
Executive, legislative response
According to McClelland, Indiana's targeted response to the opioid crisis traces back to 2016, when then-Lt. Gov. Eric Holcomb was on the campaign trail. Nearly everywhere he traveled, Holcomb was met with stories of how the opioid crisis was impacting the communities he visited, which prompted the gubernatorial hopeful to make addressing the opioid crisis a pillar of his administration.
Then, when Holcomb won the election and took office in January 2017, his first order of business was to sign an executive order creating McClelland's position: executive director for drug prevention, treatment, and enforcement. From there, McClelland said he developed a response strategy centered around two primary goals: helping as many people as possible achieve and maintain recovery, and substantially reducing the likelihood of ever being faced with a crisis of this magnitude in the future.
McClelland said about nine state agencies have a direct hand in the opioid response strategy, including FSSA, where Svetlauskas leads the Division of Mental Health and Addiction. Svetlauskas praised the Legislature for creating the Recovery Works program, which designates funds to allow people with felonies to receive addiction treatment and services.
Svetlauskas' division is also receiving federal legislative support via a substance abuse block grant from the Department of Health & Human Services' Substance Abuse and Mental Health Services Administration, or SAMHSA. Further, DMHA regularly partners with George's organization and other nonprofits.
Judicial response
Svetlauskas also praised Indiana's judicial response to the opioid crisis, specifically highlighting Rush's efforts to educate judges about the science behind addiction. As co-chair of the National Judicial Opioid Task Force, Rush leads a nationwide coalition examining the role courts play in combatting addiction and the opioid crisis.
Here in Indiana, Rush recently hosted a statewide opioid summit with judges from each of Indiana's 92 counties, a gathering George described as historic. The summit sought to help judges understand the neuroscience of the brain, information Rush said was designed to increase their understanding of when an offender should be diverted into treatment. Indiana judges also recently participated in a half-day training on co-occurring disorders to understand the intersection between mental illness and substance abuse disorders.
This kind of training aligns with SAMHSA's Sequential Intercept Model, which seeks to determine when courts should divert offenders into treatment. According to SAMHSA, the model encompasses four intercepts: community and law enforcement; arrest and initial detention/court hearings; jails/specialty courts, and; reentry from jails and prisons into the community.
The idea of these intercepts, Rush told the task force, is to find points where the criminal justice system can hand off a person with a substance abuse disorder for treatment before the person's addiction further entrenches them in the system. Initiatives such as problem-solving courts and pre-trial diversion programs — both of which exist in Indiana — are examples of programs that creatively try to help people with addictions find recovery while also holding them accountable, she said.
Trading drugs?
Another method of helping offenders beat their addictions is medication-assisted treatment, or MAT, which is designed to use prescription drugs to put people on the road to recovery. Though Rush said there is evidence to support the use of MAT, she also said some judges are hesitant to endorse MAT because they view it as replacing one drug with another.
Sally Friedman, a task force member and legal director of the Legal Action Center in New York, said she has seen some judges take children away from their mothers because the mothers were on a MAT plan. George said he was outraged by such a practice, saying people with substance abuse disorders should not be punished for taking steps to beat their disorders.
McClelland agreed, likening MAT to a patient who takes medicine to control high blood pressure. He said statistics have shown that MAT, coupled with the supervision of a problem-solving court, has a 75 percent success rate. Conversely, drug abstinence-only plans only have a 5 percent success rate, Rush said.
Incorporating civil legal aid
Though panelists agreed each of these initiatives are positive steps toward curbing the opioid crisis, a question remains: what role can civil legal aid providers play in these efforts? The Indiana panelists each offered suggestions, with George opining that attorneys could form partnerships with recovery community organizations like his own.
Further, Svetlauskas suggested partnerships with mobile crisis teams, noting that people who are helped by those teams may not want to go into treatment immediately, but may have legal issues that need to be addressed. In offering such legal services, Svetlauskas said attorneys could open the door to treatment for those clients.
Jay Chaudhary, managing attorney and director of medical legal partnerships at Indiana Legal Services, said ILS recently launched a new referral service that will ensure people who are facing eviction and who are receiving social services, mental health/substance abuse treatment and the like will be accompanied by an attorney when they go to court. That initiative is only weeks old, but Chaudhary said ILS received four referrals in the first week.
From a judicial perspective, Rush said the national task force has created resources to help attorneys share the advantages of MAT with judges. Using those resources, the chief said civil legal aid providers can persuade jurists to allow offenders to go on medication while also warning them of the consequences that could follow if MAT plans are not followed.
The Opioid Task Force will release a report in April addressing the specific role civil legal aid providers can play as the country continues to combat the growing opioid crisis.•
Please enable JavaScript to view this content.