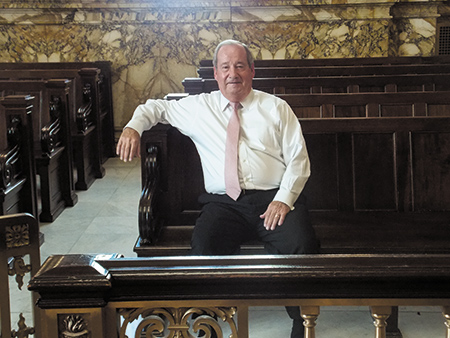 As a young man starting his freshman year at Louisiana State University, William Lawrence was absolutely convinced he was going to be a professional baseball player.
A partial athletic scholarship had lured the Mooresville native to Baton Rouge, where he was able to indulge in his love of running the bases and swinging for the fences. But then, he got thrown a curveball.
Literally.
The pitch that is thrown comparatively slower than the other tosses from the mound was described in an 1869 newspaper article as extremely hard to hit because the ball travels "in a tantalizing curve." Lawrence had never seen a curveball before and was still trying to figure out how to send it sailing into the outfield when he was sidelined by a knee injury.
That ended his dreams of spending his summers on the diamond, but seated in his chambers at the Birch Bayh Federal Building and U.S. Courthouse, Senior Judge Lawrence said busting his knee was the "best thing that ever happened" to him. He followed his father's advice and returned to Indiana, earned a J.D. degree and embarked on a legal career that included 35 years on the bench.
Lawrence took senior status in July, and the U.S. Senate confirmed his replacement, Faegre Baker Daniels partner James Patrick "J.P." Hanlon in October.
While reflecting on his tenure, Lawrence sprinkles his conversation with the word "best" – "best move I ever made," "best job I ever had," "best choice," and "(the late Judge Larry McKinney) was just the best." Proof that the federal judge who has enjoyed his career in the law: He is still excited to come to the courthouse at 6:30 a.m., read briefs, preside over trials and interact with lawyers.
"The law and being a lawyer were the furthest things from my mind growing up," Lawrence said. "I didn't know any lawyers, had never been in a courtroom until I went to law school. It was just one of those things that just kind of grew on me rather quickly."
He followed a friend to Indiana University Robert H. McKinney School of Law, where he became enamored with trial work and settled into a private practice after he graduated in 1973. Ten years later, he made the leap to the judiciary as a Marion Circuit Court master commissioner at the encouragement of the late Marion Circuit Judge John Ryan.
"Probably the best move I ever made," Lawrence said, explaining he discovered he really liked being a judge. "I started getting the bug I suppose, and I thought, 'Hey, I kind of like this and doggone it, I think maybe I'm kind of good at it.'"
When Ryan retired, Lawrence successfully ran for his seat and joined the circuit court in 1996. His legacy from his eight years there is the establishment of the paternity court that focused on child support payments. Until then, the paternity hearings were held in different rooms around the county courthouse, lawyers did not like taking those cases and the local sheriff did not have the time and manpower to enforce the orders of support.
So Lawrence cobbled together some money, carved out a couple of hearing rooms and convinced Alicia Gooden, who was then a 30-year-old attorney, to be the paternity court's first commissioner. Now a Marion Superior Judge, Gooden remembered she was scared, but Lawrence had confidence and turned the court's operations over to her.
Less than two years later, the paternity court had increased child support payments by $9 million, according to Lawrence.
"I don't know that I could ever emulate how wonderful he was, how gracious he was in empowering me to do that," Gooden said of Lawrence, noting he did not dictate what to do but offered "gentle guidance as I needed it."
"Incredible day"
Lawrence was presiding over cases in Marion Circuit Court, making the court more efficient and reducing the overall caseload when Southern District Judge McKinney called in 2002.
The federal judges all wanted Lawrence to join them as a magistrate judge. Lawrence was so overwhelmed by the offer, he was speechless and had to hang up the phone, compose himself then call McKinney back. However, the pitch came at a time when he was just starting to tire of state court.
"Coming over to this building was a breath of fresh air," Lawrence said. "I was very excited. The magistrate judge job was the best job I ever had."
In particular, he liked working closely with the attorneys, moving cases along, dealing with motions, and hashing out settlements. Lawrence knew a phone call and an inquiry could move a case to the top of any lawyer's stack.
He was then tapped for a Southern District judgeship on Feb. 14, 2008, when Judge John Tinder stepped up to the 7th Circuit Court of Appeals. The confirmation vote came June 30, 2008.
On that day, Lawrence was trying to find common ground between litigants and their attorneys, but the settlement conference was interrupted when his administrative assistant knocked on the door. She told him the U.S. Senate was getting ready to vote on his confirmation, so Lawrence, the attorneys and their clients gathered around the little computer screen to watch the process on CSPAN.
"It was quite an incredible day for me," Lawrence said. "I think about it and am just amazed that I could be so fortunate for that to happen."
And, like any baseball player, he knows his stats — every Senator voted for him with the exception of Barack Obama and the late John McCain, who were busy campaigning for the presidency.
Stepping back
Speaking from 10 years of experience as a federal judge, Lawrence said the cases that land in federal court are difficult and incredibly close calls. The briefs can be very persuasive and the search for precedent can yield cases that are close but not directly on point. All the while, the 7th Circuit Court of Appeals may consider the district court's ruling and find grounds for a reversal or remand.
"It happens all the time," Lawrence said of getting cases returned from the appellate court. "We don't keep score. We put out the best possible product we can and if a three-judge panel from the 7th Circuit looks at from a different perspective, so be it."
Lawrence's caseload has been reduced as a senior judge, giving him and his wife more time to visit their four grandchildren in Dallas, Texas. The federal judge is looking forward spending time walking his grandchildren to school, attending their practices and helping them with their homework.
However, the little ones are on their own if they ever need to learn how to hit a curveball.
Chuckling at the thought of the pesky pitch that changed his life, Lawrence said, "They're going to have to find somebody else to do that."•
Please enable JavaScript to view this content.