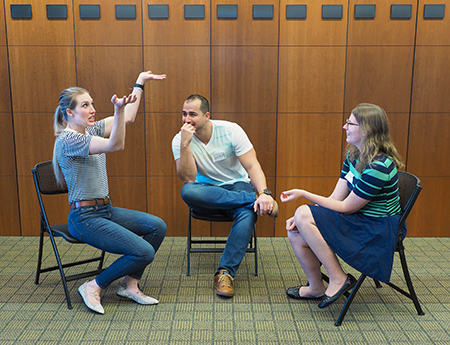 You're in court, in the middle of a tough case. You're trying to confer with your second chair, but the judge is asking you a question based on a comment opposing counsel just made.
You're confused — you hadn't been listening to the conversation between the judge and opposing counsel, but you can tell they want you to answer in a hurry. You're desperate to come up with an answer — any answer — but your mind goes blank. Reluctantly, you ask the judge to repeat what was said, earning the ire of the jurist and the opposing party. Now you're embarrassed and flustered, but the trial goes on.
It's a nightmare scenario for lawyers. While attorneys pride themselves on being able to multitask, sometimes they can get overwhelmed, leading to embarrassing situations in front of judges and other attorneys. Lawyers must learn to adapt to the constant barrage of information being thrown at them, and at Indiana University Robert H. McKinney School of Law, students recently had the chance to hone their active listening and quick-thinking skills through an unusual teaching method — an improv workshop.
Led by Professor Yvonne Dutton, the Nov. 3 improv workshop introduced law students to new techniques designed to help them think on their feet. Plus, between the laughter and the opportunity to learn through play, the students discovered that improv also can be a fun way to overcome nerves and improve litigation skills.
Not just for actors
Professor Yvonne Dutton, left, leads IU McKinney students through improv activities. Dutton organized the workshop to help the law students improve their active listening and creative thinking skills. (Photo by David Jaynes, courtesy of IU McKinney School of Law)
The idea for the improv workshop traces back to The Second City, the Chicago-based improv company that trained the likes of John Candy, Dan Aykroyd, Steve Carell and Tina Fey, among other comedy greats. Dutton and IU McKinney Professor Margaret Ryznar enrolled in Second City classes over the summer, taking the stage alongside aspiring actors hoping to make a name for themselves.
While Dutton and Ryznar enjoyed the entertainment aspect of the classes — Ryznar acted as an undergraduate at the University of Chicago and Dutton was formerly a Broadway singer — they also were motivated by their belief that improv could help their students. Improv is a common training technique in the business world and also has popped up in the medical profession, Ryznar said, but is less common in the law.
But the same skills that business and medical professionals hone through improv classes — active listening, creative thinking, collaboration, etc. — are also relevant in the legal profession, Ryznar said. Dutton pointed specifically to moot court, where law students are often bombarded with judges' questions and have to think on their feet to provide the right answers.
"We saw it as an opportunity to improve ourselves and our students," Ryznar.
A bunch of gibberish
So, Dutton set about organizing an improv workshop that would incorporate the activities and techniques she and Ryznar learned during their time with Second City. A group of about 12 students — including Andres Escalante, Kailey Ruggiero, Blake Walsh and Klara Zierk — participated, agreeing to step far out of their comfort zones in the name of the law.
For Walsh, a two-time Grammy-winning opera singer who came to the law as a second career, trying improv wasn't daunting. But the other students admitted to being nervous — and in some cases, extremely nervous — fearing they might not be able to keep up with the games.
But what they found was that while many of the activities stretched their minds in unusual ways, they loved the opportunity to get out of their heads and just have fun while also learning to be more effective lawyers. The fan favorite was a game called "gibberish," which required two people to speak in gibberish while a third person used body language and other contextual cues to translate.
"It translates well to law students," said Zierk, who participated in improv classes in middle and high school. "We need to be picking up on non-verbal cues when we interview clients or talk to other attorneys."
Other activities, though, were more difficult. Ruggiero, a 3L who signed up for the class thinking it would benefit her work as an undergrad mock trial coach, pointed to one game in which one participate would say a sentence, and the next participant would begin their sentence with the last word of the preceding sentence. One sentence, she recalled, had to begin with the word "party," a word Ruggiero said she doesn't often use to lead off her sentences.
For Walsh, the most challenging activity was called "Dr. Know-it-All." In that game, the participants were given a question, such as "What is the best way to make a pizza?" Then, the players were tasked with forming a coherent answer using one word each. The idea, Walsh said, is that each successive player would pick a word that built on the previous players' words, with the end goal being that the words, when strung together, would constitute a cogent response to the question.
From Escalante's point of view, the hardest game involved the type of situation a lawyer might really see in court. One player stood in the middle, while two others stood to the side and began talking to the player in the middle about two different subjects. The player in the middle was expected to carry on legitimate conversations with both people, despite them both speaking at the same time.
Personal and professional benefits
At the end of the workshop, Dutton said she was pleasantly surprised to learn her students were "totally into it." Though it pushed them out of their comfort zone, she said the students responded positively when asked if they would consider taking another improv class.
For Escalante, the benefit of the improv workshop was two-fold. First, as a native Spanish speaker, the Colombian immigrant said the workshop gave him the opportunity to use his English language skills to show his personality, rather than just in an academic setting. When he becomes a practicing lawyer, Escalante said he'll have to regularly use English to communicate, and the workshop let him practice doing so.
And from a more professional perspective, Escalante said communication and active listening — the two central features of all the improv games — are the key to being an effective lawyer. Walsh agreed, noting she wants to go into litigation and felt the workshop helped her learn how to think quickly and creatively when faced with an unexpected question from a judge, client or attorney.
Further, Ruggiero said her biggest takeaway was a skillset that will help her listen and respond to multiple conversations at once — a skill she said all lawyers need to have. Learning those skills was the purpose of the improv workshop, Dutton said, and she's pleased her students took advantage of a unique learning opportunity that wasn't available to her as a law student.
"I wish this was in my law school," she said.•
Please enable JavaScript to view this content.